Arts & Entertainment
Procol Harum at the Lobero Theatre
Gary Brooker Leads Killer Night of Prog Rock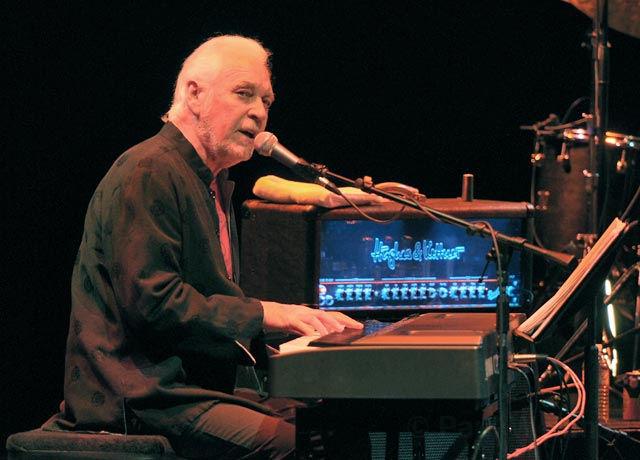 Who imagined that one evening a small crowd of the near-elderly, off-the-bloom boomers mostly, might gather in the Lobero and listen to 65-year-old Gary Brooker sing thoroughly enchanting 40-year-old prog rock songs? And that they'd be songs from a band most people consider to be a one-hit wonder; the enigmatic Procol Harum. After all, after "A Whiter Shade of Pale," most people probably draw a blank, at best recalling the incense-scented lyrics of "Conquistador." I only went to hear stuff off A Salty Dog, arguably the best executed concept album of all times, though I harbored few hopes. But there it was, the show's second-to-last tune, crowning an evening of graceful psychedelic music. Brooker, in a voluminous, soulful voice that falls somewhere between Steve Winwood's and Eric Clapton's, sang, "Across the straits / Around the Horn, how far can sailors fly? /A twisted path, our tortured course, and no one left alive." Only Brian Wilson, who two years ago graced the same stage, produced similar goosebumps, such transcendent nostalgia.
Of course Saturday's show was not really the real band, but it was a fine facsimile thereof, with only Brooker left to interpret Keith Reid's imagistic lyricizing. The hulking Geoff Whitehorn stood well for Robin Trower's long-gone guitar, with strained grimaces, nimble fingers, and all that talking-axe passion. The replacement unit band held up to the spirit of songs, which recalled not only the late 1960s, but Harum's evolutionary niche, which lies somewhere between acid-tinged soul bands like Traffic and full-blown art rockers like Pink Floyd.
The show began with songs almost forgotten, but brought back to complex life, like "Shine on Brightly" and "Homburg." When Brooker announced newer songs, the crowd winced. But there was Procol Harum magic there too — especially in the cockeyed prophetic "Wall Street Blues." After that, we got more Reid lyrical miracles, like "A Dream in Every Home," "Kaleidoscope," the allegorical "Barnyard Story," and "Salty Dog," of course. They closed with "Whiter Shade," which seemed fresh-minted. After all, what other band references Geoffrey Chaucer and still suggests the surreal?