Film & TV
Somewhere
Stephen Dorff and Elle Fanning star in a film written and directed by Sophia Coppola.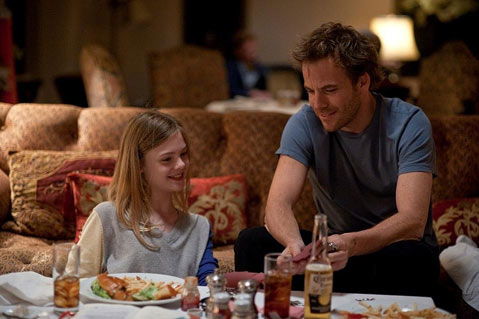 Extreme subtlety and atmospheric qualities are so rare in American film that, even in the indie or art-house varieties, it can be both disarming and blissful upon impact. Such is the case with the remarkable and artful Somewhere, the latest addition to Sofia Coppola's distinctive filmography. Here, she outdoes herself in terms of poetic understatement—all the more surprising to find in a tale of the empty life of a pampered Hollywood actor in mid-life freefall. Less is way more here.
Somewhere bears a dual-edged title, indicating the essential nowhereness behind the celebrated and coveted "somewhere" of Hollywood fame, and a fabled property that resembles the star-studded yet chicly funky Chateau Marmont on Sunset. Much of the film transpires on this property, where John Belushi spent his final hours, and where our taciturn, ruffian star (Stephen Dorff, with just the right slacker savvy) entertains various women (including some choreographed pole dancers, in hilarious sequences early in the film). But he really longs for quality time with his charming 11-year-old daughter (Elle Fanning, in a winning performance as the one source of goodness and light in the cast of characters).
Coppola abides by the adage that, in film, sometimes the best way to tell a story is not through words and dialogue, but through visuals. In close cahoots with her cinematographer Harris Savides, Coppola has devised a film in which many individual shots tell more about the interior life and interactive dynamics of the characters than the dialogue. We know we're not in the multiplex anymore (figuratively speaking) from the film's opening shot, a long stationary image of our over-sexed, existentially stricken movie-star protagonist racing around a track in his black Ferrari. He's going nowhere, from step one in the story, though seems to find some resolution later in the film.
In general, Coppola opts for a slow-brew, understated approach, with minimal dialogue or music, and a washed-out atmosphere reminiscent of Antonioni or European directors' takes on America and Hollywood. Of course, the implicit point is that the willfully artful and personal Coppola is working outside of Hollywood norms and byways, bless her visionary heart. Somewhere is further proof of her poetic genius, in progress.