Sister Sylvianne Mattern: 1916-2011
In Memoriam
| Thu Feb 10, 2011 | 12:00am
Sister M. Sylvianne Mattern, Ordinis Sancti Francisci, 94, went home to God on Friday, January 21, 2011, at the Provena Sacred Heart Home in Avilla, Indiana. Born Dorothy Frances Mattern in Whitefield, Illinois, on July 6, 1916, she was the second daughter to Edward B. and Anna Katherine (Troendly) Mattern. She graduated from St. Mary's Grade School and Henry High School in Henry, Illinois. She entered the Order of the Franciscan Sisters of the Sacred Heart on March 29, 1942. Sister began her ministry in 1944 at St. Elizabeth Hospital, Danville, Illinois, where she served for 12 years in the business office. She then served six years at St. Joseph Hospital in San Francisco, California.
Sister Sylvianne served 24 years at St. Francis Hospital in Santa Barbara, where she became the director and chief executive officer. She leaves a legacy of building and renovation projects, fundraising successes, and St. Francis Foundation work. Sister retired in 1989 to the Motherhouse and in 2010 to Provena Sacred Heart Home in Avilla, Indiana.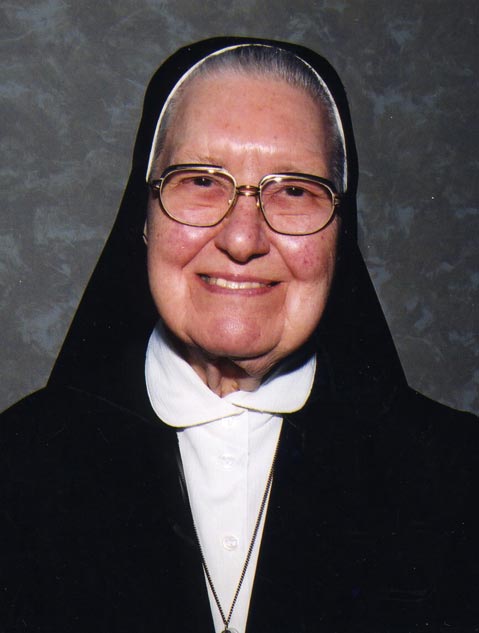 During her 24 years of service at St. Francis, her extraordinary efforts brought the hospital many outstanding additions, including a $5.5 million expansion and modernization project. This encompassed new emergency services, a two-way communications system linked to paramedic emergency treatment, an X-ray department, and patient recovery. The kitchen, cafeteria, operation and maintenance areas, laundry, and other facilities were also modernized.
Modifications to the first plan of 1966 had eliminated the addition of beds and mental health services. Financial resources were in such short supply that the arrival of Sister Sylvianne's skills was a godsend.
The project was divided into phases, the first being the original 1926 facility (rebuilt after the 1925 earthquake). Cardiac care and the eye-wing facilities were in Phase II, with the addition of beds to a total of 169. Ancillary services and the physical therapy department were enlarged and modernized, compliments of the Fleischmann Foundation, one of the major donors.
In cooperation with the Santa Barbara Lions Clubs, an eye lab with a licensed eye bank was established in 1964, and at the time, there were only three in the state: San Francisco and Los Angeles, and St. Francis Hospital. This was among many "firsts" for the area. Other firsts included a mobile image intensifier; laser surgery (one of the first on the West Coast); a most complete ear, nose, and throat surgical unit including a special carbon dioxide laser for removal of throat and related tumors (only the second one in California, one of 12 in the U.S.); and the first full-body CAT scanner; as well as the first labor, delivery, recovery, and postpartum unit in the Tri-Counties.
Sister Sylvianne was blessed with several businessmen who lent their expertise for the benefit of the hospital, including Daniel D'Alfonso, George Castagnola, Miles Sharkey, Bob Vaillancourt, and Pier Gherini. She was the ultimate fundraiser, having reached goals of many millions of dollars throughout the years for building projects and state-of-the-art medical equipment.
Sister is preceded in death by nine brothers and two sisters. She is survived by her sister-in-law Dorothy (Mrs. Herman) Mattern in Lacon, Illinois, and many nieces, nephews, and other family from all over the United States who will mourn the passing of their beloved aunt. She will always be remembered for her warmth, her humor, and her many kindnesses. She inspired the research into her family history that has proven roots to the Pilgrims of the Mayflower, many Revolutionary War Patriots, and the ancient kings and nobles of Scotland and England.
Sister's influence is like a pebble dropped in the water—an effect nicely described in a poem by Joseph Norris, called "Influence," which says,
Do a deed of simple kindness;

Though its end you may not see,

It may reach, like widening ripples,

Down a long eternity.
Sister Sylvianne will always remain the beacon of light that led this little hospital to be a blessing in the community of Santa Barbara. Until its closure in 2003, St. Francis Medical Center remained a testament to the generosity of those who gave of their time and treasure in the continuance of its mission.
Today, that mission continues, with the St. Francis Foundation, in community outreach programs and support of a number of nonprofits. Sister Sylvianne would be proud of the mission's continued successes "down a long eternity." We pay tribute to the leadership, tenacity, grace, and abilities of this amazing woman, imbued by God-given strength to accomplish her task.
Services were held at the Provena Sacred Heart Home Chapel, Avilla, Indiana on January 24. A Memorial Mass was held at the Motherhouse on January 26. Memorial donations may be made to the Franciscan Sisters of the Sacred Heart in her name (9201 W. St. Francis Road, Frankfort, IL, 60423-8335).