Arts & Entertainment
Ride the Seymour Duncan Special
Goleta-Based Guitar Pickup God Celebrates 35 Years in the Music Biz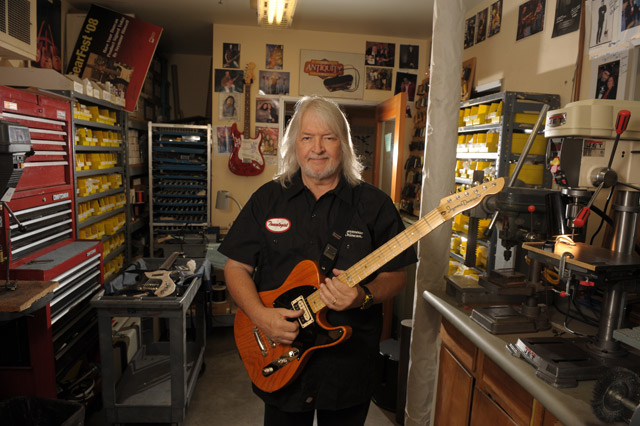 Down at the Anaheim Convention Center each January, at the vast expo-circus-geekfest-dealmaker NAMM (National Association of Music Merchants) show, the mass of humanity and sheer number of companies can get dizzying. Even so, most guitar players and all visitors with Santa Barbara connections find themselves perennially magnetized, so to speak, by the booth for guitar-pickup king Seymour Duncan.
In celebration of 35 years in business — all of it based out of either Santa Barbara or Goleta — Duncan's booth design this year went above and beyond, with its extravagant setting of a psychedelic hookah lounge in swinging London circa the late '60s. Pickups were on display behind the "bar" rather than libations, and huge black-and-white photos showed a young, hippiesque Duncan with some of his friends in high places, like Jeff Beck and Jimi Hendrix. These were not Photoshopped, just as Duncan's custom pickup work is all about authenticity and a fanatical, loving attention to detail that's earned him a lofty place in guitar-gear lore.
Along the way, the guitar sounds and tones he's helped create have found their way into the public consciousness of popular music: Even for casual music fans who don't know what a pickup is, Duncan has helped supply a component for what makes pop culture what it is. (They're critical components of an electric guitar's amplification system, by the way.)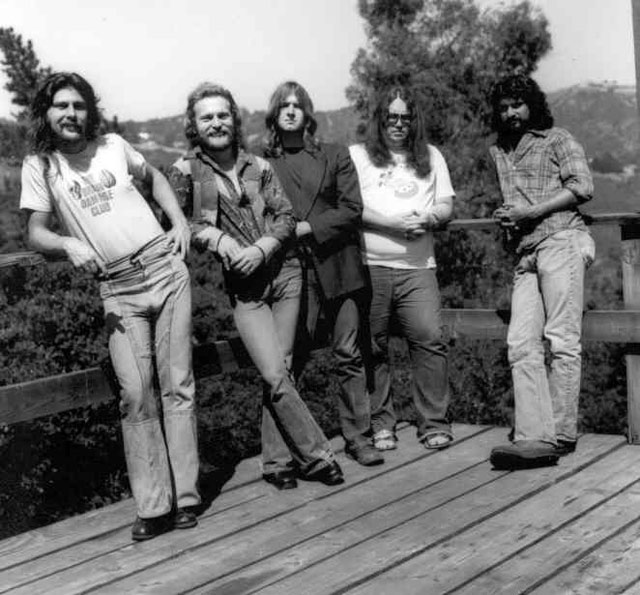 There's the myth, and then there's the man. Duncan is a nice guy from southern New Jersey whose quest for musical truth and building a better pickup led him to London; then to Topanga Canyon, where he worked with Joe Walsh, the Eagles, and Jackson Browne; and finally to Santa Barbara, where he's raised a family (two sons, now grown) and an internationally pitched success story. To guitarists — from the celebrity to journeyman-professional to weekend-amateur status — he is something of a legend and tone guru.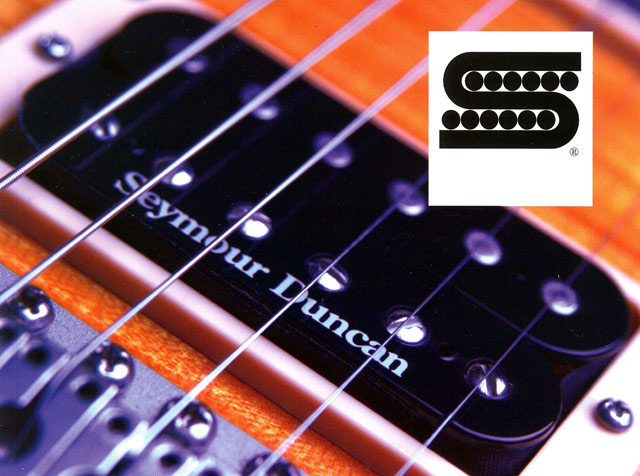 The Company Man
On a recent afternoon, I paid a visit to the Duncan headquarters for a progress report on Santa Barbara's most successful musical gear enterprise. Gold and platinum records by Duncan-using artists — like Incubus and Velvet Revolver, more recent Duncanites among countless others over the decades — lined the lobby walls. Just to the left is the factory, where many of the company's 125 employees work, and it was humming with activity as usual, with much energy emerging from the "winding area" near the rear of the building, where hand-winding of magnetic pickups takes place.
A factory boss who loves to get his hands dirty on a daily basis, Duncan appeared in a "35th Anniversary" work apron, offering a warm handshake and his usual affable manner in tow. Joining us in a meeting room was Duncan's right-hand man, Evan Skopp, officially the company's "VP Business Development & Artist Relations," and a fine guitar player himself, with a massive and ever-expanding guitar collection.
"I don't really deal with the business side that much," Duncan quickly admitted, explaining that Skopp and Duncan's ex-wife/all-time CEO, Cathy Carter Duncan, handle that heavy lifting. "Myself, I like making pickups. I'm still in there doing rewinds every day." He's a ground-floor executive, it turns out, still creating new sounds, coming up with fresh ideas, and "making old things work right." Duncan continued, "My name's on the door, but I'm still in the shop every day, working. Look at me — I've got my work apron on. That's what I like doing. I enjoy being hands-on and then playing once in a while, here and there."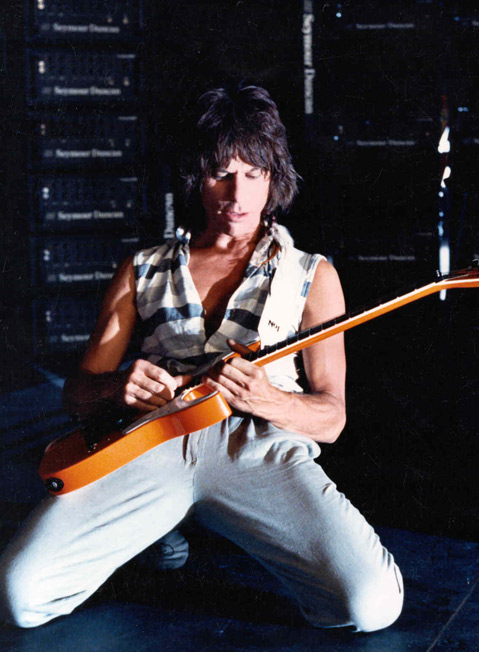 Oh yes, that. Duncan may be best known for the products he has supplied to other guitarists, around the world and around the block, but his passion springs from his own skills as a guitarist. We catch him on stages in the area from time to time, including gigs with his own group — featuring Skopp on guitar, Jill Avery on bass, Chris Manning on guitar and vocals, and Donna Eveland on drums — during Old Spanish Days Fiesta almost annually. Duncan has a few Santa Barbara shows coming up, including the special anniversary/Notes for Notes benefit show featuring Steve Miller at the Lobero Theatre on July 19 (yes, Miller is yet another avowed fan of Duncan pickups), a cameo appearance with the band called Flat Foot Joe on July 12 at SOhO, and once again on El Mercado stage in early August at Fiesta.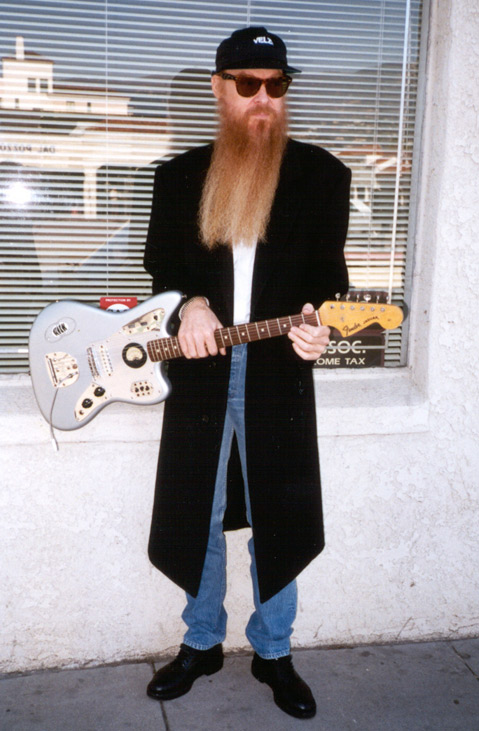 Last year, Duncan showed up flinging distinctive, tart, and tasty licks as a guest with the Telecaster master Redd Volkaert at the Lobero, and he just finished a recording of his very first self-named CD. It's a sharp collection of original tunes, ranging from post-surf rock and blues to country-fried instrumentals and songs dedicated to his guitar heroes: Jeff Beck ("Mood for Jeff") and the late, great, under-sung Roy Buchanan ("OK Roy"). If there's any question about Duncan's deep roots in this town, he also includes songs with such titles as "Mesa Café" and "Rincon Point."
This is one story I can't pretend to write with the proper cool, objective detachment, as a faithful member of the Duncan congregation. I am the proud owner of Duncan pickups in three of my electric guitars and am in possession of an 84-50 Tube amp from a brief period in the '90s when the company was experimenting with making amplifiers — innovative variations on old themes, of course. Moreover, I have unwittingly taken a bribe from the subject of this story, a few decades hence. Well, more to the point, I was a young squirt of a musician, with a journalism career yet to appear, who took an ailing guitar to Duncan's humble custom-pickup laboratory in the late '70s. I was a bit startled when he helped out and gave me the "your money's no good here" wave of the hand.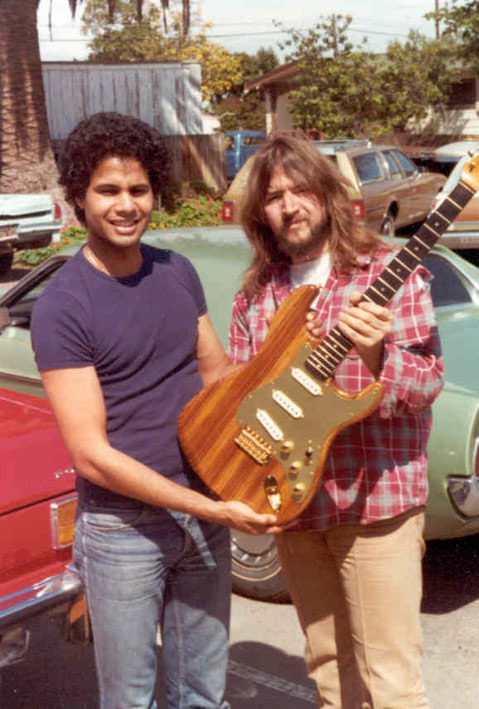 A few years later, Duncan and company — guided by the business acumen of his then-wife, Cathy — began a sharp ascent into the upper reaches of the global music market. When I reminded Duncan of those humble origins on the Eastside, down by Haley, he shot back a wistful smile. "Oh right," he said, "726 Bond Avenue. Ratchet Hatchet was in the back. The guy up front sold loofah sponges."
Things grew exponentially in the early '80s, when he created a coveted new humbucker model. "That put us in the big leagues," Duncan said, "with guys like DiMarzio and Mighty Mite," two leading manufacturers that he's far surpassed by now. The company's base of operations moved across town to a large space close to the train station, and eventually to the expansive Goleta plant off Patterson Avenue, between the hospital and farmlands, where they've remained for 20 years and counting.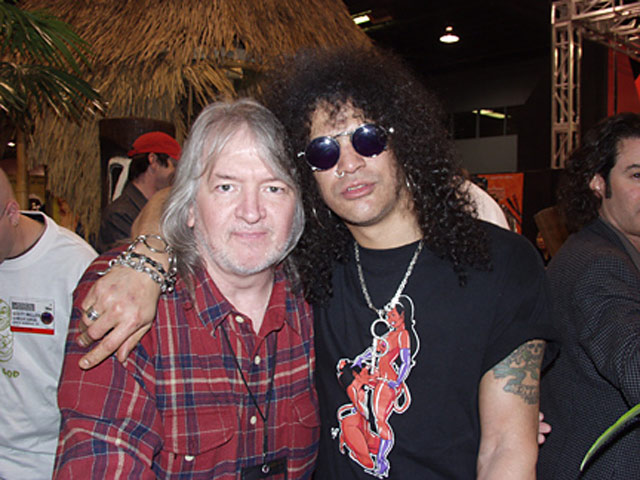 Famous Fingers
Before the Seymour Duncan Company zoomed upward, the Jersey boy was honing his craft with English guitarist Jeff Beck, the former Yardbirds member, who's considered to be one of the most influential pickers of all time. "Jeff has been really important to me," said Duncan. "I have always admired him as a guitarist. He always just keeps going and going."
Duncan lent his handiwork to Beck's Grammy Award-winning, George Martin-produced album Blow by Blow even before he officially entered the pickup business. "He was like my guinea pig in the beginning," said Duncan. "I was making all kinds of things for him." That included the specially constructed TeleGib, which Duncan fashioned from an old Flying V guitar that noted blues-rock pioneer Lonnie Mack had passed down. "Somebody had pulled the covers off, and they didn't do the solder right, and they gauged each coil in each side," said Duncan. "I thought I would try something with this wire that I had." The result was a prototype for the still-popular JB Model pickup. When Blow by Blow won the Grammy, Beck gave Duncan his Esquire guitar from the legendary Yardbirds days. "I've put that in the Rock and Roll Hall of Fame," said Duncan. "I'm so thrilled about that."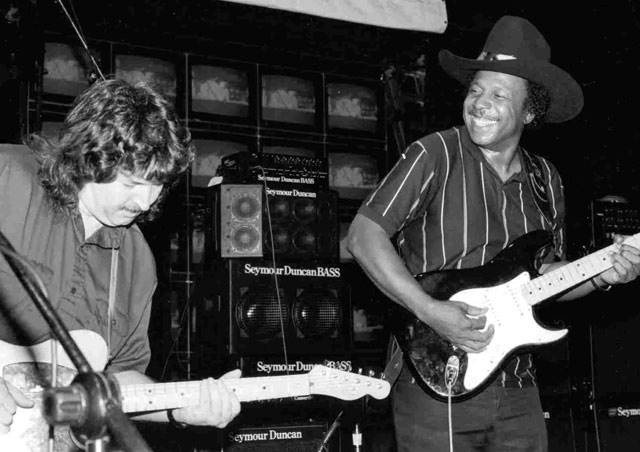 In fact, the list of guitarists indebted to Duncan's work is one that almost literally won't quit: Chuck Berry, Slash (Guns N' Roses, Velvet Revolver), Kurt Cobain (Nirvana), George Lynch (Dokken), Josh Homme (Queens of the Stone Age), Robin Trower (Procol Harum), Elliot Easton (The Cars), jazz guitarist Robben Ford, and guitar heroes Allan Holdsworth and Eric Johnson, not to mention recent players in country music — a last holdout for fancy guitar playing on commercial radio — like Brad Paisley and Nashville session heavyweight Brent Mason. Duncan also worked on the black Stratocaster used by Pink Floyd's David Gilmour, remembering, "Over the years, certain guitars became famous."
A curious case was Joe Satriani and his album Surfing with the Alien. "He was endorsing DiMarzio," said Duncan, "but it slipped out in a magazine that he was using a JB for that whole album." Duncan got another Grammy nod with Michael Sembello's "Maniac," recalling, "That was one of the real early prototypes of my stack pickups, which I actually got a patent on. …The neat thing about it is that, after he got a Grammy for that song, he gave me another guitar for getting him his first major hit."
But one of the most dramatic rises for Duncan was during the "hair band" era. "It was the Van Halen time," he said. "I was doing a lot of oddball things for Eddie [Van Halen]. He wouldn't tell anybody what he had in his guitars, and he was telling people that he was winding his own pickups. But he wasn't." If Duncan remembers correctly, Van Halen opted for the JB model pickup, the one he first made for Beck way back when. "To this day, it's our biggest-selling pickup of all time," said Duncan. "I can't comprehend how many we've made. It's probably over 500,000 that we've made by now. It's an amazing amount."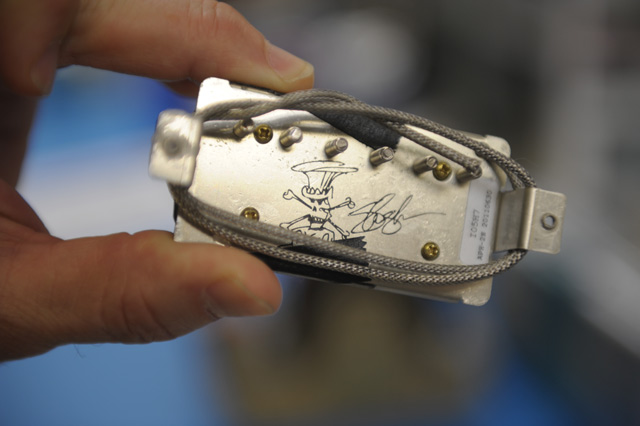 Pickups for the Public
By now, if you're like most of the John Q. Public, you might be asking yourself: What in the world is a guitar pickup?
"It's like a microphone for a guitar," said Duncan, explaining that it usually consists of a bar or separate "pole pieces" for each of an electic guitar's strings, with magnets that are situated beneath the strings. "As the steel string moves, it moves the magnetic field and produces an alternating current, so it generates electricity. That signal is what goes through your amplifier, and that's what you hear as a guitar pickup. It works almost in the same principle as a microphone."
As such, it's strictly a niche product. "It's not so much a lifestyle product," said Skopp, explaining that guitars and other "lifestyle products" have to compete against Nintendo game systems and tennis rackets in the general marketplace. "Our product really only appeals to customers who are guitar players," said the guitar-playing veep. "We would be analogous to a specialized bike sprocket, so only bicyclists would be into it."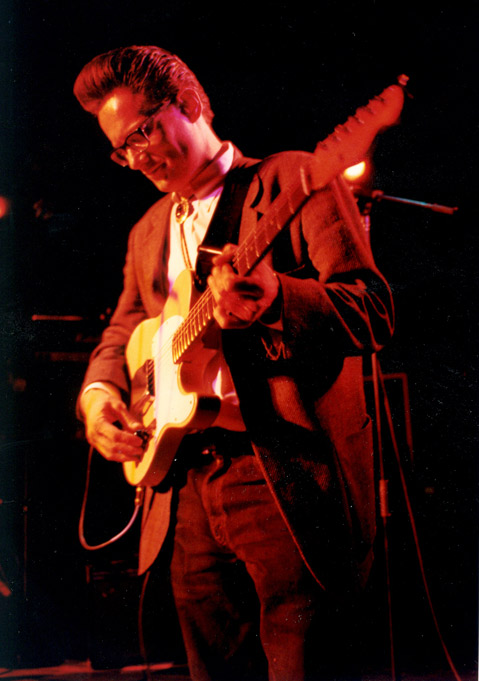 Oddly enough, this hasn't stopped Seymour Duncan from becoming somewhat of a household name, at least in these parts, where many are vaguely familiar with the name from the musicians who hang in their circles of friends and family.
When asked why, Duncan explained, "A lot of people play guitar. Wives are around when the husband is putting a pickup in. They hear your name and sort of know it. I went to a dinner thing at the Café Luck, and I was talking to a woman from Italy. She said, 'Oh, my boyfriend's cousin uses your picks.'"
It's likely that even more will come to know the name Seymour Duncan as he enters his 36th year in the business. His work is at once proudly vintage and experimental, simultaneously into the past and the future. The "Antiquity" pickup series, for instance, seek to replicate classic pickups of old, right down to the weathered "pre-worn" look, but improved upon via Duncan's deep resources of R&D. Apart from the many different retail models available to any and all customers, Duncan's custom jobs for players famous and otherwise are always in the works and that job is as much art as it is science.
"All these combinations, of wood, pickup, height adjustment, pickup placement and proximity to the bridge, the controls, the circuits it has to go through, the wiring — there are so many variables that make a guitar sound the way it does," said Duncan, who writes down all of the info for each custom pickup. "We have 35 years of pickup history of what we've done, from Van Halen to the Ventures to Chuck Berry, all this wonderful stuff. I have the original letters that Eric Johnson used to write me back in the '80s, as he was looking for different sounds. Can we do this? Can we make it hotter but still keep it pure?" Working closely with the world's most discerning electric guitarists, who have a sound and vision in their head, Duncan becomes their facilitator, their translator, their guitar guru.
"Sometimes, you feel like their doctor or psychiatrist," said Duncan. "To some of these players, either male or female, their guitars are very important to them. It's such a personal instrument, almost like a pet. Their guitar is their voice when they're performing, and you want it to sound the best for them. You want them to be inspired when a note comes out and it's doing what they want it to do."
4•1•1
Seymour Duncan's 35th Anniversary Party will feature the Steve Miller Band along with Duncan and other guests in a benefit for Notes for Notes on Tuesday, July 19. See lobero.com for tickets. He will also play SOhO Restaurant & Music Club on July 12 with Flat Foot Joe. To learn more about his pickups, see seymourduncan.com.