Arts & Entertainment
Bright Eyes at the Santa Barbara Bowl
Indie Pioneers Charge through the Hits on Sunday, September 25
For all of his musical incarnations, Conor Oberst has always tended toward the morose. Whether lamenting the fleetingness of lust on the road or berating the U.S. government for royally screwing up the world, his lyrics cut like a knife, and his deliveries, whispered or screamed, rarely go unnoticed. That said, the Oberst we got Sunday night at the Bowl rocked. And I don't mean that in the proverbial, "awesome job" kind of way. No, this Oberst came bearing some serious rock 'n' roll heft: a six-piece backing band, dual drummers, and more yelping, spinning, and showy guitar soloing than this reviewer ever thought him capable of.
For Bright Eyes super-fans, the shift seemed to come as a welcome surprise, as the night was marked by more pleading "Conor, I love you!" wails than I could bother to count. And despite the despicably low attendance rate, the band members seemed to be enjoying themselves, too, plowing through nearly two hours' worth of glammed-up indie anthems.
We got a sexy, slinky, and bass-heavy rendition of "Lover I Don't Have to Love," an epically building and organ-heavy "Four Winds," a pounding take on "Bowl of Oranges," and, for the purists, a piano-only rendition of "Spring Cleaning." That the band's newest (and possibly final) album barely played into the set list was perhaps the wisest of Oberst's choices. If, in fact, this is the end of the road for Omaha's greatest indie export, at least we can say he went out in a blaze of rock-star power-stance glory.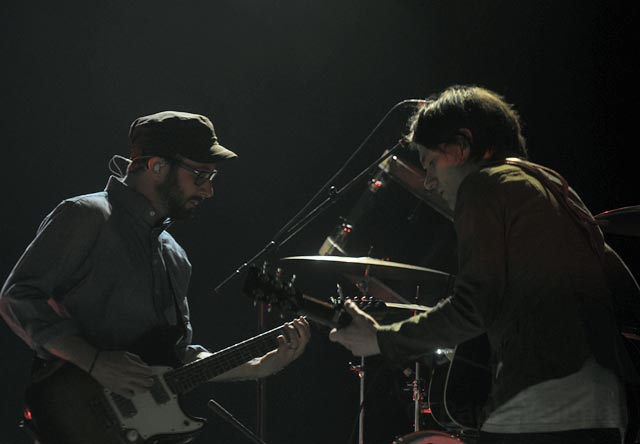 Setlist
1. "At the Bottom of Everything"
2. "Four Winds"
3. "Something Vague"
4. "Take It Easy (Love Nothing)"
5. "Jejune Stars"
6. "Lover I Don't Have to Love"
7. "Shell Games"
8. "Landlocked Blues"
9. "Bowl of Oranges"
10. "Hot Knives"
11. "Cartoon Blues"
12. "Spring Cleaning"
13. "Another Travelin' Song"
14. "Triple Spiral"
15. "Poison Oak"
16. "I Believe in Symmetry"
17. "Ladder Song"
Encore
18. "Wrecking Ball" (Gillian Welch cover)
19. "Road to Joy"
20. "One for You, One for Me"