Education
Eric Smith's Surprise Resignation
Deputy Superintendent of S.B. Unified School District to Leave at End of Year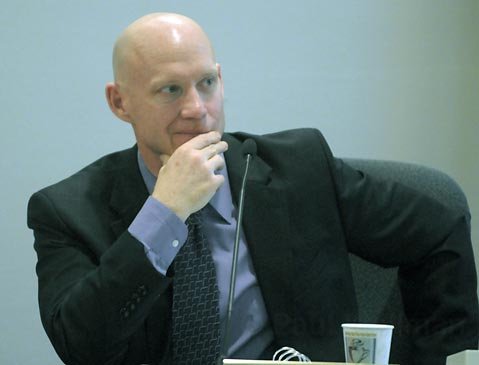 Catching much of the Santa Barbara Unified School District community off guard, Deputy Superintendent — and chief financial wizard — Eric Smith resigned from his post this week. The news was made public via a press release from the district late Thursday evening. "It is a shock to me," explained Board Trustee Ed Heron on Friday morning. "I wish I knew more about why, but I don't right now," Heron went on. "He has just done a fantastic job for us. I don't think any of us really saw this coming — I just don't know. It is certainly a real loss."
The press release offered little insight as to what sparked the seemingly sudden departure for Smith, other than saying that he had tendered his resignation and that his last day with the district would be December 31. A quote from Superintendent David Cash was also included: "Eric Smith has made a significant contribution to the fiscal health of the Santa Barbara Unified School District. His service to the district is valued and he will be missed." Calls to Cash and Smith looking for further details were returned by Barbara Keyani, the district's communications director. "We gave you everything we had yesterday," said Keyani. Asked if Smith was leaving for a new job somewhere else, Keyani stated, "We don't have any more information to that effect." According to Keyani, if more information becomes available, the district will issue a follow-up press release.
In a relatively short time with Santa Barbara schools, Smith — who was first brought on board in an "interim" capacity in the late fall of 2007 after the unexpected resignation of business services director Ed Diaz — has played a critical role in helping steer the district through several years of historic financial woe. Practically annual multimillion-dollar budgetary bloodbaths were mitigated as best as feasibly possible thanks in large part to Smith and his painstakingly detailed budget craftsmanship.
He was able to find money in both the simplest of ways (e.g., doing away with old phones lines in schools and getting sites to shut off lights and computers during the weekends) and the most ambitious of manners, perhaps none more impressive or more important than the district's recent state-approved unification, a daunting, red-tape tangled effort spearheaded by Smith that brought $6 million in additional ongoing funding to the district this past spring. In fact, thanks to Smith and his team, the district was recently awarded a Moody's S&P rating of Aa2 — the second-highest score possible for a school district's financial health. Board Trustee Kate Parker summed it up on Friday: "Eric has met every challenge we presented him with," she said. "I feel just really lucky that he stayed with us for the time that he did. He is one of the best business-services officers in the state, if not the country, and we were lucky to have him."
Parker, who spoke briefly with Smith on the phone after the news of his resignation broke, said that she didn't think another specific job was the reason for his leaving. Rather, she speculated that perhaps Smith — who has a résumé about as impressive as they come, including multiple gigs as deputy superintendent for school districts throughout California, a similar deputy role at the San Luis Obispo County Office of Education, and a tenure as a staff analyst for the state's Fiscal Crisis and Management Assistance Team — is moving on simply because, as S.B. Unified finds itself on increasingly solid fiscal footing, his work is done here. "Thankfully for us, we are moving into a boring phase [with our budget], and I think Eric is someone who likes a challenge," said Parker. "He can probably do just about anything he wants at this point."
The board is expected to get a more detailed briefing on Smith's resignation during closed session at a future meeting. As for what comes next, current Director of Fiscal Services Meg Jette will serve as the interim deputy of the department after Smith's departure while the board begins the official search for a permanent replacement.