Opinion
Grafton's Newest: V is for Vengeance
TWENTY-SECOND IN THE SERIES: Sue Grafton was on the phone, her soft Kentucky accent coming through from Phoenix, first stop on her book-signing tour for the 22nd in her alphabet crime series, V is for Vengeance.
The first chapter starts out with a bang. Bad guys in Vegas, gambling tricks, a double-dealing blonde at the table, and Lady Luck turning thumbs-down on a young guy from Santa Teresa, Grafton's nom de plume for Santa Barbara.
Chapter Two finds Grafton's private eye, Kinsey Millhone, shopping for underwear at Nordstrom. But when she spots a shoplifting in progress, she just has to get involved and almost gets killed, and the story races on from there.
Reading V is for Vengeance, I feared that Kinsey was getting in way over her head with people who like to throw folks from high buildings. But she's armed with plenty of moxie, and you know she'll survive. She has to. Grafton's legion of fans want to know what will happen to Kinsey in Z is for Zero, which Grafton says will make its appearance eight years from now in 2019.
Grafton will pause from her book tour for Thanksgiving at her other home, in Louisville, Kentucky, then hit the road again and be back in Santa Barbara for a signing at Chaucer's on November 30 at 6:30 p.m.
Costco in Goleta turned down a signing (too close to the Christmas rush), but Santa Maria's Costco "was thrilled to pieces" to host a signing, she told me.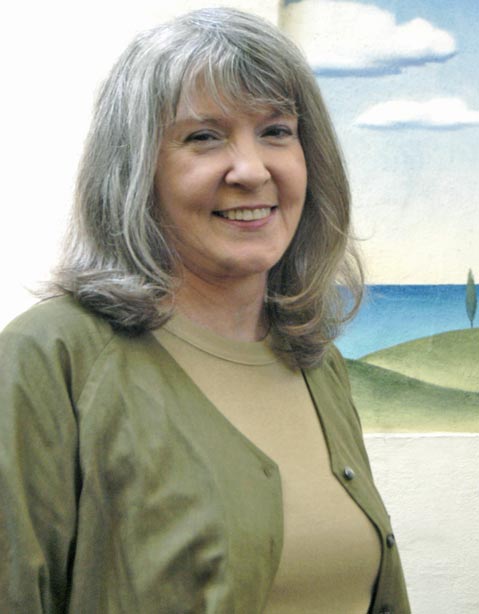 For the benefit of aspiring writers, this is Grafton's work schedule: "I'm usually at my desk at about 8:30 a.m.," she said, seven days a week, working on her computer, figuring out what will happen next. "I log on in the morning and see what's there." She takes a lunch break, works some more, then goes for a mid-afternoon walk.
As for Kinsey's adventures, "I don't tell her. She tells me."
On her treks between Louisville and her Montecito home, Grafton carries her novels-in-progress on a digital thumb-drive, which she plugs into a computer when she arrives. Even carries it in her purse and on her daily walks. (Backups are left in a safe place.)
Grafton hasn't got a title for W is for ____ yet, but she's got the story line "set up," as she puts it — at least for now, anyway. About "half a dozen times" in the past she's taken what she calls "the courageous act" of tossing a book-in-progress after putting in five months or so on it. "It's just as important to know the book you're not going to write as the one you will write."
HOLD THE FORT: Thanks to all those many sharp-eyed readers who called or wrote me about that geographical goof in my column last week. When I wrote about my Army basic training at Fort Leonard Wood, I said it was in MO, but a copy editor spelled that out into Montana instead of Missouri. I told how my stupid sense of humor during an interview after being drafted probably (or probably not) cost me an assignment to Army intelligence.
Howard Clarke, professor emeritus of classics at UCSB, was smarter. "I, too, was interviewed by The Man (actually an Army Security Agency captain) after basic training in 1953. I was humble and deferential, and so I escaped my original assignment, high-speed Morse intercept in the Aleutians, and ended up in an office in Berlin, where I headed up an intelligence team, served as [Secretary of State] John Foster Dulles's translator during the 1954 Berlin Conference, made sergeant in no time, and met and married my wife." (More to come on this.)
I also heard from a Santa Barbaran who got sent to Ft. Leonard Wood, fell short on his clerk-typist speed test, and faced being sent to Iceland for (ugh!) loading work. But he fudged and became a company clerk in the States.
GRAND NIGHTS FOR SINGING: First came Pink Martini Thursday night at the sold-out Granada, featuring a tall, sexy singer called Storm Large. Then two nights of the Bard, starting with a zany Brit group from Shakespeare's Globe Theatre doing The Comedy of Errors at UCSB's Campbell Hall, followed on Saturday night by talented Dos Pueblos High students staging Like You Like It, a takeoff on Shakespeare's As You Like It (and I did). Sunday night, the Rebirth Brass Band turned Campbell Hall into A Night in Treme, the New Orleans neighborhood, and had the crowd on its feet clapping.