Living
S.B. Big Trees
The Moreton Bay Fig Tree was Planted from a Cutting from Australia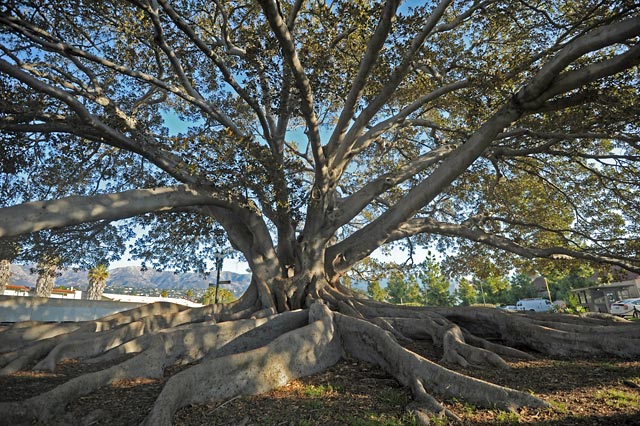 Large trees, whether it is their height, trunk diameter, the areatheir branches can shade, or their historic significance, are championed wherever they grow. Santa Barbara has a number of such trees. There was the old sycamore on Milpas Street that locals would hang a lantern in as a beacon for ships expected to arrive. Alas, it succumbed to old age a few years ago. The 200-plus-year-old sycamore in Goleta still survives. It served as a witness to the end of Mexico's sovereignty over California. The largest and most imposing tree still gracing our cityscape is the Moreton Bay fig tree adjacent to the train station on Montecito Street.
Ficus macrophylla is native to the coastal and mountain rain forests of Eastern Queensland and New South Wales, Australia. Moreton Bay, one of Eastern Australia's major sea ports, gives its name to this species, but it is also known as the Australian banyan. Unlike the true banyan tree (Ficus benghalensis), which supports its ever-widening canopy by dropping aerial roots from the horizontal branches, the branches of the Moreton Bay fig are sleek and sinuous.
Santa Barbara's renowned fig tree was transplanted from its original site on State Street in 1877 by a young girl named Adeline Crabb. The cutting had come from Australia as a gift to Adeline's friend from a visiting sailor. It is possibly the largest of its kind in California, although there are other venerable examples in Los Angeles and San Diego. The tree has been designated as a California Historical Landmark and is on the register of Big Trees. It is 80 feet high and spreads more than 175 feet across.
Moreton Bay fig trees can grow to 60 feet in height, and their broad, spreading crown may cover as much as three to five acres of ground after many years. Like most fig tree species, this one produces numerous (inedible!) figs that drop and can be a hazard if they fall on walkways. They remain quite firm and can act like ball bearings, sending pedestrians careening.
The above-ground structure of this tree is impressive, for sure, but the roots are nearly as awe-inspiring. They radiate out from the trunk in sinuous lines, not only below the soil surface, but emerging above it, as well. Starting at the trunk, they form buttresses that make this tree nearly impervious to even the strongest gale. In terms of gardening, this creates a dead zone for most any other plants. Luckily, the pale gray roots are architectural and ornamental in their own right. In fact, anyone contemplating adding this tree to a landscape would do well to consider the gargantuan profile it will assume in just a few years and that it will continue to dominate its site for decades, even centuries, to come.
Most gardeners don't have the space to plant and nurture a champion tree, but thanks to our city and county parks departments and state foresters, these venerable trees are preserved for all to enjoy.