Angry Poodle
Dog's Best Friend?
Solar Storms, and Sanity Breaks Out over Bulb-Out Proposal
DANGER, WILL ROBINSON!: I was crushed to discover I probably won't be morphing into the Incredible Hulk anytime soon. With all the intergalactic radiation now bombarding Planet Earth — thanks to the violent electromagnetic storms engulfing the Sun — I figured soon I'd start popping out of my pants, sporting green skin, and grunting things like, "Nick mad; Nick smash." What better way, after all, for a downwardly mobile, middle-aged, white male to accessorize? Turns out that we're being bathed in solar X-rays and plasma radiation — traveling 100 times faster than normal — but not gamma rays, which every 12-year knows is what triggered the otherwise mild-mannered Bruce Banner's transformation into the not-so-jolly green giant. The upside here is that the plasma storms might be inadvertently sparking a few sporadic outbreaks in sanity.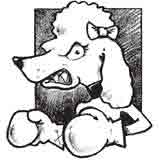 At least that's one theory to explain the relatively sane manner with which S.B.'s newly constituted City Council responded to a bulb-out proposed for the troubled intersection of De la Vina and Figueroa streets this Tuesday. For those visiting from Planet Neptune, bulb-outs have emerged as the uncombable wild-hair in S.B.'s body politic, our hometown equivalent of abortion, gay rights, and gun control all wrapped into one. It was the emergence of bulb-outs, of all things, that triggered the initial political backlash that allowed conservatives to gain a majority on the City Council last year for the first time since 1975. These modest little "traffic-calming" devices, it turns out, infuriated drivers into an abiding spirit of political road rage, and even their most unrepentant supporters learned it was better to switch than to fight if they wished to see the morrow's sunrise. Last summer, council conservatives sought to hammer a stake into the heart of the matter once and for all by enacting a sweeping resolution prohibiting the installation of any "hardscape" that might impinge the flow of traffic on city streets deemed essential for emergency or evacuation purposes.
Like all final solutions, this one proved anything but. Aside from the unusually intense solar storms — predicted by the Hopi but not the Mayans — two things happened. First, the city hired a Texas A&M-trained traffic engineer who'd worked for Mesa, Arizona named Derrick Bailey. And secondly, Cathy Murillo was elected to the council, replacing Michael Self. With Murillo's election, the so-called liberals regained the council majority, albeit narrowly. And Murillo is as knee-jerk a supporter of all things alt-transit as Self — who cut her teeth politically fighting bulb-outs — was genetically opposed. Far more than anyone else on council, Murillo is intimately familiar with the perils posed by the De la Vina and Figueroa crossing. For six years, she worked as a reporter at The Independent, located just half a block away. When the plan first went to the council last August — forced, by the way, by idealistic alt-transit advocates over the foot-dragging objections of politically realistic traffic engineers — the conservatives tried to politely kill it by sending it back for "more study." It would fall to Bailey — whose shirts appear as crisply ironed at the dusk of the day as they do at the dawn — to do the studying.
Bailey quickly discovered what the rest of us already knew — that the intersection is indeed dangerous. In the past 10 years, he found there have been 10 car-on-car collisions that might have been preventable and 10 car-on-pedestrian "collisions" that, in the lingo of traffic engineers, might have been "correctable." One of those "correctable" collisions — between a bus and a pedestrian — resulted in death. Problems at this intersection have been so well understood that city traffic engineers have had various plans to fix it for at least 18 years. It didn't help matters any when city officials were forced by state regulations to increase the allowable speed limit on De la Vina from 25 miles an hour to 30. Or that when the downtown Vons recently closed, there were that many more neighborhood seniors walking to Ralphs. The good news was that City Hall secured $363,000 in state grant funds to solve the problem by building bulb-outs there. The bulb-outs would provide pedestrians better sight lines to gauge the flow of oncoming traffic; they would also reduce the time it took pedestrians to cross the street, thereby reducing their risk. But even with a solution at hand that wouldn't cost City Hall a dime — and was strongly supported by neighborhood residents — the council conservatives balked. Instead, they argued we should walk away from the state grant and lay down a new crosswalk in fluorescent paint. To be fair, it should be acknowledged City Hall often proved its own worst enemy in dealing with the public about bulb-outs, giving otherwise rational individuals cause for black-helicopter paranoia. But beyond City Hall's at-times heavy-handed approach, bulb-outs challenge the theological conviction that roads — and cities — should be designed primarily and exclusively for the unfettered convenience of people in cars, leaving pedestrians, as Murillo noted, to fester in their "foot rage."
If Murillo brought a new vote to the council, Bailey brought a new scientifically engineered design for the bulb-outs. His news plans intruded less into De la Vina Street by a total of four feet. The new design, Bailey averred with Spock-like professionalism, would not inconvenience drivers in any way. When Councilmember Dale Francisco objected the new designs contradicted the council's policy directive — which he orchestrated — to ban bulb-outs until hell froze over, Bailey's boss, public works czar Christine Andersen, replied with a delicious display of bureaucratese: "I believe it's not contrary to council's ability to make this decision."
Some people are worried that the solar winds could knock out GPS signals and disable the Internet. Major airlines are rescheduling flights accordingly. It's still too soon to say these storms can be held responsible for any sudden onslaught of sanity. More such storms are forecast, so I guess we'll find out. And in the meantime, there's no shortage of reasons to turn green and start smashing things.