Marguerite Birch Torbert: 1912-2011
In Memoriam
| Fri Feb 24, 2012 | 6:00am
In art as in life, Meg Torbert was unhampered by inertia. She lightheartedly painted over work she spent weeks on. She moved out of her retirement community after her husband, Donald Torbert, died to live 10 years in a bright condo with a sunroom, churning out hundreds of paintings before moving back into retirement in her eighties. There, she used the Vista del Monte community studio daily, continuing to paint and to exhibit seriously through her nineties.
At 88, she married Arthur Hopmans. "We had to," she explained. "All our friends were gossiping."
Meg began to paint seriously only after retirement in 1978 from a 45-year career as a teacher, designer, editor, and curator at the Walker Art Center in Minneapolis, where she hung shows for and wrote articles about many important mid-century artists including Adolph Gottlieb, David Smith, Philip Guston, Marcel Breuer, Robert Arneson, and Robert Motherwell. As part of her work at the Walker, she edited the prestigious journal Design Quarterly.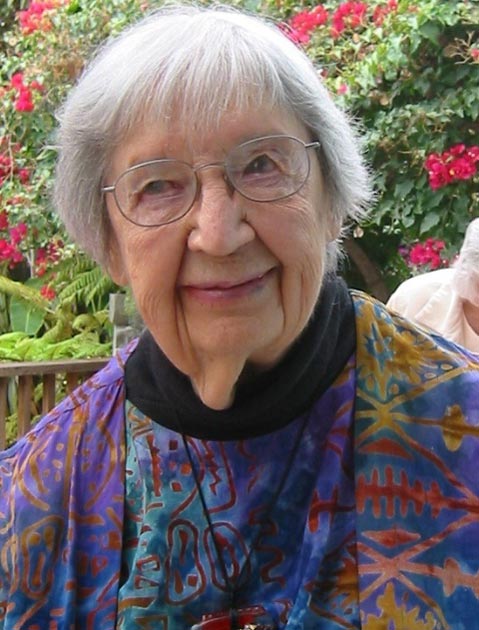 She traveled twice to Japan to visit craftspeople and collect objects for the Japan: Design Today exhibition sponsored by the Japanese government and the Smithsonian Institution. The exhibition introduced Japanese folk art to the United States in the early 1960s, traveling widely and permanently influencing American taste.
It was my good luck to meet Meg in a painting class taught by Robert Frame at Santa Barbara City College—her first painting class after she came to Santa Barbara. We began to paint together regularly, and she shepherded me through that tough period of every artist's growth: figuring out how to make paintings rather than merely turn out visual records.
A lifetime of looking at paintings and talking to artists gave Meg a lot of art background, but in spite of her depth of knowledge, she was able to handle paint with an almost child-like love of the material, bringing ideas and criticism to her work only when quietly regarding a painting from 10 or 12 feet away, seated in a comfortable chair. After five minutes of thought, she would stride to the easel and make a few strokes or, sometimes, scumble over half the picture with a neutral color. Meg taught her artist friends the joy of "less is more," of looking more than actually putting brush to canvas, of the freedom of interacting with a painting on its own terms, and, above all, of not considering one's work too precious to change.
During the three decades she actively painted in spite of serious life changes, accidents, and failing health, Meg sold her work first through Elizabeth Fortner Gallery in Santa Barbara, a nationally known crafts gallery that had never before shown paintings, and then through Maggie Hutchins Gallery in Cambria. During the last 12 years, I have been able to hang Meg's work several times in my art studio on Laguna Street, including a retrospective exhibition with catalog in 2007.
Meg leaves a daughter, noted photographer Stephanie Torbert of Minneapolis, six nieces and nephews, grandnieces and grandnephews, and hundreds of devoted friends who appreciated her elfin smile and quiet wit.
Meg and I traveled a long way together, and I miss her every time I pick up a brush.