News
Murder Case Hinges on Self-Defense Claim
Benjamin Vargas on Trial for Stabbing and Killing Vincent Velasquez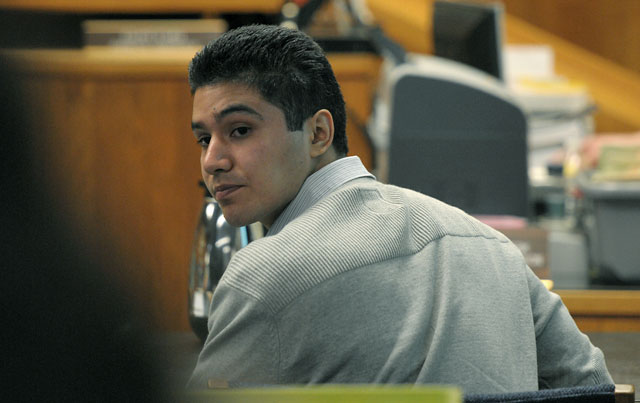 There's little question who killed 26-year-old Vincent Velasquez during a fight in Isla Vista early in the morning of May 15, 2011. An attorney for Benjamin Vargas admitted it was his client during opening trial statements Thursday.
The main question facing the jury is whether Vargas, 20, acted in self-defense when he stabbed and killed Velasquez. Witness statements have already indicated Velasquez was irritable and stubborn at the time — possibly even angry — and that he could have been the aggressor. By all indications, the larger and older Velasquez threw the first punch and quickly gained the upper hand as his friend urged him on. Ron Bamieh, attorney for Vargas, has seized on these statements, telling the jury the younger, smaller Vargas feared for his life, and the only option he had was to fight back.
Self-defense can be a perfect defense to murder, but the jury must find that Vargas believed retaliation was necessary to avert imminent death or great bodily harm. He also must not have been the initial aggressor.
The defense's biggest issues will likely be where the knife came from and the number of times Velasquez was stabbed — 16. Bamieh said that in the midst of the fight, Vargas looked down and saw a knife on the ground. He suggested it came from Velasquez's pocket. Vargas picked it up and, in a struggle for his life, stabbed, Bamieh said. If the jury doesn't believe Bamieh's story and decides Vargas had a knife on him, the defense attorney will likely have a hard time convincing the jury that the 16 stab wounds were made in self defense.
The prosecution says Vargas murdered Velasquez. "What the evidence is going to show you is Vincent Ronny Ray Velasquez was murdered on May 15, 2011, because of the way he looked," Senior Deputy District Attorney Hans Almgren told the jury during opening statements, noting a number of tattoo's on Velasquez, and alleging a connection Vargas had to gang members.
The baby-faced Vargas, dressed each day of this week's hearings in a sweater over a button-down shirt, has sat attentively during the proceedings, while the courtroom behind him has been full, but divided. On one side sits a large contingent of Velasquez supporters, while the other half has had a handful of Vargas's friends and family, including his sister and girlfriend, who were both initially indicted as accessories to murder. The judge threw out the charges against them last month.
The prosecution's main witness, Ray Velez, Velasquez's longtime friend, was on the stand Monday and Tuesday, telling the jury what he recalled from that night. Velez and Velasquez had been in Isla Vista partying with a group of friends, the two driving from Santa Barbara with one other person. All three were in the 6600 block of Abrego Road in Isla Vista sometime after midnight when Velez and the third man — Aaron Disandro — tried to get Velasquez in their car so they could leave. But Velasquez was being stubborn, as he could be when he was intoxicated, Velez testified.
Vargas was apparently on his way home as well, walking down the sidewalk with his girlfriend Karen Medina. Velasquez said, "What's up," to Vargas, according to Velez's testimony, in a nonthreatening way, but Vargas took it as a challenge and things escalated quickly. Vargas responded with something along the lines of "You don't tell me 'what's up.' You don't know me homie. You don't know where I'm from."
Velasquez responded by punching Vargas, Almgren said in his opening statement to jurors, a fact confirmed by Velez's testimony, though he was less clear because he had been only partially minding the confrontation. Medina got upset and ran over to Velasquez and started to hit him, which caused Velez to get out of the car. Velez told Medina to let the two fight one-on-one, and the two "go at it again," Almgren said. They fight as Velez cheers his friend on, he told the jury. In emotional testimony Monday, Velez testified that he regretted allowing the fight to happen and that he blames himself for his friend's death. "I was mad at myself," he said.
But his friend was winning the brawl, he said, even using the word "manhandling" at a previous hearing. But eventually the tide turned, according to Velez, and Velasquez went down to a knee. Velez went to go help his friend, and Vargas took off running.
Velez realized his friend's injuries were worse than he thought and tried to render first aid before driving his friend to Goleta Valley Cottage Hospital. Velasquez died shortly thereafter from two main wounds — one to the neck and one to the heart.
Almgren said he believes "the evidence will show [Vargas] had a knife," though no witnesses, including Velez, said they saw a knife in Vargas's hand. Bamieh told the jury they will have to pay close attention to the details of the case and to what is said by whom. He spent much of Tuesday carefully picking through statements made over the last year by Velez at various hearings and interviews, forcing Velez to bring up painful memories on the stand.
In addition to a perfect self-defense finding the jury can make, the jury may also find that Vargas used imperfect self-defense, that is, he had an honest but unreasonable belief that deadly force was needed. If the jury finds that to be the case, Vargas could be found not guilty of murder and at the most be found guilty of manslaughter. Almgren, for his part, told the jury during his opening statements that this was not a case of self defense.
If convicted of murder, Vargas could face 25 years to life in prison.