News
Vargas Guilty of Voluntary Manslaughter
Faces 3, 6, or 11 Years in Prison For Fatal Isla Vista Stabbing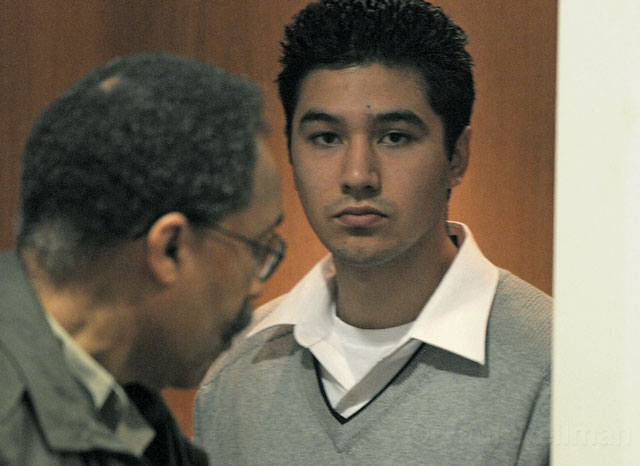 After more than two days of deliberation, a Santa Barbara jury found Benjamin Vargas guilty Tuesday afternoon of voluntary manslaughter for the stabbing death of 26-year-old Vincent Velasquez. As a result, Vargas faces 3, 6, or 11 years in state prison when he is sentenced next month.
Out of town when the verdict was read, defense attorney Ron Bamieh said in a phone conversation that he was "very pleased" Vargas was found not guilty of murder. "Our number one goal of going to trial was to avoid a murder conviction," he said. "Murder was a ridiculous charge." Prosecutor Hans Almgren thought differently. "It's not the verdict you hope for," he said afterward. "I thought we had a very strong case for second degree murder."
The prosecution and defense presented two different versions of what happened on Abrego Road in Isla Vista early in the morning on May 15, 2011. Bamieh said his client — a 20-year-old father who lived with his parents, his girlfriend, and their young son — was walking down the street with his girlfriend when a drunk Velasquez stopped him, asking, "What's up?"
Almgren said Vargas was the aggressor, taking a simple, nonthreatening greeting and responding irrationally. "You don't tell me 'what's up.' You don't know me homie. You don't know where I'm from," Vargas had responded, according to Velasquez's friend Ray Velez. Vargas entered the fight against a bigger, stronger man because "if anything goes wrong, I can just pull out my knife," Almgren argued in front of the jury. "Why would you carry a knife unless you wanted to use it?"
Both witnesses for the prosecution and defense agreed that Velasquez threw the first punch, knocking Vargas to the ground. The two began fighting, according to witnesses, with Velasquez first gaining the upper hand. But eventually the tide turned, and Velasquez went to a knee. It wasn't until later that Velez realized his friend was seriously injured. No witnesses reported seeing a knife.
Bamieh attempted to show the jury that, in fact, Velasquez was the aggressor. He said Velasquez was drunk and irritated, that the victim took steps toward Vargas, and, of course, threw the first punch. Vargas was left fighting for his life, Bamieh said, and stabbed out of self-defense. He claimed the knife either came from Velasquez or the ground, noting testimony that Vargas was not known to carry a knife.
At the close of the prosecution's case, Bamieh filed a motion asking the judge to throw out the possibility of first degree murder based on the evidence, a motion granted by Judge George Eskin. The District Attorney's Office quickly filed a motion with the state Court of Appeal to pause the proceedings and hear an appeal, but the motion was denied.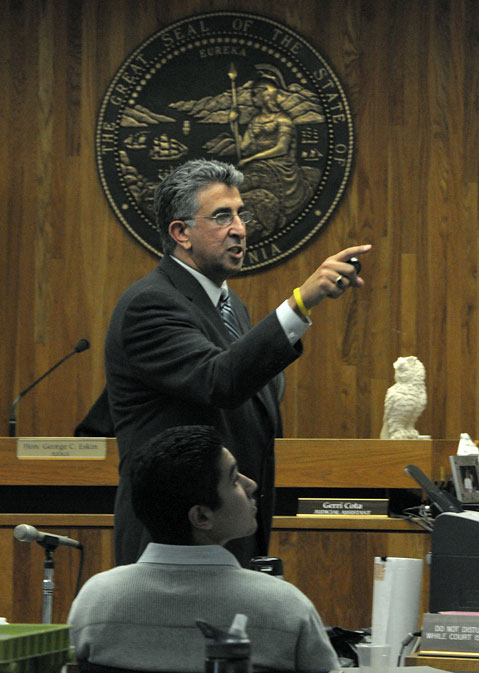 So all the jury could consider was second degree murder, as well as its lesser included offense, manslaughter. A conviction of second degree murder would have required that Vargas acted with "malice aforethought."
There are a few theories under which the jury could've found Vargas guilty of voluntary manslaughter. He would have had to act "upon a sudden quarrel" or "under the direct and immediate influence of provocation," or the jury could've found he acted in "imperfect self-defense." Imperfect self-defense means Vargas believed he was in imminent danger of death or great bodily harm, and he believed the imminent use of deadly force was necessary to defend against the danger, and that one of those beliefs was unreasonable. There is no black-and-white line where a person's actions move into or away from self-defense. It's a line the jury draws in their deliberations.
Almgren explained in an interview after the verdict that he thought, given the facts, there was an argument for first degree murder, looking at the means of how the murder was carried out. He noted the number of times Velasquez was stabbed — 16 — including wounds to the neck and heart. At one point during his closing arguments, Almgren drove home the point, counting out the number of stab wounds. "He did not stab him one time," Almgren said. "He did not stab him two times. He did not stab him three times. He did not stab him four times," Almgren went on, continuing on to 10. "He stabbed him to death."
The 12 jurors — who began deliberating Friday afternoon after three weeks of testimony — were escorted out a side door after the verdict was read. They didn't stick around to comment to media or attorneys, so it isn't known which theory they leaned on in making their decision. The defense vigorously argued self-defense throughout the trial. "To say that this is a case of self-defense is ludicrous, absolutely ludicrous," Almgren responded in his argument. "Do not buy into that."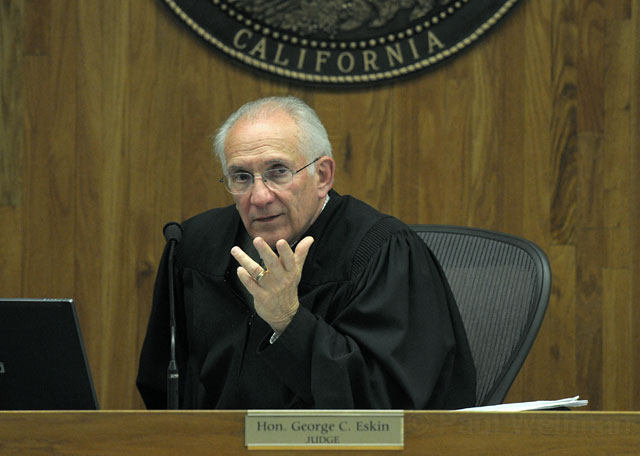 In his defense of Vargas, Bamieh pointed to the testimony of two of the key witnesses for the prosecution, Velez and Aaron Disandro, who was with Velez and Velasquez. Disandro, for his part, admitted he was intoxicated and wasn't really paying attention for a time, and he later told the courtroom "flashbacks and visions and dreams" helped him recall what happened.
Bamieh called into question the ability of the two witnesses to recall the events, and he suggested their memory was helped by speaking with authorities throughout the course of the last year leading up to trial. Velez himself admitted he wanted to help authorities any way he could, Bamieh said. He also went after the procedures Sheriff's deputies used in investigating the case.
Almgren, meanwhile, questioned the testimony of Vargas's girlfriend, Karen Medina. "You're going to have to make credibility calls here," Almgren said.
With the stakes and emotions high, there was certainly no love lost between the prosecutor and defense attorney throughout the trial, with both men snapping at each other at different points during the proceedings. Almgren didn't want to talk about Bamieh after the trial. "If you can't say anything nice, don't say anything at all," Almgren said. "I'm not going to say anything at all."
Bamieh, however, didn't hold back. "I've never seen somebody who has pulled the kind of stuff as this prosecutor," Bamieh said. He charged that Almgren misrepresented facts to both him and the judge, and that Almgren's concern was not justice. "He was a win-at-all-costs prosecutor," Bamieh said.
Bamieh pointed to the indictments Almgren pursued against Medina and Vargas's sister, Maria Vargas, 10 days before Vargas was scheduled to go to trial. Bamieh said without hesitation that the move was to silence the women and keep them from testifying. He called the indictments — which were thrown out by Eskin in March — "despicable" and "ludicrous." "We plan on holding him accountable for his unjust actions," Bamieh said.
Bamieh said he spoke with Vargas's family post-verdict, and they were "very grateful that their son will have his life back at some point."
Almgren spoke to a large group of emotional Velasquez supporters, including friend Ray Velez — whose testimony in the case was relentlessly attacked by Bamieh — and his girlfriend. "I can only imagine how they feel," Almgren said when asked about their reaction.