News
Horse Rescued in Santa Barbara Channel
Spooked During Photo Shoot and Swam More than Two Miles Out to Sea
A white Arabian horse named William broke away from his handler during a photo shoot at Loon Point Tuesday evening and swam more than two miles into the Santa Barbara Channel before rescuers found him and towed him to shore. Scared, cold, and exhausted, the 7-year-old show horse trudged back onto the Summerland beach after spending nearly three hours in the chilly water and was transferred to the care of its owner and a waiting vet.
The horse was spooked at around 6:15 p.m. by the sound and sight of breaking surf at high tide. He wrenched his reins from a handler before running back and forth along the beach and eventually diving into the ocean. Multiple rescue agencies — including the Carpinteria-Summerland Fire Protection District, Santa Barbara Harbor Patrol, and State Parks lifeguards — launched a coordinated search effort, eventually spotting William treading water far offshore. A helicopter was initially called in but canceled once the animal was located by boat.
Officer Ryan Kelly with Harbor Patrol said he and his crew used a hook to snag the saddle and reins William was still wearing. "He showed definite signs of fatigue," said Kelly. "His head kept dipping into the water." Forced to think creatively since no area officials had ever rescued a horse from the ocean, Kelly and the team removed the horse's saddle, attached a flotation device, then lashed him to the side of their boat. "We had to brainstorm," he said.
As a crew member held the horse's head above water, the boat slowly cruised back to shore at just under two miles per hour. When it became shallow enough, lifeguards on paddleboards lashed William's reins to their boards and towed him the rest of the way. And once out of the ocean he was covered in blankets then rushed to Alamo Pintado Equine Center in Los Olivos for hot tub and rubdown treatments. The incident is making international headlines.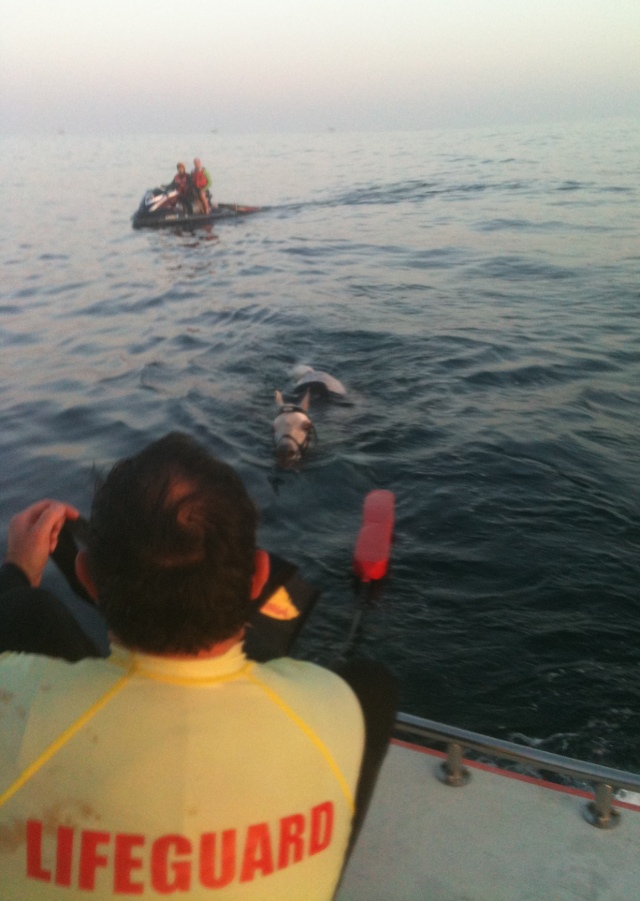 Santa Ynez horse breeder Mindy Peters, whose daughter owns William, said the horse had never been around water and that handlers were trying to get him comfortable with the seaside environment. He was one of eight or so other horses being used in a "photo clinic" put on by South Coast horse photographer April Visel. Nearly a dozen other photogs were present for the on-site lesson. (There have been a number of photo and film productions at the Summerland location in recent years. A 2010 Old Spice commercial was shot there. Watch it here.)
Peters, wife of famous Hollywood producer Jon Peters, imports and exports Arabian horses all over the world and is a third-generation horse breeder. She said she was panicked during Tuesday's ordeal, thinking William would be lost at sea. Arabians, though, are known for their strength and endurance, she said. William is recovering well and will compete in the upcoming national championship for Arabians in the English pleasure class. He'll soon have his own Facebook page titled "William the Wonder Horse," Peters said.