C. Michael Ganschow: 1945-2012
In Memoriam
| Tue Jun 05, 2012 | 6:00am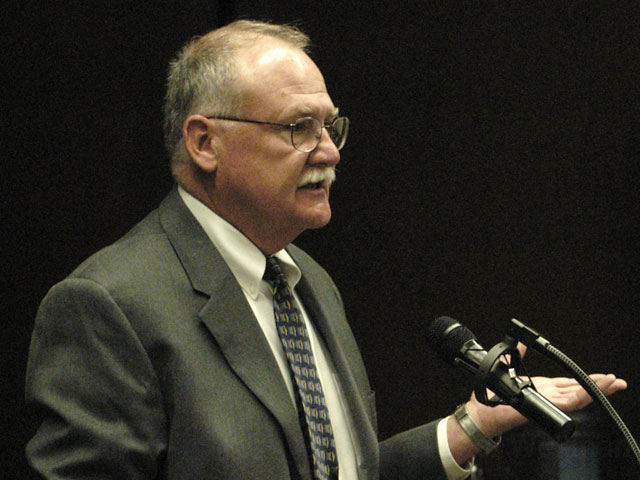 Clifford Michael Ganschow, a father, Deputy Public Defender, and brilliant advocate, died on May 16 of leukemia. His contributions to the Santa Barbara community are widely felt but not widely known.
Among his many contributions to our legal system, C. Michael Ganschow (which is how he always signed his name) forced our courts to consider "own recognizance" release of persons charged with crime at their first appearance in front of a magistrate, rather than leave them to languish in jail for days waiting for such opportunity for even the most minor of offenses, as had been the Santa Barbara system of justice for years. This was important not for those defendants who had the means to post bail immediately upon arrest, but for students, the working poor, the poor, and the disabled.
Additionally, Michael, along with his longtime friend and colleague defense attorney Robert Sanger, changed the manner in which jurors are chosen for service in Santa Barbara County, from a system whose procedures tended to discriminate against Hispanics to a more inclusive system that brings a more diversified jury pool, more resembling a jury of our peers.
Michael was a knowledgeable, intense, and effective advocate. He was absolutely fearless in his defense of others. He looked injustice in the eye, and poked his finger in it. To be represented by Michael was to be represented by a man with the determination of a lion out for his kill. (As an attorney represented by Michael in a contempt-of-court proceeding, I speak from first-hand knowledge.) But a defendant could not choose him by paying a large sum of money for his representation (as many sought). He represented the indigent, and the best day of any criminal defendant's life was the day that C. Michael Ganschow was assigned to that defendant's case.
One of those lucky enough to be so assigned was a codefendant in the Alpha Dog murder case. Michael's client was a frightened 17-year-old charged as an adult accomplice in the murder of Nicholas Markowitz. Through Mr. Ganchow's tireless advocacy for his client, he managed to convince the judge to deny the prosecution his client's life in prison, but hand down a more just sentence of placement at the California Youth Authority (an option no longer available for minors charged as adults). He saved his client's life that day. But even as he was congratulated for his incredible success, he mourned the jury's decision to convict his client of murder.
Michael Ganschow pushed all of us, the courts, prosecutors, defense attorneys, probation officers, law enforcement, investigators, and staff, to know more, to do more, to do better. He was clever, witty, insightful, and at times intimidating. He often wrote and spoke in a vocabulary peppered with references that were unknown to most of us, and could only be understood after spending quality time with Google. But once understood, it truly was quality time.
Our government employs attorneys for the purpose of being watchdogs of that very government, protecting the most vulnerable citizens against government abuses, overreaching, and violations of civil liberties. Our government set up a structure, a department, to supervise those attorneys and continuously train and educate those attorneys to ensure effective representation and protection of their clients' interests, because preserving their rights preserves the rights of all. The hiring of Michael to the position of Deputy Public Defender was government at its best. Those of us who had the opportunity to work with him and to learn from him are better attorneys, better protectors of your constitutional rights, for having that experience.
Michael leaves behind a daughter, Romy Ganschow, who has just graduated from Yale Law School. He took great pride in knowing that she intended to begin her practice of law working for Legal Aid in Brooklyn, New York. He also leaves behind his son and my colleague, Hogan Ganschow, deputy public defender, continuing the tradition. He leaves behind their mother Karen Atkins, his long-time partner and friend — also a fierce, former deputy public defender (and strong enough to take on C. Michael Ganschow). He leaves behind his sisters, and a large number of devoted friends. We will all miss him terribly.
"Never Give A Inch" — Ken Kesey (the Stamper family motto from Sometimes a Great Notion and C. Michael Ganschow's most frequently used quote)
Mindi Boulet is a Deputy Public Defender.