News
Sports-Betting Kingpin Arrested in Santa Barbara
Feds: Stanley Tomchin a Top Player in National Gambling Ring with Suspected Mob Ties
Stanley "Monty" Tomchin was arrested in his Montecito home last Wednesday on charges of corruption, money laundering, and conspiracy in connection with what federal authorities say is an illegal sports betting ring that's netted more than $50 million nationwide since April 2011.
Tomchin — partnered with Brandt England of Las Vegas and George Molsbarger of Santa Monica — owns and operates a sports betting website, pinnaclesports.com, that tried to dodge U.S. gambling laws by using offshore wire accounts and a complicated scheme of bounced transactions between computer servers in Costa Rica and Panama, officials said.
The trio is named with 22 other defendants and three other websites in an indictment drafted by the District Attorney's Office in Queens County, New York, where the case is being prosecuted.
Tomchin, 67, sits in Santa Barbara County Jail awaiting extradition to the East Coast. Over $400,000 in cash was discovered at his 727 Lilac Drive home, a Santa Barbara Sheriff's spokesperson said. It's unclear if he's secured a lawyer.
Tomchin faces up to 25 years in prison if convicted, along with codefendants Jerald "Rocket" Branca, Steven "Fats" Diano, John "Tugs" Tognino, Michael "Chinese Mike" Duong, and others spread throughout California, Nevada, New Jersey, New York, and Pennsylvania. The ring has suspected ties to the Italian mob.
"Illegal gambling is not a victimless crime," said Queens District Attorney Richard Brown in a prepared statement. "Those who participate in these criminal enterprises often use threats, intimidation, and even physical force to collect debts and oftentimes charge usurious interest rates on outstanding debts."
All 25 people named in the indictment are accused of soliciting and facilitating bets on horse racing, professional and college football, basketball, and hockey. They were indicted last week in a multi-state sweep after 18 months of surveillance, intelligence gathering, and wiretaps, the Queens DA said. Over $7.6 million in property, cash, and gambling chips were seized.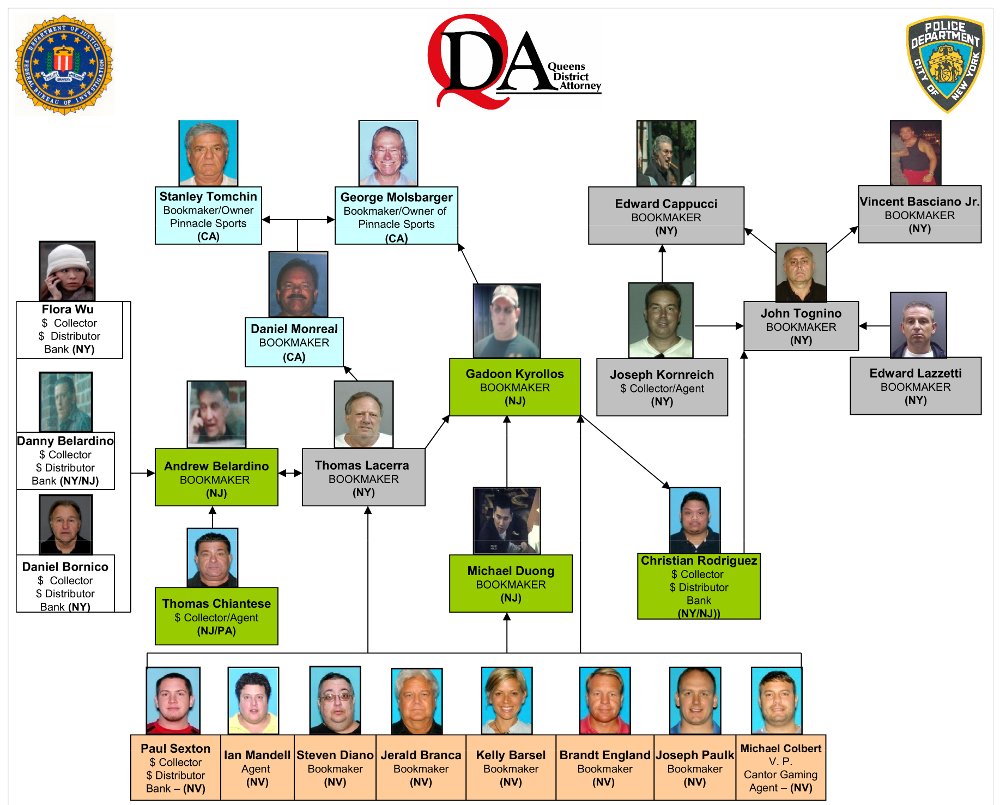 Tomchin and his pinnaclesports.com partners, say prosecutors, took money from bettors in over 100 countries, including the United States. Emails to the company were not returned. It lists mailing addresses in Willemstad, 
Curaçao, and Alderney,
 Channel Islands. The Associated Press received this statement from pinnaclesports.com when asked for comment:
"Regarding the recent allegations surrounding the individuals allegedly affiliated with Pinnacle Sports, please be reassured that no Pinnacle Sports employees have been arrested or charged, and Pinnacle Sports itself was not charged in the indictment. … We expect no interruptions to our day to day business activities at this time."
In the Queens County DA indictment, Tomchin is described as a top tier "bookmaker," responsible for overseeing a number of "agents." The agents would pinpoint regular bettors within the enterprise, say authorities, and were in charge of "squaring up" or "settling up" with them, sometimes with the help of "money collectors" or "banks." This bottom tier group was also allegedly responsible for holding and divvying out large sums of cash in order to avoid wire transfers or credit card transactions.
Sports betting is permitted in Nevada but illegal everywhere else in the United States. A 2012 bill signed by New Jersey Governor Chris Christie, however, would allow sports bets in Atlantic City casinos and on the state's four horse tracks. The legislation — set to take effect January 9, 2013 — is being challenged by a number of professional sports leagues.