James Victor: 1950-2012
In Memoriam
| Thu Dec 13, 2012 | 12:00am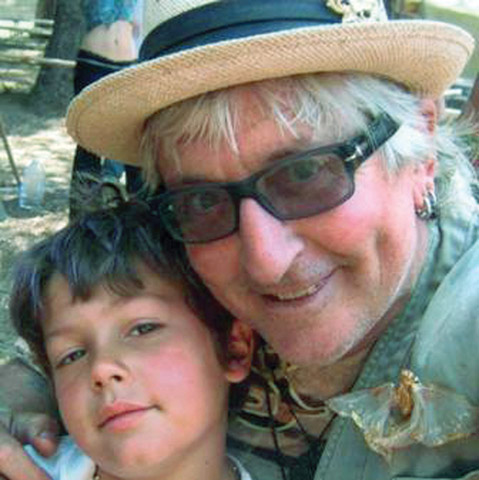 Forty-two thousand souls dancing in the desert. The Man burning bright, just fallen, flames 10 stories high. Night sky turned to day.
James pointed across the crowd and yelled above the roar of flames and mob, "Let's go to the flower!"
We wound our way through the crowd, our small Santa Barbara posse, led by James in his wheelchair. A 40-foot-tall crane was transformed into a mechanically opening and closing lotus flower, with a live band on top. We proceeded to rock out. The operators were so taken with James's energy that they lowered the bucket and offered him a bird's-eye view. I helped him into the bucket, and up he went. Burning Man is like that.
It was in this dancing crowd that, moments later, I met my wife. The mother of my child. Our meeting and eventual union defied all odds. It was just one more occasion when Jimi's ability to pull magic from thin air furthered the cause of love yet again.
How is it possible to live through debilitating physical injury with such poise and seemingly endless new ideas for dealing with pain, pain the likes of which I pray no one anywhere must experience? He used music and meditation, chanting and art, photography and jewelry making, and everything Western and Eastern medicine had to offer. None of these things held a candle to the life-affirming, keep-your-mojo-flowing goodness and wonder that he got from his son. Gavin, you are the reason he made it this far.
James had to fly higher, drive faster, risk all again and again, and feel all life had to offer him more than any person I have ever met. His body was as temporary as any of ours and made a fine vessel for his soul, or life force, or whatever it is that makes each one of us who we are. It just kept going.
I met James in 1995 at the beach show on Cabrillo. He and the belt maker Steve Junak rolled out the red carpet, and I moved right into their exhibit area. Some months later, he pushed me down my first snowboard run at Mammoth. During a time in my life when I was performing death-defying acts of my own, for the thrill of it, on bike and skate, scarring up my body, bouncing off cars and pavement, James repeatedly told me, "A mature man does not remain a hot dogger." Then he had his paragliding accident, and I matured.
Even after the accident, James furiously held onto the sports he held dear. The ocean gives the best hugs. The mountains get you high.
I was many things to James Victor, and he to me. Now we have a new relationship. In my new friendship with Jimi, I have all I have learned from him held fast in my heart — all he has shared with me about life, design, courage, the ability to persevere and even thrive in the face of seemingly insurmountable challenges. He has taught me how to be a better father, by example. The list goes on and on, but the most comforting thing about our new friendship is the absence of pain.
Often, when James would surf or snowboard, he'd throw up a "soul arch" — arms stretched high, back arched, eyes shut, raised to the sky. His connection to the source of it all, and his ability to serve as a conduit to shower us all in beauty, will never be forgotten.