News
KEYT Anchor Paula Lopez Reported Missing
UPDATE: Returns Home Eight Hours After Disappearing and Prompting Massive Search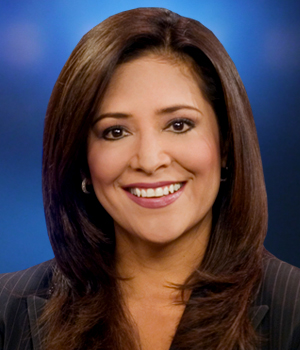 [UPDATE, 7: 19 p.m.]: Paula Lopez has been found. According to Sheriff's Department spokesperson Kelly Hoover, her family members called authorities at around 5:30 p.m. to report she was home and safe. Deputies responded to the residence and confirmed she was there. "We are not commenting on the reasons surrounding why Ms. Lopez went missing due to the fact it is a private family matter," Hoover said.
[UPDATE, 5:08 p.m.]: Sheriff's Department spokesperson Kelly Hoover just released more information on Lopez's disappearance.
Just after 10 a.m., Hoover said, authorities received a call from concerned family members. They said the last time they had talked to Lopez was at 9:30 a.m. and that her last known location was her home near Cathedral Oaks Road and North San Marcos Road. "No foul play is suspected but her family is concerned about her welfare," Hoover said in a statement.
Deputies, assisted by a helicopter and two K-9 units, have been searching the area throughout the day. So has the county's Search and Rescue team.
Lopez, who's been with KEYT since 1985 and anchors the 6:30 p.m. and 11:00 p.m. broadcasts, is 48 years old and approximately 5′ 2" tall. She was last seen wearing a black sweat suit and tennis shoes. "If you see her or have any information on her whereabouts you are asked to call the Santa Barbara County Detectives Bureau at 681-4150," said Hoover.
[ORIGINAL REPORT]: KEYT anchor Paula Lopez has been reported missing, according to station general manager Mark Danielson. He released a statement on KEYT's website at 4 p.m. Wednesday afternoon. It reads:
"This morning we learned that a beloved member of the KEYT family, Paula Lopez has gone missing. We have been in touch with her family and know they, as well as local authorities, are doing everything possible to find her safe and sound. It is clearly a difficult time for her family and our own family at KEYT. All of us at KEYT stand ready to assist in any way we can. For now, on behalf of KEYT and NPG of California our thoughts and prayers are extended to Paula as well as her family and those searching to find her. We hope for her safe and speedy return."
Lopez is married to Santa Barbara Superior Court Judge Frank Ochoa. The Santa Barbara Sheriff's Department is handling the case, but did not immediately return requests for comment.
Check back for updates.