Arts & Entertainment
South by Southwest: Day One
The Santa Barbara Independent Heads to Austin for Six Days of Music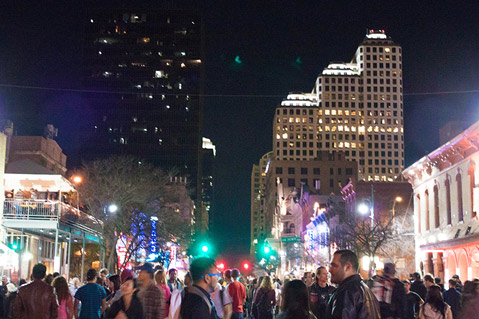 Nervous and excited, we sit at our terminal in Phoenix on a connecting flight to Austin, Texas. A thin scruffy boy with long hair approaches.
"I like your hat. Do you surf?"
I realize I'm wearing the "Surf Happens" hat recently acquired at the annual Rincon Classic Surf Competition. Turns out, our long-haired surfer friend is from Hawai'i and in the band Lukas Nelson & Promise of the Real, a rock group based out of California. They're playing the South by Southwest (SXSW) music festival and invite us to their show. We are quick to find out that they are sponsored by Sanuk, a surf brand recently acquired by Santa Barbara's Deckers Outdoor Corporation. We're making friends and connections before we even set foot in Austin. This is the magic of SXSW.
It's Tuesday, the first day of the music portion of the festival, and the city is all abuzz. We call for a cab, but unfortunately there is a two-hour wait; thank goodness we have some friends who are able to pick us up and escort us downtown. Earlier in the day, the festival welcomed an interview with electronic music heavyweight Deadmau5, who put on one of the best shows we've seen recently at the Santa Barbara Bowl.
We arrived late in the evening with empty bellies. The many food trucks lining the streets of Austin are too tempting to pass up. BBQ, Korean, Italian, Chinese, Greek — we have endless options. We're in Texas, so we opt for BBQ. After having our fill of savory pulled pork, we hit the streets to take in the sights, sounds, and the best people-watching opportunity we've seen since Summer Solstice.
A quick look at our SXSW mobile app (and the lines wrapping around the block) tells us the night's spotlight is on up-and-coming New York rapper Action Bronson. Since we arrived in Austin after the press center had closed for the day, we were unable to obtain our passes and were denied entry to The Belmont, where Bronson was playing. We rerouted to 6th Street, the epicenter of music in Austin, which is closed to traffic for the event, making a wide path for pedestrians and festival attendees. Street performers litter the streets, and live music wafts from every doorway.
We end up at Karma Lounge and dance the night away to Redsean, a house deejay based out of Dallas.
Jet-lagged and weary, we drag ourselves back to our downtown rental. Day one of SXSW Music has come to a close, but the adventure has just begun.