Living
The Call of Home
Two Years Discovering Irish Roots on the Family Farm in Dingle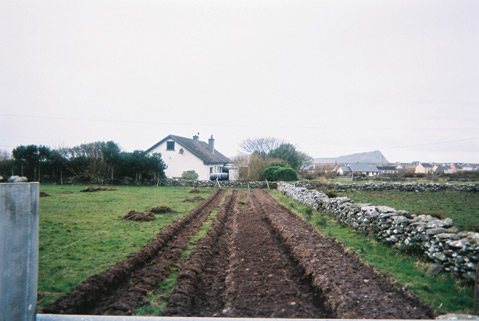 Two decades ago, I was a wide-eyed New York transplant to Santa Barbara. Twenty years old in search of the elusive self, I was quickly drawn to hiking Santa Barbara's mountain ranges overlooking the vast Pacific and the broad expanse of open country beyond their peaks. The sight of it reminded me of when my parents took the family to meet our relatives in Ireland who live on the same farm that my grandfather grew up on in the West Coast town of Dingle, County Kerry. I felt the mountains and blue grass music at Cold Spring Tavern reminiscent of old Ireland so strongly that it filled the void I felt missing my family and sparked an idea to bring it all together.
At a time in my life when I was trying to find my identity, I found Irish. Irish culture was ever present growing up one of six children raised Catholic by my father, a New York City cop, and our most patient mother, both of whose parents where Irish immigrants. The stereotype label was already present by the time I was born fifth.
After I moved to Santa Barbara for university, I grew even more attached to this Irish identity but began to question what I really understood of it. I knew next to nothing of Ireland's history, land, and culture. Relatives were postcards on the fridge and my grandfather a ghost whose picture hovered above my dad's bureau. The Irish of my Irish-American identity that was so strong within me seemed comprised of stereotypes I accepted. I believed I could change that. I began to dream of not just visiting Ireland again but of living there. As a UCSB graduate with a degree in cultural anthropology, I felt compelled to connect with the Irish part of my Irish-American ethnicity.
When the time was right I packed my things and drove cross-country to soak up as much American culture as I could before departing JFK with a one-way ticket to Ireland. For the next two years, I attended grad school at the National University of Ireland for a master's degree in cultural anthropology and worked as a bartender in the heart of Dublin. I lived with cousins in Knocklyon, Dublin, until I found a place to rent with local Dubliners I worked with. I fell into the rhythm of the fair city as it became my home. I took guided tours all over the country and often ventured out on my own with an idea, an open mind, and a journal. I obtained Irish citizenship through grandparents' birth, marriage, and death certificates.
I often took the westbound train from Dublin to Tralee, where one of my cousins would pick me up to take me to the family farm in Dingle. My uncle Jack taught me to cut seamless rows in sod, set potatoes, mend fences, and drive the tractor. He and I embarked on the Good Friday Pilgrimage to the peak of Mt. Brendan, where every pilgrim but me spoke fluent Irish the entire trek. My Aunt Kathleen always had a hot home-cooked and home-grown meal coming out of the oven when we returned from whatever we were getting up to. It was the same with my family in Dublin. We often stayed at the table long after dinner talking and laughing 'til happy cheeks grew weary and smiling eyes sought dreams.
And that's how it was when I returned to New York. Sitting around long after dinner for belly laughs and heart-wrenching stories alike of things I'd missed while away in exchange for stories of my journey. I felt genuinely connected to the entire family, with a deeper understanding of where we came from.
The strength of the family bond is immeasurable. It's not all good all the time, and sometimes relationships can even be down right horrible, but the strength of it is undeniable. For better or worse, as they say. St. Patrick's Day is a day for feeling the powerful energy of the unconditional family bond and remembering where we came from. I fell in love with Santa Barbara and her people nearly 20 years ago, and so the people here have become the family and home I returned to last year. I imagine my grandfather standing on the mountain-hugged shores of Santa Barbara saying, "We made it, and it looks like home."
Suggested reading: Twenty Years A-Growing by Maurice O'Sullivan; House Don't Fall on Me by Maidhc Dainín Ó Sé; A Portrait of the Artist as a Young Man by James Joyce.