Books
Review of Emma Donoghue's Novel Astray
It was always going to be difficult for Emma Donoghue to follow up on the success, both commercial and artistic, of her 2010 novel Room. That book was told from the point of view of a five-year-old child who had lived his entire life with his kidnapped mother in an 11- by 11-foot bunker in their tormentor's suburban backyard. Told with affecting innocence, Room was gripping from first to last.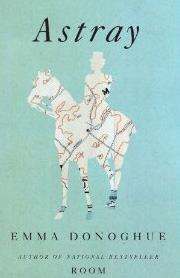 Rather than trying to outdo that feat of narrative wizardry, Donoghue has astutely moved from the contemporary back to the historical, where she's also had much such success. Astray (Little, Brown, $25.95) is a collection of 14 stories based — sometimes closely, sometimes very loosely — on widely varying historical documents. After each story, Donoghue spends a page or two discussing her sources. With a lesser writer, this tactic might seem like backpedaling: Even you didn't like what I wrote, isn't it interesting to see how I came up with it? In Astray, however, the author's insights into the process of transforming the barest historical bones into full-fleshed fiction are nothing short of revelatory.
The Afterword helps make sense of what might otherwise seem a mere miscellany. "Why am I landing here, out of all possible spots on the turning globe?" asks Donoghue, who was born in Dublin but lives in the entirely unremarkable city of London, Ontario. "Why is this home?" The answer is that is our families, and our hearts, send us to places we never imagined we'd be.
That's a theme that recurs throughout Astray, where the stories range from the comic to the horrific. "The Long Way Home" concerns the efforts of a hardened cowgirl, Mollie Sanger, to bring a drunk and recalcitrant husband back to his starving family in 1870s Arizona. Sharp-tongued and wry, indefatigable and quick with her gun, Mollie turns the onerous task into a lark — she is not above a quick roll in the hay with her prisoner before delivering him to his wife.
On the other end of the spectrum, "The Hunt" describes an all but forgotten episode in the Revolutionary War when British and German troops systematically captured and raped the women of Hopewell, New Jersey. The story's German protagonist, nicknamed Half-Bosch for his diminutive size, initially resists the pressures of his fellow soldiers by harboring a fugitive young woman he finds hidden in the meat locker of her house. Eventually, though, he cannot withstand the imprecations against his manhood, and he betrays the woman he has begun to love.
One of the most affecting pieces is "The Gift," which begins in 1877 when impoverished Sarah Bell's husband dies, and she is forced to give up her infant daughter, Lily May, to the New York Children's Aid Society. The story is told as a set of competing letters to the Society. While Sarah attempts to reclaim her child, a Mr. Bassett — who, with his wife, has adopted Lily and changed her name to Mabel — steadfastly refuses to give Sarah any access to her child. As in all good epistolary writing, the most profound moments take place in the white spaces between each new letter.
While the final story, "What Remains," is the most contemporary, it, too, deals primarily with the past. In a nursing home north of Toronto in 1967, 85-year-old sculptor Florence Wyle remembers her life with her lover Queenie Loring, who now suffers from dementia and blindness. In one scene, Florence half-recalls the two of them visiting a village to model totem poles in clay, then the memory maddeningly evaporates. "That's us, these days," Florence says, "a couple of old totem poles. Tilting at mad angles, silvery as ash, fading into the forest." The title comes from a question Florence asks herself, "But if there's no heaven, what remains?"
The book's answer is very clear: what remains is love.