Theater
The 25th Annual Putnam County Spelling Bee
Popular Musical Comedy Spelling Bee at SBCC's Garvin Theatre July 12-27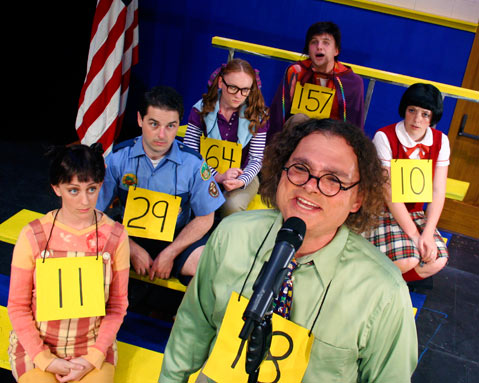 So much of adolescence finds its truest — and funniest — expression in competition. No other context captures the energy, anxiety, and longing of that transitional stage, as young people reach for recognition, purpose, validation, redemption, belonging, and, of course, the testifying trophy. To open its season, the Theatre Group at Santa Barbara City College will explore one of the quirkiest corners of adolescent competition with the recent Broadway hit The 25th Annual Spelling Bee. By following six elementary and middle school students as they contend for the county title, the Tony-winning musical comedy offers an incisive and uproarious adult reflection on the difficulty, absurdity, and excitement of those formative years.
Perhaps most loved for its eccentric young heroes, Spelling Bee salutes outsiders, oddballs, and overachievers. Putnam County's top spellers have dictionaries for friends, sleep three hours a night, wear capes, lisp, speak six languages, brim with political passion, and boast feet endowed with supernatural spelling powers. Under director R. Michael Gros, SBCC's production brings together Santa Barbara's top musical comedy talent, including Madelyn Adams, Lilli Babb, Taylor Winfield Babcock, Brian Harwell, Miller James, Emily Jewell, Skyler Jones, Whitney Claire Kaufman, Allison Lewis, and Tad Murroughs. Occupying an age range of over 20 years, this cast should bring an interesting patchwork of generational perspectives to their material.
But the actors won't be the only spellers onstage. As one of the show's most exciting and distinctive features, four audience members will join the cast each night to compete in the Putnam Bee, introducing an element of unpredictability appropriate to the show's adolescent center and demanding the cast's sharpest improvisational skills. After they have been selected from among the pool of audience volunteers who line up before each show starts, this foursome must, yes, spell, and remain onstage until they misspell. In New York, guest contestants included real Scripps National Spelling Bee champ Katharine Close (who lasted 14 spelling rounds onstage) and Broadway legends like Julie Andrews (disqualified for misspelling "supercalifragilisticexpialidocious"), so it should be fun to see what surprises Santa Barbara audiences hold for the Garvin Theatre stage.
Speaking with director Gros about this production, however, reveals that Spelling Bee offers far more than its outward fun. Gros said that he was first drawn to the show by the way that it embeds substance, subtly but powerfully, in apparent silliness. "For a lighthearted musical, it has a lot of heart and a lot of life-affirming lessons, some of which are kind of tough," said Gros. "It's not all peaches and cream for the spellers and even for the adult characters of the play." These characters come with baggage — a tangle of hormones and insecurities, parental pressures and social rejections — but the Bee is a promise of recovery and transformation. As they sort and spell through their various messes, the effects, Gros insists, are enlightening. "The audience is going to be able to see in a very pleasant, lighthearted way how these characters navigated their early life challenges and then be able to reflect back on how they themselves navigated that time." he said. "And I think that's a wonderful opportunity to provide to the audience — to have that moment of reflection occur within this delightful, zany, crazy romp of a musical comedy." Such is the quiet gift of Putnam County Spelling Bee's commotion. Audiences can expect to find reflection effortless as they hum, cheer, laugh, howl, and fall in love with Putnam County's prodigies — while likely learning a few new words along the way.
4•1•1
The 25th Annual Putnam County Spelling Bee will be at SBCC's Garvin Theatre July 12-27, with previews on July 10 and 11. For tickets and information, call the Garvin box office at (805) 965-5935 or visit theatregroupsbcc.com.