Joseph Pollock: 1913-2013
In Memoriam
| Thu Jul 11, 2013 | 12:00am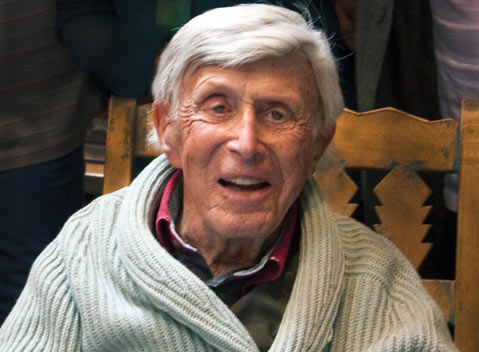 More than 20 years ago, when I was chairman of the UCSB Art Department, my assistant knocked on my door, put a check on my desk, and told me: "There is a guy outside that wants to see you." Meeting Dr. Joseph Pollock was hardly a run-of-the-mill encounter. "My wife is an artist, and we have a property in Summerland," he said. "What do you say we have some sort of an art show there, and use that check for prize money for the kids?"
On June 22 this year — the last day of spring — Joe passed away, and his time could not only be counted in his 99 years, but in 398 amazing seasons. The breadth and length of his footprint in this community was as long and as vivid as his life. At 99 years old, he was still attending weekly physicians' meetings at Cottage Hospital. At 95 years old, he joked that he was having a midlife crisis. In his ninth decade, he authored half a dozen memoirs and novels.
It was 26 years ago that Joe and his wife, Helene, left Los Angeles, where he was a leading surgeon, to make a new home in Montecito. At an age when many retire, he just got started. The Pollocks plunged into as many philanthropic and cultural projects here as they had in Los Angeles. For five years in the 1990s, Joe was chairman of the Santa Barbara Film Festival. The crowning jewel of his activities here, however, is the Pollock Theater at UCSB. Through the Joseph and Helene Pollock Foundation, Joe spearheaded the creation of the state-of-the-art theater, which opened in 2010. It serves as a world-class venue for students, scholars from around the world, and feature film premieres.
At the UCSB Art Department, I often tell my students that creativity is a skyscraper and urge them not to get off at the first floor. Joe rode his life to the highest observation tower. Joe never told you how to live; he showed you. And he urged you to go higher and higher. As he wrote in one of his recent emails — all capitals to compensate for fading vision but no lack of enthusiasm: "RICHARD: yOU ARRE HANDLING EVERYTHING RIGHT AS FAR AS I CAN TELL. YOU ARE RIDING HIGH."
Although he had difficulty seeing and hearing this past year, he would peck away and send a stream of emails to generations of his children, telling them what a great job they were doing. Joe's praise was a major constant in my life and the lives of many others. I am unsure how to feel when I look in the mirror and think my best friend was 99 years old — more than 30 years my senior — but it has been a sheer pleasure to know Joe and Helene, and to join in on so many Sunday mornings for a breakfast of bagel, lox, cheese, coffee, the New York Times crossword puzzle, and conversation. I believe I speak for a whole host of people, however, who also argue that Joe was their best friend.
When I would take long car rides with Joe, every topic would be discussed — our relationship with our parents, our children, our successes and failures, with a real sense of honesty. No topic was off the table. When Joe wrote his memoirs describing his life as a young Los Angeles surgeon, he made the exploits of Mad Men seem tame. He also never hesitated to make jokes at his own expense, and he ended each story of his bachelor exploits with how he met and married the beautiful Helene.
When I address a class on the stage of the Pollock Theater, my students and I feel honored to be there. The adage that we stand on the shoulders of giants has never been truer. The Santa Barbara Film Festival, UCSB, Cottage Hospital, the Santa Barbara Zoo, and many more organizations — where would this community be without the Pollocks? Joe was uncompromising in his own abilities and his willingness to believe himself capable of anything. He raised the standard of what I had to do by his mere proximity.
Joe's last few years were more difficult. He became frailer of body, but he was just as resolute of mind. He walked determined steps while refusing any aid. At 99 years old, he was still walking around the zoo, the Museum of Natural History, and the UCSB campus. We would frequently meet for lunch at the Faculty Club, and I had no idea how he could still navigate, but it was his internal GPS and his stubborn force of will that would get him there. He projected and emanated strength, and he assisted everyone in finding their own strengths.
You had to up your game when Joe was around.
•••
I am here at UCSB at the UCSB Faculty Club waiting for Joe. He's late. He's never late. He hasn't been late in 20 years. I know today Joe is not coming, and I am wondering what to do with myself. There was an abruptness and intensity when Joe walked into my life, and it's been a thrill to know him for more than two decades. There is an equal suddenness to his departure. He is the comet that came by just once in a lifetime.
I know that it may sound sentimental, but even in writing this tribute, I know Joe would have told me, "It's great. You did a terrific job on this."
There will be a memorial celebration for Joseph Pollock at UCSB's Pollock Theater on Thursday, August 15, at 11 a.m.