Food & Drink
Spudnuts Gets in on the Cronut Game with Doughssant
Cronut-Mania Comes to Babylon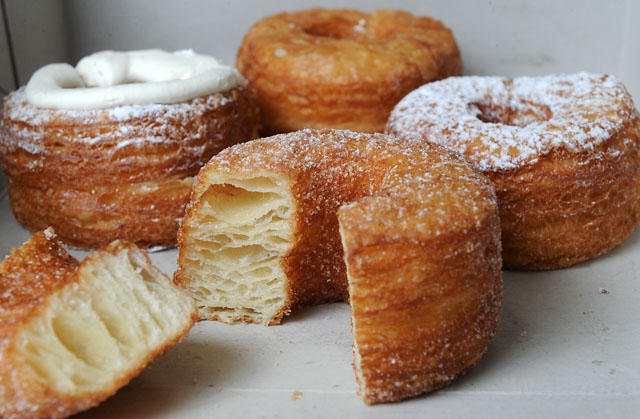 Unless you've been living under a rock — or, you know, if you don't spend half your life reading food magazines, newsletters, and blogs like I do (research!) — you are well aware that the biggest thing to happen to food this summer is not the $300,000 Frankenburger, nor is it paleo; it does not involve kale, a farm, a table, or a conspicuous lack of gluten. That's right, friends, I am talking about none other than the work of evil genius known as the cronut.
The story goes like this: French pastry chef Dominique Ansel of his eponymous New York bakery got the wicked idea to create a croissant-donut love child in May, and the world was never the same. People exchange hours of their lives to wait in lines that snake around Manhattan city blocks, all for the mere chance at snagging one of the flaky, cream-filled, sugar-rolled, and glaze-topped treats. They allegedly take three days of labor to create, and supplies are limited, which means some poor fools wait in a puddle of their own drool (and likely the drool of others) only to emerge cronut-less. Sad.
Cronut-mania reached its crescendo with Ansel's recent cameo on Late Night with Jimmy Fallon: Fallon squealed, Questlove deep-fried, and ultimately, every member of the studio audience was treated to a flaky, cream-studded orb of doughy gold, Oprah style. (You get a cronut! You get a cronut! Cronu-u-uuuuut!)
Much ink has been spilled; even NPR has covered the story. And naturally, given the hullaballoo, feverish knocking-off has ensued (although always marketed under different monikers; Ansel has trademarked the cronut name, because, obviously). In South Korea, Dunkin' Donuts is slinging "New York Pie Donuts," while San Francisco's Posh Bakery is selling their carbo-licious mash-ups under the name Cronot. Bonus points.
So, dear readers, what's this got to do with you?
Well, the whole thing got considerably more interesting when Spudnuts got in on the game, with the launch of its doughssant. Yes, there's no need to travel to the big city to get a taste of this glorious gut-bomb: Spudnuts is offering five varieties of cro — sorry, doughssants — powdered sugar, cinnamon, chocolate, blueberry, and vanilla. And the employee I spoke with to confirm all of this, midday, mid-week, told me, "If you're planning on coming in tomorrow, you can just tell me what you want now, and we'll set them aside in the morning because we usually sell out." Consider yourselves warned.
Save me a spot in line.
4•1•1
Doughssants are sold in S.B. only at the Spudnuts at 3629 State St. ([805] 569-3719).