News
Bike Touring
A Two-Wheeled Road Trip
On a recent ride through Goleta I came across a form I recognized. He was bearded and tan, tired and a little beat up. As he straddled his bicycle and leaned forward to study a map mounted to his handlebars I pulled up beside him.
"How far you going?" I asked, checking out the fully loaded panniers hitched to the back and front racks on his bicycle.
"Mexico," he answered in an accent I couldn't quite place, "I flew into Calgary at the beginning of the summer."
He went on to explain that he'd intended to mountain bike the great divide. Then he gingerly raised his arm like a broken wing and explained that he'd dislocated his elbow before departing and had to modify his itinerary.
He could still ride he insisted. If he stuck to smooth pavement. If he didn't put too much weight on it. Ibuprofene helped. So did riding bent over the bike, steering with the backs of his forearms. Which he'd been doing now for well over 1,500 miles. For fun.
Meet the bike tourist. Among the hardiest, craziest, and happiest adventurers on the planet.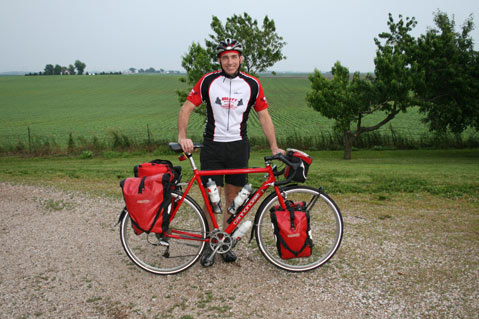 The Solo Adventurer
The rider I met was in the midst of a fully loaded, solo tour. Riding his heavily weighed down bike with random cyclists for a few hours or days, but spending the majority of the summer on his own. When I asked about loneliness, he said it wasn't a problem. He enjoyed meeting new people along the way, but didn't feel the burden of straining or slowing his pace to accommodate others. In fact he'd dropped his most recent buddy while bombing down a big hill. "Looked back and he was gone," he shrugged, "maybe I'll see him down the road."
Jeff Lee took a similar solo trip in 2008. Riding from Iowa to San Francisco and covering 2,790 miles in 34 days. For him, cycling alone provides the best travel experience because it allows, "almost complete freedom to ride at the pace you want, stop where you want to stop, and eat what you want." For Lee that meant charting his own route and riding 65 miles one day and 120 the next, without apology or explanation.
Let's Get Together
While riding alone can be liberating, riding with others can be both empowering and unifying. The daily challenges of climbing mountain passes, batting headwinds, and pushing through exhaustion can forge an incredible solidarity. Sharing tough cycling days, along with joyously sun soaked and scenic ones can bring people together in a way that typical travel can't.
No one is more aware of this shared struggle and triumph than families hitting the road together. For the Nunes family, relocating from Florida to Washington state provided the perfect opportunity for what they've dubbed, "the ultimate family vacation."
Ron and Kate sent the moving truck ahead and spent their summer pedaling a triplet bicycle with their 6 year old daughter, Elizabeth. Kate explains, "biking across the country as a family really brought us closer together. It gave us an amazing shared experience that is much more valuable than a season of soccer or baseball or dance or whatever ends up being dropped for a period of time to make it happen."
Finances
How do long distance tourists afford the time and money to travel for an extended period of time? Different cyclists have different answers. Some people wait until retirement age when they have a significant amount of free time. Others save up money throughout the year and take a few weeks off in the summer to tour. But for some, traveling by bicycle is not merely a break from reality, it's a lifestyle.
Michael and Ciska Verhage and their two sons Jesse (15) and Sammy (17) have been traveling the world one pedal stroke at a time for nearly five years. When they set off from Australia in 2008 they sold nearly everything they owned.
They now survive on 20 Euros (about 26 U.S. dollars) a day, which is primarily used for food. They believe this tight budget has enhanced rather than hindered their journey, "we live off a very small budget, but thanks to this we meet real people and have had the most amazing experiences."
Ciska, Michael, Sammy, and Jesse in 2008, the year they began their epic bike journey. (photo curtesy of the Verhage family)
The Verhage family has found that people are more receptive to, and supportive of, bike tourists than other travelers. One of the best parts of their nomadic cycling lifestyle is, "the respect we receive as a family on bicycles from the locals in the region we pedal through," they believe this is due to the nature of "bicycle travel and the hard work involved." As a result, people are more willing to offer help, often in the form of accommodations. The family says they are provided shelter by others 99 percent of the time. They are often allowed to camp at sports-fields or sleep in community halls and churches. Money saved on shelter expenses can be spent on something more valuable to most cyclists: more food.
Real Dangers
Hitting the road with little more than a bag of clothes, tent and limited food may not seem the safest idea. Add an itinerary that includes some politically charged, potentially violent areas, and it may appear downright dangerous. Mugging, kidnapping and bike theft come to mind. But, the perceived threats of touring are often different from the actual ones.
The Verhage family traveled for over two years through Latin America. The region tops the world in terms of traffic deaths, and is well known for violence and political instability. While they've had some scary moments in traffic, the biggest danger to the family of four didn't come in the form of poor roads, careless drivers or even ruthless criminals. It was the weather that brought them to the brink of disaster.
A sudden storm in the Peruvian Andes had them pushing their bikes through freezing hail and snow at high altitudes for hours. For the first time in their long journey, the family feared for their lives, "I can tell you we were desperate, afraid (of) not being able to make it." When they finally reached a small depot, they were driven to the nearest village where they rested and recovered from exhaustion and mild frostbite for several days before continuing on their bikes.
A Reason To Ride
Bike tourists ride for many different reasons. Adventure is high on the list, so is charity. Many large group rides are organized to raise funds for specific causes. Sometimes cyclists begin planning a ride for fun, but find a cause to champion along the way.
The Nunes family saw their cross county ride as an opportunity to help raise funds for Half the Sky, a nonprofit that helps improve the lives of Chinese orphans. They felt a special connection with the organization because their daughter joined their family through adoption from China.
The Verhage family seems to find meaningful causes wherever their wheels happen to roll. Among their past contributions are helping a Bolivian family rebuild their home, funding a young Peruvian girl's eye surgery, and securing a wheel chair for a 78-year-old polio victim who could no longer walk. They did not set out with a particular mission, but with a profound sense of gratitude and an inclination to pay it forward, they see helping others as, "a way to say thanks to the universe for the amazing life we live."
Amazing People
Being at the mercy of others can restore a faith in humanity that's been walled off by the isolation of our cars, our homes, and our busy lives. Bike tourists often mention the amazing people they've met on the road. People who have offered food, shelter and encouragement. "If you want to remind yourself that 99.99% of the population is friendly, helpful and just downright good load up your bike and go for a ride," says Kate Nunes. "You'll meet interesting people wherever you go, have great conversations and maybe even make a few life long friends."
If you're not quite ready to set out on your own biking journey, there are plenty of travelers biking through Santa Barbara. So, the next time you see a bulky bike rolling through town with a dust covered, smiling cyclist, stop and say hello. You might be amazed at the adventures they have to share.
Bike Touring Resources
The Adventure Cycling Association creates wonderfully detailed maps and publications, http://www.adventurecycling.org
Crazy Guy on a Bike web journals and photos from bike travelers around the world. Each of the cyclists mentioned above has a journal here. crazyguyonabike.com