The Isla Vista community has been gearing up for the start of UCSB's fall quarter on September 22, and students will find a few changes. Each of these changes has the potential to make the area a little nicer, safer, and more pleasant.
First and foremost, a new Sheriff's Department lieutenant now heads the Isla Vista Foot Patrol. Lt. Robert Plastino took over for Lt. Ray Vuillemainroy, who moved to overseeing the Santa Maria Substation.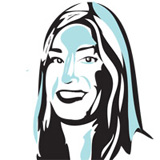 Plastino is a San Diego native who is well-versed in the unique challenges Isla Vista poses. He worked as a Foot Patrol officer more than 10 years ago before moving on to become head of the Santa Barbara County Sheriff's human resources department. He also served in Iraq and is a decorated war veteran. His previous experiences make him the perfect candidate for this post. He knows how to deal with chaos and still find ways to address individual needs. So far, he said, his new job has kept him incredibly busy.
In the past two weeks I have met with Plastino twice to discuss issues of particular interest to local residents. We talked about noise, trash, and Halloween. In each of these discussions he showed himself to be intelligent, focused on community improvement, and most importantly, in possession of a good sense of humor.
Anyone working or living in I.V. has to have a sense of humor. Isla Vista is a very different place where rules, like stopping your bike at stop signs, are often flouted, and some students believe that anything goes. Things that would not be tolerated in other areas, like Montecito, are accepted as part of the I.V. culture. But the lieutenant does not accept this as a given. He said things have changed for the better in I.V. since he worked here 10 years ago, and he wants to keep up the forward progress.
Plastino already has a long list of tasks that he would like to spearhead. As he meets residents, he listens to their concerns in order to see where law enforcement efforts can become more effective. He is working with UCSB and SBCC officials to enhance accountability for students in Isla Vista and is discussing ways to use the property owned by Santa Barbara County in downtown I.V., that formerly housed the Isla Vista Neighborhood Clinic, as a possible community meeting space.
Lights and More Lights
Since safety remains of the utmost concern, Plastino was particularly enthusiastic about the addition of energy-efficient LED lighting along Del Playa Drive, Sabado Tarde, Trigo, and Pasado roads. Last year, members of Associated Students UCSB were instrumental in highlighting the safety concerns posed by inadequate lighting in Isla Vista, and Santa Barbara County allocated the funds through a Community Block Grant to make improvements. This was just the first phase in a long-term plan to address lighting issues.
Locals will also notice that the median along El Colegio, near Isla Vista elementary school, has been revamped. New landscaping and lovely street lights have been added.
With a new school year beginning, and renewed efforts to beautify and improve Isla Vista, there are reasons to be optimistic. Each time someone makes a small effort to improve the I.V. environment, we all benefit.
Below are extracts from my conversation with Lt. Plastino.
When did you take over command of the Isla Vista Foot Patrol?
I was officially assigned to Isla Vista on July 8. Prior to that transfer, I was the lieutenant of the Human Resources Bureau for the Sheriff's department, where I spent the past four years. Before that, I was a sergeant for the Central Stations patrol, which includes the Santa Ynez, Solvang, Buellton, and Lompoc areas.
Tell me about your background.
I grew up in Solana Beach, a small coastal town in San Diego County. After high school, my parents moved the family to Nipomo. I attended San Diego State University and obtained a B.S. in Business Management. I later obtained a master's from Cal State Northridge in Public Administration. But in between, I worked in the private sector, first for a company in Orange, and then later for a company in Irvine. I had this desire to do something more and to serve the community. So while maintaining my job, I joined the Army National Guard as military police. I ended up enjoying my experience as an MP so much that I decided to switch careers and make law enforcement my main profession. I moved back to the Central Coast in 1997 and was hired by the Santa Barbara County Sheriff's Department.
I was first assigned as a deputy to Isla Vista in 1998 and again in 2004. Each time, I spent close to two years in Isla Vista, doing foot and bike patrols. I've also worked various other assignments in the department, including gangs, DARE, background investigations, narcotics, SWAT, and I'm currently the supervisor for the Sheriff's Underwater Search and Recovery Unit (dive team).
I was deployed numerous times with my military unit. Once, during the Bosnian war and then twice after 9/11. My wife and I were married just days before I deployed for Iraq in 2003. After I returned home, we wanted to start a family, so I left my part-time military career in 2005. I now have a 7-year old son and twin daughters, one and a half years old.
I love living in Santa Barbara County and working here. I feel privileged that I can raise my family in such a beautiful location.
What are some of the improvements you are trying to bring about?
The first things that come to mind are safety, quality of life, and social responsibility. I don't think we can ever reach a point where we say that safety concerns have been completely eliminated; improving the safety of residents and visitors to Isla Vista is at the top of my list. There are methods to make this happen, but it requires involvement from the community as well as law enforcement. Resources from the Sheriff's Department are not unlimited, so we have to get creative in our solutions. This involves buy-in from the community, so we turn to community leaders for assistance. I personally rely on partnerships with Supervisor Doreen Farr, the University Police Department, and other UCSB departments such as the Dean of Students Office, the Associated Students, Women's Center, and Office of Student Life. Additionally, I provide and obtain input from the Isla Vista Community Network, business owners, the California Highway Patrol, permanent I.V. residents, and many other area stakeholders. Improving safety is the job of the entire community.
Getting the word out and creating that shift in thinking is critical, and it is a challenge at times. However, even simple efforts such as the "Stop Burglaries in I.V." campaign, which reminds residents to lock their doors and windows, make a difference.
Quality of life improvements are more subjective and less quantifiable than pulling crime statistics. This involves practices regarding safety, but it also requires proper infrastructure to make Isla Vista a desirable location and one that can cater to its diverse population. We have families, retirees, students, professors, businesses, homeless, and a myriad of other residents and visitors that provide for an incredible array of culture and ethnic diversity.
Improving the lives of individuals from such varied backgrounds is a humbling and daunting task. Again, I cannot make these types of improvements alone. I have worked with the Isla Vista Recreation and Parks Department to come up with solutions in regards to the district parks. I have also urged the building of the Pescadero Lofts project, which will provide low-income housing and onsite medical and mental services for our homeless population so they can begin the process of recovery and rehabilitation. For students, I have worked with the Associated Students at UCSB to provide education to the student body about our laws and regulations, as well as methods to keep themselves and their neighbors safe. Additionally, I've met with property owners to discuss ways that they can provide living situations that benefit them and their renters in positive ways. This includes coming up with ideas for lease agreements that assist law enforcement in shutting down parties with too many occupants, or fining tenants that contribute to underage drinking.
Compared to the previous years I was assigned to Isla Vista, I've seen a phenomenal change in student attitudes toward their own social responsibilities within the community. This is such a refreshing and encouraging transformation from previous years, where it seemed very few people showed an interest in making positive social changes in the community. Cultivating this new mentality is something I embrace and want to see continue. I was recently approached by a UCSB Bike Club student who noticed the large number of derelict bikes scattered throughout Isla Vista. He had a desire to refurbish abandoned bikes that the Sheriff's Department would normally confiscate and destroy if the owner could not be located. He was willing to fix these bikes with club money and then give them away to needy students and Isla Vista residents. Working with him, we have started a program that is socially responsible, helps clean up the community, and provides a benefit to those that are in need. This is the kind of effort that I strive to cultivate and improve among the population.
How are you working with officials at SBCC to improve collaboration?
On Friday evening, September 20, SBCC President Lori Gaskin came out to Isla Vista to see how we provide safety to her students and to get an idea of how her students are impacting the town. She was very engaged with the students on the street, some of whom immediately recognized her and approached her in a positive way. She also witnessed some of her students receiving citations for various alcohol-related crimes.
As we walked up and down the increasingly busy streets of Del Playa, Sabado Tarde, and the business loop, we talked about the difficulties of educating new students about our laws and regulations. Each year, we get a fresh group of new students that don't know how to keep themselves safe in such a dense population, or what the impacts of their actions might have on their future. Early in the evening, one SBCC student was cited for being a minor in possession of alcohol, and it was his second offense in two weeks. He understood that he was going to lose his driver's license for a year because of the second citation. The lesson learned was that maybe better education, up front, for incoming students is needed to help them make wiser decisions.
Of course, there will still be plenty of young adults that do not take sage advice and are destined to either learn from their own mistakes or end up paying the consequences in court. Both President Gaskin and I agreed that collaborative efforts between SBCC and Isla Vista Foot Patrol could help alleviate some of these problems. Over the next few months, I will be working with her to improve our combined interest in educating students of their responsibilities and then holding them responsible for their actions. It's a small percentage of students that end up making bad choices, but we will be working together to make that percentage an even smaller figure.