Film & TV
Review: Runner Runner
Ben Affleck, Justin Timberlake, and Gemma Arterton star in a movie written by Brian Koppelman and David Levien and directed by Brad Furman.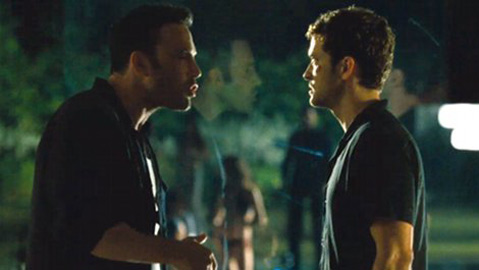 Thrillers shouldn't be polite. If anything, a sense of menace ought to ooze out at you from the very first scenes. And if that isn't happening, horrific violence (graphic or implied) can usually make an audience un-slump from its chairs. Unfortunately, Brad Furman's offshore video-poker-gangster-sting film barely makes us wince. Late in the story, when the bad guy is finally out of the bad-guy closet and a couple of corrupt officials are in line for a much-foreshadowed crocodile doom, it's made manifestly more grotesque by the addition of a tub of chicken fat. Then, as our hearts begin to finally pulse — kerplunk. Nothing. There's even something like an apology offered.
What makes this timidity really unfortunate is that the banality comes from a first-rate cast. Justin Timberlake plays Richie Furst, a Princeton student low on tuition sources who begins recruiting players for an internet poker syndicate run by Ivan Block (Ben Affleck) until he's cheated by some of Block's unscrupulous staff. Brazening out the loss, Richie travels to Costa Rica, where he not only gets his money back but also a job offer he can't hardly refuse. In between the hunky leads in a relationship that's weirdly ambiguous is Rebecca, played by the steaming emotional bruise known as Gemma Arterton. It's really an index to how softly this film was put together: Furman can't even heat up the environment with a love triangle made from pure smoldering Hollywood.
And it's not like he can't make a film. His The Lincoln Lawyer was one of the most satisfying films of 2011, full of bumps, trumps, reversals, and even a great biker beating. But this film, with its mysteriously obscure title, feels like it was made by somebody embarrassed to be physical. The opening speech in the film has Richie complaining that a life without risk, without gamble, is hardly worth living. He could have added that a suspense film without any detectable pulse is not worth watching.