Arts & Entertainment
Review: New Noise Block Party
FMLY BND, Cayucas, Haim Rocked the Funk Zone on October 19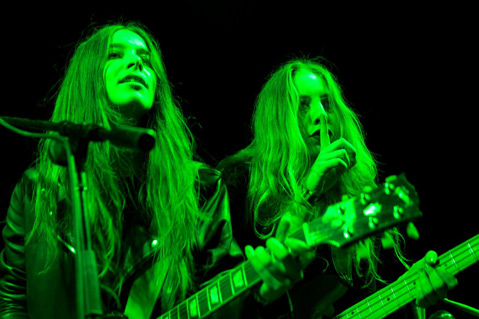 A sweltering day welcomed New Noise Music Festival-goers young and old, stylish hippies and hipsters alike to Saturday's Block Party in the Funk Zone.
Colorful streamers decorated the outskirts of the festival, which nicely played off the murals that lined the walls leading attendees to the main stage, where nine bands from all over Southern California plugged in and rocked out.
A number of vendors lined the party's Mason Street entrance, including San Francisco start-up transportation company Uber, as well as area vendors like Sweet Lisi's Baked Goods, CMN-DZ art apparel, and the Surfrider Foundation. Throughout the day people tested out the Silent Disco headphones, jamming out to their own tunes while the festival continued on around them. The beer and wine garden welcomed Dos Equis and offerings from multiple Urban Wine Trail wineries.
Bands like Dante Elephante and Grizfolk brought in a solid crowd of early arrivers, but the place didn't really start to feel packed until the sun began to go down.
Isla Vista's FMLYBND had a rough start sound-wise, but once they got going the crowd rallied behind their big, bold synth rock sounds.
Los Angeles sisters Haim headlined the event, dishing out a potent mix of '80s-pop-indebted tunes from their debut album, Days Are Gone. It was quickly made clear who the crowd had gathered for, as fans rushed the stage — and cleared out the majority of the block — to get a closer look. Things threatened to go south when a fan threw water at the band, but the ladies refused to let it kill their vibe. They played on and closed up the show with a loud and energetic jam sesh that found each of the three sisters pounding on a different drum.
In its second year, the New Noise Block Party exceeded expectations, drawing a crowd of over two thousand to the Funk Zone throughout the day. In its fifth year, it seems the New Noise Music Conference & Festival is still growing and, if Saturday is any indication, only getting better with age.