Voices
Highway Drama Obscures Important Issues
A Wider 101 Means Sound Walls, Fencing, and City Street Impacts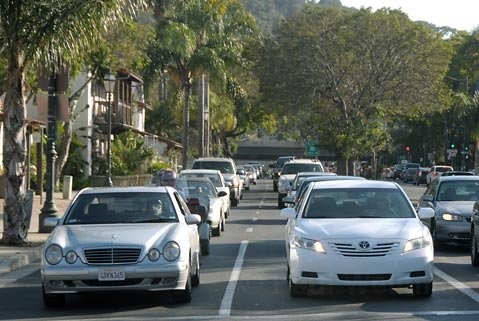 Nick Welsh's Caltrans's Way Is the Highway again puts the Highway 101 Widening Project focus and headline on the continuing drama about left-hand exit and entrance ramps, which are only a minor part of this regional plan to increase the highway's capacity. There are other far-reaching considerations and consequences that warrant a headline and discussion.
While only a small part of the project falls with city limits, that part requires the city's consideration and approval of a Coastal Development Permit that must be consistent with the city's Local Coastal Plan and the California Coastal Act, as well as the city's very specific Highway 101 Coastal Parkway Design Guidelines.
The 101 Widening Project cannot solely be about the freeway lanes; it also needs to improve the increased congestion it causes on Coast Village Road, and the interchanges at Cabrillo Boulevard and Olive Mill/Coast Village Road. The Union Pacific Bridge at Cabrillo Boulevard must be replaced in order to alleviate significant traffic congestion under any project proposal. The project and Environmental Impact Report (EIR) need to address other freeway interchanges on city streets that already don't function well and will further degrade due to additional vehicles as a result of widening the freeway. The project not only needs to preserve coastal access across the freeway at Cabrillo Boulevard, it needs to improve that access rather than worsen it.
The EIR as currently written does not accomplish any of these goals, which is why on September 5, 2013, the City Planning Commission voted 7-0 to repeat its prior statements to Caltrans that the EIR should be recirculated to include these items into the project and fully analyze the local street traffic implications.
There are other project-specific and cumulative negative impacts to traffic and aesthetics that the project is either failing to acknowledge, making no attempt to mitigate, or both. Congestion on other existing stretches of the highway and city intersections will worsen, historic and iconic views will change, landscaping and skyline trees will vanish, additional sound walls and center median fencing will spring up.
This is not new news to Caltrans. For over five years of project development, the city has provided consistent direction to Caltrans that any improvements to the highway must address elements within city policies. The benefits, impacts, and alternatives as a whole must be considered. It's frustrating that the vast majority of the media and public discussion continues to focus on the left-hand ramps, while Caltrans continues to ignore or fail to work on these elements.
While the city's policy documents are sometimes vague, sometimes specific, and often both, they ultimately lead to processes and considerations designed to acknowledge, protect, and enhance our unique setting, historical presence, and charm, and in relation to the Coastal Development Permit, our treasured connection to the coast. While these considerations cut a wide path across many city policies, codes and guidelines, they ultimately focus on our quality of life for both residents and visitors.
There is a reason our city looks, feels, and acts as it does. You seemingly blink, and in a moment something is lost forever: little charms piled upon other lost charms, a view here or there is just not there anymore, a familiar stretch of landscaping given away to hardscape, the drive into town a little more somewhere else than what was here. It's a challenging balancing process in an older, built-out city that is constantly pressured to change. This project poses a potential threat to a whole assortment of those charms, views, and landscapes … along with increased traffic and other quality-of-life concerns.
Our history has shown that when we combine increased traffic capacity while also respecting local street impacts and aesthetics, everyone wins. The State Street underpass, Milpas roundabout, and Cacique Street underpass are all good examples, and they all began with initial resistance by Caltrans until the community discussion finally resulted in Caltrans's full cooperation and positive results.
To be clear, increased capacity will certainly benefit the community and region as a whole; however, it is also clear that much of the discussion that should be taking place is missing. This project should be the best we can do, not simply the best offered. That's where the rest of this discussion should start.