Robert D. Heeley: 1970 – 2014
In Memoriam
| Thu Feb 20, 2014 | 12:00am
The local surf community is a less colorful place now. In the midst of one of the most powerful and consistent swells we have seen for years, we lost a jewel by the name of Robert Heeley.
Robert Heeley was a true artist and surfer, and he had tremendous influence over much of our tribe. Robert described himself as an artist, painter, surfer, commercial fisherman, and world traveler, although he never forgot his Goleta roots.
Robert's mother taught him to swim at 2 months old, before he could crawl. At age 7, he learned to surf at Sands, and before long he was charging all the breaks in town. He was a charter member of the Rincon Pit Crew and could frequently be found hanging out in the cove, surfing, painting, or just enjoying the scene. He was committed to the purity of surfing, drawing true lines with his longboard, without a wet suit or leash even on the coldest and biggest days.
To most of us, Robert lived the ultimate lifestyle, surfing exotic locations around the world. He began each day with a positive affirmation to his thousands of followers via the World Wide Web, then a daily "soul cleanse," his name for a morning surf session. He would prepare and enjoy an amazing meal and then begin to paint well into the early morning, creating remarkable pieces of art to hang forever on someone's wall. He inspired us all to chase our dreams in life. But in reality, Robert's life wasn't always so perfect. He had his ups and downs, and when he would get together with close friends, he would often share his crazy adventures, speaking of his extreme triumphs and absolute despair.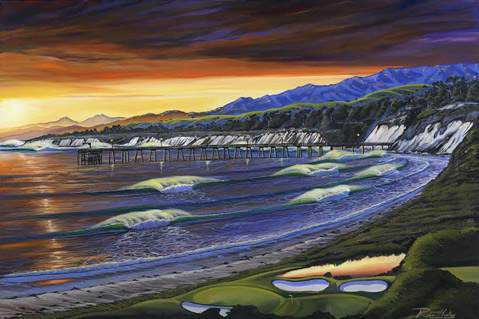 Recently he had been taking the art world by storm. New opportunities were coming at him from all directions, his art more in demand than ever, and he had dozens of projects he was getting off the ground. Robert thrived on doing paintings for commission, each one a special request for a rendition of a favorite beach or surf spot. Of course, Robert always strove to outdo himself, making each painting better than the one before.
Robert loved to stoke people out, and everyone was amazed at how prolific he was with his art. He has countless photos of his happy customers holding their finished paintings with huge grins on their faces. Oftentimes he would also be in the photo, throwing the prerequisite Chaka, with satisfaction written all over his face, as if to say, "Mission accomplished."
If we are judged by what good we did on this planet, Robert will be as big a superstar in the afterlife as he was here. He touched and enhanced thousands of people's lives, not only with his art, but also with his positive attitude and his inspiring lifestyle. Robert will live on through his amazing art and the precious memories of those who had the good fortune of knowing him. Let us be reminded of him every time we look out at the ocean to take in a spectacular sunrise or sunset. Robert's passing leaves us with a huge void in the surf community, and he will be truly missed.
Rest in peace, brother, and thank you for sharing your gift with us.
Family and friends are welcome to join the Memorial Paddle-Out/Life Celebration taking place on Sunday, February 23, at Goleta Beach, Area A, at noon.
In lieu of flowers or other keepsakes, his family has requested that tax-deductible donations be made to the Center for Autism Understanding, Support & Education (CAUSE) a 501(c)(3) nonprofit organization (EIN 27-1148426; 4880 Market Street, Ventura, CA 93003) to benefit children with autism and their families.