Opinion
Hope Springs for Wrecked Miramar
Developer's Team Sees Resort Financing Improving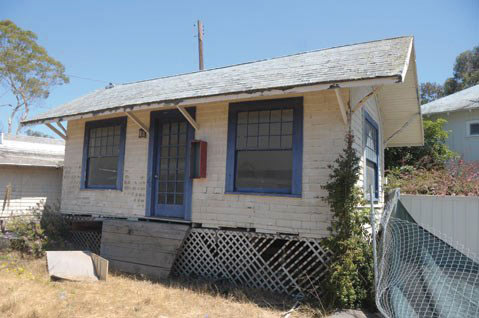 HOTEL DREAMS: Hope springs eternal when it comes to rebuilding the beloved old Miramar Hotel, closed since 2000 and now just a Montecito beachside pile of wreckage.
But County Supervisor Salud Carbajal tells me that Matt Middlebrook, owner Rick Caruso's right-hand man, told him recently that he hopes to get financing by May. May?
That's "over optimistic," Middlebrook told me by phone Monday. But the market for financing of new "ground up" hotels, as opposed to existing resorts, "has improved in the last few months, and we have had a number of conversations," he said.
"We are more hopeful than we have been for a number of years." True, Caruso is involved in other projects, like renovating the Pacific Palisades shopping area, but that's a different kind of animal, he said.
So don't pop any corks yet, Montecito.
Since 2000, the old blue-roofed resort has gone through three owners, seen two plans approved by county supervisors (a big plan and a small one, take your pick), been torn down, and still awaits action by Caruso.
He bought it in 2007 for $50 million from Ty Warner, who paid $43 million to hotelier Ian Schrager, who bought the place for $32 million. In the meantime, Caruso has had time and money for various L.A.-area projects, irritating the locals here who have to look at the wreckage. The persistent talk around town is that the project doesn't pencil out and can't show a profit. So, according to this reasoning, no lender's been tempted ​— ​yet.
DISTRICT ELECTIONS? Will Santa Barbara be required to switch from at-large city council elections to a district system? Could be, judging from a lawsuit to be filed soon by attorney Barry Cappello.
Cappello says his suit, which he expects to file in about 90 days, is aimed at forcing the city to end its at-large system because it discriminates against minority residents and violates the California Voting Rights Act.
Latino neighborhoods on the Eastside and Westside suffer neglect due to lack of representation, he charged. Cappello's suit calls for creating six council districts but electing the mayor at large.
The city's population is now about 38 percent Latino, Cappello said. Cathy Murillo was elected in 2011, the first Latino since Gil Garcia served, 1991-2001.
Last December, a judge ordered the city of Palmdale to switch to district voting because the at-large system impermissibly diluted the minority vote. Cappello, who is working on a pro-bono basis, declined to identify his plaintiffs at this time.
YO-YO A HAPPY MAN: Yo-Yo Ma was mellow as a cello after his Granada concert Thursday, hugging old friend UCSB Chancellor Henry Yang at a Founders Room dinner, chatting up high-roller UCSB Arts & Lectures donors, and proudly wearing a UCSB cap. (Also keeping an eye on his 1712 Stradivarius cello, once played by the late cellist Jacqueline du Pré.)
Big surprise of the evening was an announcement by Sara Miller McCune and Dan Burnham that Mike and Anne Towbes were donating $750,000 to the A&L endowment campaign. Its goal is $20 million to keep bringing stars like Yo-Yo Ma, authors, jazz musicians, and orchestras.
But what the Granada gathering didn't know (hush, big secret) was that on Tuesday of this week, Tim and Audrey Fisher were going to make a $500,000 A&L donation.
A&L brought trumpet king Wynton Marsalis and his Jazz at Lincoln Center Orchestra here this week for high school clinics and a talk and demo for 2,000 kids at the Arlington.
A MOON FOR THE MISBEGOTTEN: Nobel winner Eugene O'Neill plunged deeply into the love and pain of families, and this powerful play, onstage at Ventura's Rubicon Theatre Company, is a prime example. I was blown away by the outstanding performance by Rebekah Tripp, as Josie Hogan. (Through Apr. 6.)
LOVE THAT MARIMBA: Not only was it part of the ensemble when Camerata Pacifica performed Lera Auerbach's new work last Friday night, but so were two cellos, a brace of violins, a viola, a flute, a clarinet, an oboe, and a piano. Fun.
SHOW BIZ: I loved the Circle Bar B's staging last fall of the wacky comedy Noises Off!, enjoyed the Rubicon's recent version, and got a kick when the Theatre Group at Santa Barbara City College also staged it in zany style (through Saturday, March 22). Now I find that PCPA plans performances in Santa Maria in May and in Solvang in June. Am I going again? Why not