Theater
Lit Moon Revisits Hamlet
John Blondell Brings the World's Best Play to Center Stage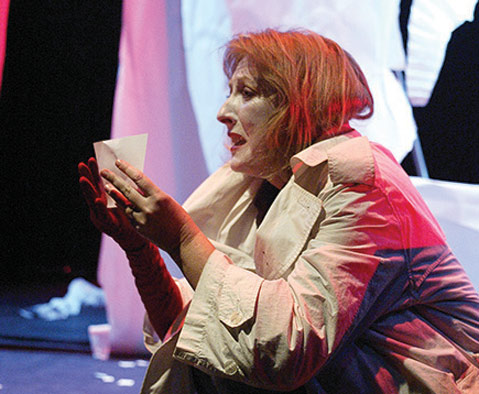 Theater doesn't come much more universal than Hamlet, the "poem unlimited" that many people consider the greatest work of literature of any kind. And directors don't come much more global than John Blondell, who, along with the rest of the Lit Moon Theater Company, has been crafting modern interpretations of Shakespeare all over the world for decades. From Montecito to Macedonia, Bitola to Beijing, and Shakespeare's Globe Theatre in London, Blondell has traveled tirelessly (with his family, no less) to direct these shows and be part of an extraordinary international community of roving Shakespeareans. After being invited to participate in the Globe's project for the London Olympics in 2012, Blondell returned to teaching at Westmont College in 2013, only to be recognized yet again. When the Kennedy Center recently held its annual College Theater Festival, the Pirates of Penzance that Blondell created along with his wife and collaborator Victoria Finlayson earned three awards: Distinguished Production of a Musical, Distinguished Scenography for a Musical for Danila Korogodsky, and Distinguished Director of a Musical for Blondell himself.
While some people might seize this occasion as an excuse to rest on such luxuriant laurels, Blondell does not do rest — he does theater. This weekend one of Lit Moon's most distinctive "signature" pieces comes to life again, when Hamlet gets some new Santa Barbara artists in the cast. Jeff Mills takes on the title role this time out, as the company prepares for October, when Lit Moon will travel to Beijing to present their Hamlet at the National Theatre of China.
In conversation earlier this week, the director confided that the new production, while retaining the fundamentals of Milon Kalis's brilliant set design, will move forward and evolve from its original conception. The huge hanging paper wall, through which characters sometimes cut or even burst, will be back, but the show will, according to Blondell, be "more particular and psychological." This change will be effected by a strategy that combines more deliberate pacing — "a slower pulse," as the director describes it — and a renewed emphasis on the characters' exposure and disclosure of interiority. Audiences can also expect to hear Jim Connolly's distinctive musical score featured more prominently than in previous, more expressionistic productions. "Conventions in theater have a shelf life," Blondell said as he reflected on the new approach. "The original version could be presented as a kind of museum piece, but that would not express the intensity of now, which is what I want."
Fans of another great playwright, take note, as Lit Moon is simultaneously developing a new production Anton Chekhov's The Cherry Orchard, which is slated for debut this fall. Until then, Lit Moon's Hamlet comes to Center Stage Theater (751 Paseo Nuevo) on Thursday-Saturday nights, March 27-29. For tickets and information, call (805) 963-0408 or visit centerstagetheater.org.