Arts & Entertainment
Review: Beck at the Arlington Theatre
L.A.'s Resident Musical Chameleon Just Wants to Dance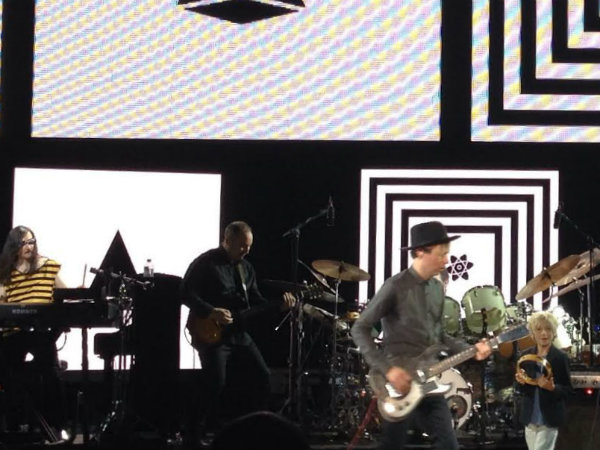 With more than two decades of professional music making under his belt, it should come as no surprise that Beck can pack a theater, bust a move, and successfully inspire a dance party for rhythm-impaired thirty-somethings. But what is it that makes the diminutive loser from Los Angeles one of Generation X's greatest musical icons? Well, that all comes down to presence.
On Wednesday night, "the artist currently known as Beck" kicked off his 2014 tour with the first of two back-to-back shows at the Arlington Theatre. Striking out in support of his recently released slow burner, Morning Phase, he started the evening, fittingly, with a mini-set of quieter, mostly acoustic numbers. This elongated intro included everything from Sea Change-era novelties like "The Golden Age" and "Paper Tiger" to a whole bunch of dusty-vibed new cuts, including "Blackbird Chain," "Say Goodbye," and "Blue Moon." And, despite a few tempo falters, the band pulled things off without too much of a hitch; piano man Roger Manning's turns at the electric harpsichord providing for some of the prettier atmospheric moments of the evening.
Still, it was apparent from the get-go that everyone — including Beck — was more interested in cutting loose, and thus the opening bars of "Devil's Haircut" became the unofficial start to Wednesday night's festivities.
"Yes, you have permission to dance," he chimed before the guitars kicked in. "Permission has been granted."
From there, the set list progressed like a fan kid's dream date. Sure, the hits all made appearances, but it was the deeper cuts that made the show such a curious little success. The chugging, saw-like guitars of "Soul of a Man" reverberated with pure, unadulterated garage-rock aggression; the woozy bass on "Hotwax" wobbled along with all the gusto of a drunk girl in stilettos; and the appearance of "Debra," in all its schmaltzy, falsetto funk glory, provided Beck with plenty of room to stretch out and get weird.
In between it all, he gave us the expected ("Where It's At," "E-Pro"), as well as a few curveballs ("Dead Melodies," a killer cover of Michael Jackson's "Billie Jean" sandwiched in between the front and back of "Sissyneck"). More importantly, though, he proved that he's (still) at his best when he's at his most outlandish. And if that doesn't define a great showman, well, I don't know what does.