Luis Goena: 1928 – 2014
In Memoriam
| Thu Apr 17, 2014 | 12:00am
Half a lifetime ago in these parts, folk dancing was all the rage. It was a fad that grew into a phenomenon that became a way of life that brought literally hundreds of '60s and '70s kids, hippies and hipsters alike, out of their dorms and ashrams and crash pads and parents' homes to merrily dance complicated Balkan, Greek, and Israeli traditional steps in the evenings at grammar school campuses and UCSB's Old Gym, the platform at Oak Park, at Santa Barbara High during lunch, every night at a Greek taverna called The Plaka on Montecito Street, and, most visibly, in full bohemian rhapsody, on Sunday afternoons at Chase Palm Park. The thing was, you couldn't miss them; there were longhaired, peasant-chic-dressed crowds at each of the venues, "double lines with lots of people standing behind them copying the steps," said Susan Soria, who started dancing herself in the early 1970s and keeps the spirit alive today. And at the center of most of those interknit fancy-dancing circles was the tightly styled man who brought most of them into the flock in the first place, Soria's friend and everyone's, the late great Luis Goena.
Charismatic, ramrod-postured, always dressed in a white, wide-brimmed hat and red scarf, the seemingly unstoppable Goena died from pneumonia complications after vocal-cord surgery just one week before his 86th birthday last February 9. "The hardest thing is not having him here," said Bruno Bardini, who has been dancing (stylishly) since 1970 and still makes it to the weekly Oak Park dance night despite recent knee surgery. "Luis was always there," he said, an emotion echoed by many there last Wednesday, where Goena, who had led a fight to preserve the stage near the horseshoe pits, had presided over a smaller yet still avid crowd, and where on Saturday his family and friends will mount a daylong celebration of the man with the things he loved best: music, dance, food, wine, and people. "He loved people, and he loved showing people how to dance," said Joanne Hardarson, a UCSB payroll technician who began dancing in high school in the 1960s, remembering when it cost a quarter and everybody tried to sneak in. "Even in his last months when he could barely walk, he would jump up and help somebody learn a step," she said.
Goena was born in Carpinteria. His family was Basque, and he married into the Old California Ayala family, who date back to Santa Barbara's Presidio past and once held chunks of land that would later house the likes of Oprah. Goena grew up in a house where music and dance were deeply appreciated, though he didn't get bitten by Balkan-mania until attending UCSB in the 1950s, where a small group of Internationalists gathered each week to Bulgarian pravos and Greek syrtos. Goena's life timing was good: He worked for GTE and the polo fields, and he managed to buy up enough rental properties to retire early and also acquire the compound behind the mission, where he raised eight children and some goats. In downtown folk nights, his teaching talent immediately became apparent. His own style, decidedly more villager than performer, was tight and precise, and he had an almost mathematical way of breaking down complex steps done to ragged rhythms so complex they'd make Dave Brubeck scratch his head. "His teaching was so precise," explained Soria, "but he never made you feel bad if you screwed up."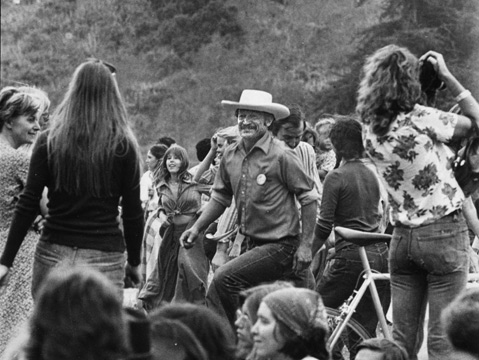 "You just had to look at him, and it was magical," she added, and others agree. Goena more or less took over city rec folk dance just as a big generation of free spirits arrived, ready for bagpipe and flute music (perhaps conditioned by the Beatles). Soria, the daughter of hiker/naturalist Dick Smith, was dragged into folk dancing by her daughter just as the dancing hordes invaded down the hill from the old Jefferson School campus, where Goena taught one hour and then danced for the second — creating the Palm Park Sundays, which became a hippie ritual, dancing between the ocean and curious tourists from afternoon 'til dusk. A lot of professional people came, too; whole families joined in. "There was just something about the music," said Soria, who now sets up music at the surviving Wednesday night. "I'm Scandinavian, so it wasn't that kind of family thing."
"I didn't feel there was a culture for me until this music grabbed me," said Leslie Griffin, a financial management person at UCSB. Like others, Griffin saw Goena as an urban peasant — she traveled with him and others to Europe, Greece, and Crete. There, she was present at the moment where Goena learned how to make goat cheeses; he also learned to make wine. The man who was born and raised in Santa Barbara behaved like he was stepping out of a meadow in Macedonia — the appeal to young people disaffected with America's plastic grown-up culture was obvious. Goena's oldest son, David, was also there in Greece, when Goena called himself in retired to the phone company. He was more at home in the old world.
When Sunday dancing ended, it might have been due to an impolitic remark Goena had made, according to some. The art show had grown, and dancers in dwindling numbers found themselves squished between soccer players and the burgeoning drum circle. Somebody yelled at somebody else, the drummers wanted the music turned down. The era ended in the early 1980s, though folk dancing lived on, and Goena always turned up. He hated the idea of CDs for the music; he sometimes put on an extremely macho posturing when the wine and the music had blended too strong. "He used to stand there and beat on his chest," giggled one of the longtime dancers.
"He was my friend, and he was my boss," said Soria, who helped Luis in his later life with properties and goats, dismissing claims he could be a little distant. "Luis was a fabulous teacher. He was always encouraging. He made a big difference in people's lives. A lot of people came to me and said they didn't do drugs because they had folk dancing."
"Being inclusive was a hallmark of folk dancing in Santa Barbara," said Griffin. "And that was the best thing about folk dancing; it's so social," she added. It was something you didn't need a partner for but could still have you socializing with very kindred spirits, a party grown smaller, at least by one now. "I'm going to miss Luis every day of my life," said Griffin. "If he hadn't lived such a full life, I would be sad. But that wasn't Luis's way. If he was alone, he would call somebody to come over and drink some wine with him."
"I feel like every time I thought about Luis, he would call me," said Soria.
"Yeah," said Bardini. "It seemed like he would always call."
The Celebration of Life for Luis Goena will be held on Saturday, April 19. Friends and dancers are welcome to join at the Oak Park dance platform at 6 p.m.
~