News
Inside the Race for Sheriff of Santa Barbara County
Sandra Brown Challenges Bill Brown for Top Cop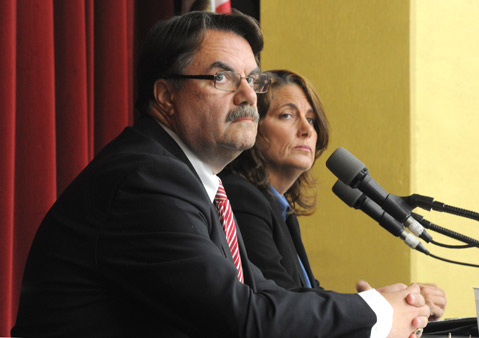 It's no secret that morale is low in the Santa Barbara Sheriff's Office. Even its leader admits as much. But where Sheriff Bill Brown says occasional grumblings come from six years of budget cuts that whittled the department's ranks by a 10th, his challenger in this June's election, Sergeant Sandra Brown (no relation), claims there is pervasive discontent among the troops who fear and distrust their boss.
Motivated by that concern and a list of desired changes both practical and philosophical — like focusing on education and intervention rather than incarceration, rethinking and reworking public safety strategies, and creating an environment of shared leadership — Sgt. Brown represents the first organized challenge to Sheriff Brown's seat since he was elected in 2006. He ran unopposed in 2010.
With 36 years in law enforcement, the sheriff previously served as Lompoc's police chief and held the same post in Moscow, Idaho. He's married with three children and is a Lompoc resident; he's a self-described history buff who likes to fish and golf in his limited off time. From Governor Jerry Brown to former congressmember Elton Gallegly, and from District Attorney Joyce Dudley to Supervisor Steve Lavagnino, his endorsement list is long and diverse, as are the donors to his reelection campaign.
Sgt. Brown has been with the Sheriff's Office for 17 years and currently oversees its Coroner's Bureau. A former narcotics detective, she's also heavily involved with area nonprofits, sits on the board of CASA (Court Appointed Special Advocates), and was a cofounder of the Deputy "Explorer" program. She likes to paint and sculpt, and her Orcutt home is filled with eclectic artwork. Her donor and endorsement roster is similarly mixed though not as deep, and she counts Supervisor Peter Adam among her biggest supporters.
Through conversations with both Browns, as well as their fans and detractors, it's clear that this election is defined by differing opinions over a few key issues, namely fiscal management, problems at the jail and the need for a new North County jail, the lead-up to and the fallout from the Deltopia riot, and possible dissension in the ranks.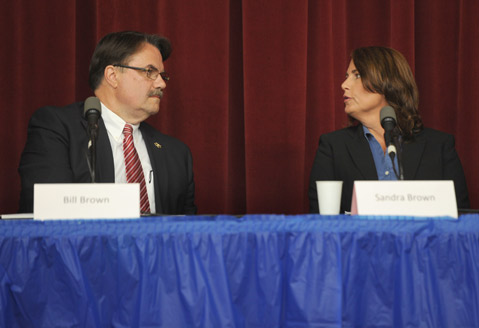 Money Matters
Sgt. Brown claims the Sheriff's Office is bleeding overtime costs, explaining that by the end of March it had already accrued $5.8 million in overtime when last fiscal year the number topped out at $6.2 million total. She also worries how the county will find the money to operate the Sheriff's Transition and Reentry (STAR) Complex, a $38.9 million, 228-bed wing that will focus on recidivism-reducing programs and be attached to the new $96.1 million, 376-bed North County Jail.
"He has yet to give us real numbers about staffing and maintenance," said Sgt. Brown
While the county has been setting aside $17 million or so every year for the last five years to staff and run the new main jail when it's opened by 2018, there's been little to no public discussion about how to fund ongoing operations at the STAR complex. "He has yet to give us real numbers about staffing and maintenance," said Sgt. Brown, also questioning the wisdom of investing in county-sponsored programs and training. "How good has government been at that?" she asked. "It's something that would be much more effective with outsourcing rather than Santa Barbara County growing its pension." Sgt. Brown agrees a North County Jail is needed, but said, "We need to be honest with the taxpayers about it, and we need to have really crystal clear numbers."
Sheriff Brown acknowledged overtime costs have ballooned somewhat in recent months. However, he stated, "Overtime is always a concern, and it's something that's always under-budgeted. It's the way we have to go through the county budget process." The problem, he went on, lies in the fact that the department has been reduced by 64 full-time positions since 2007 but is still tasked with keeping safe the unincorporated areas of the county, as well as four of its eight incorporated cities. (The department's overall operating budget is approximately $120 million a year.)
Disagreeing with some of Sgt. Brown's previous calculations over jail costs — "It's indicative of the naïveté of somebody who has never really worked with a budget," he said — Sheriff Brown said he's confident questions over funding will soon be hammered out in ongoing discussions with county staff and upcoming meetings with the Board of Supervisors.
Janky Jail
Of the criticisms lobbed at Sheriff Brown over the course of his last term, the most consistent and audible have been those about the state of the old, overcrowded jail and the safety of both its inmates and staff. "The decay that's going on there is inexcusable," said Sgt. Brown. "The fact that there's graffiti on the walls, the fact that they're allowed to yell and scream? It's unacceptable, it's not appropriate behavior, but it's what happens when you mismanage staff." Sgt. Brown also claimed there's been a mass exodus of custody deputies as both rookies and veterans have quit out of frustration and anxiety.
Admitting the jail is understaffed but offering different reasons for why that is, Sheriff Brown agreed that the facility off Calle Real is insufficient to hold the 1,000-plus inmates who live there, a number that swelled after the state changed its incarceration guidelines in 2011. That's why he's worked so hard to secure the money and manpower to build a new, more modern jail in Santa Maria that can keep dangerous people off the streets and also help them reintegrate into society when they're released, he said.
Sheriff Brown also explained that while a few custody deputies have quit because of the reasons Sgt. Brown described, a high number coincidentally reached retirement age at the same time, leaving vacancies in the roster. Plus, he said, a complicated budget reduction coupled with last-minute union concessions in 2011 "blew a hole in the custody side of the house" and led to a "big churn factor." Of the 192 custody deputies in the department, about a third of them are new hires, Brown explained. Sixteen positions remain unfilled. But, he went on, it's a lot harder than merely plucking someone off the street to oversee a building full of accused and convicted criminals.
"It's a difficult process to select people, but the people we have been selecting are really top notch with diverse backgrounds," said Sheriff Brown.
During a recent recruiting effort, 520 people applied to become custody deputies. After qualification reviews, physical agility tests, written tests, oral interviews, and background checks, the pool was reduced to around 100, of which a dozen were hired and began their lengthy training. "It's a difficult process to select people, but the people we have been selecting are really top notch with diverse backgrounds," said Brown. "Much of it relates to high standards. Many agencies have lowered standards to fill positions, but have come to regret it." In the Sheriff's Office as a whole, 41 of 640 full-time positions remain unfilled. Sheriff Brown said that vacancy factor has hovered between zero and 7.5 percent under his watch but that there was only one pay period in the last seven years where every position was filled. "And that was a fluke," he said.
Lastly, he said the jail has been understaffed since long before he became sheriff and that he's always wanted and fought for more boots on the ground. "My first staff meeting after I was sworn in, I had a commander who looked me in the eye and said we need more people," said the sheriff. "That was 64 people ago."
Safety Strategies
From the start of her campaign, Sgt. Brown has contended that Sheriff Brown is too singularly focused on the new jail, that other priorities have suffered because of it (like the gang unit and community policing), and that the Sheriff's Office should be spending more time, energy, and money on strategies to keep people out of jail rather than building new ones. Of the STAR complex and its anti-recidivism programs, Sgt. Brown quipped, "We have an adult population that we've institutionalized, and now we've decided to fix them. Wouldn't it be nice if the system actually worked on the front end with our youth and families?"
"If our focus isn't on youth and family, I don't know why I'm doing what I'm doing," Sgt. Brown said. "It has to start there."
Sgt. Brown said that if she were elected, she'd start a parent academy with a civilian employee who would work to get a host of nonprofits on the same page and "give back the art of parenting." She also promised to provide better public education on evolving crime trends — especially avoidable property crimes — and how to curb juvenile delinquency before it starts. "If our focus isn't on youth and family, I don't know why I'm doing what I'm doing," she said. "It has to start there."
Sheriff Brown didn't disagree with the need for outreach, but again pointed to his thin ranks, who, despite cuts, have managed to keep crime numbers down and do the job with what he described as precision and pride. He touted the Day Reporting Centers that help former inmates find jobs and housing and that have been a feather in his cap during conversations about repeat offenders. If he's to serve another term, Sheriff Brown said, he'd like to expand the centers' services and contracts. But mostly, he said, he wants to preserve the Sheriff's Office's current resources and "stop the hemorrhaging." This year, no positions were cut, and next year may actually see a couple added.
Also at the top of Sheriff Brown's to-do list is the implementation a new data collection system to better track what projects are actually working and where funds should be funneled. Sheriff Brown said the office received input from the National Institute of Justice and will be asking to hire a business systems analyst to extract and analyze data.
Deltopia Dispute
Though the fallout has mostly faded from the public's memory, Sgt. Brown is still confused and troubled by how the Sheriff's Office handled this year's Deltopia riot and last year's mega-party. She claims the planning was poor and the response late and disorganized, and that many of the issues came from Sheriff Brown not listening to his advisors. More alcohol enforcement should have been conducted earlier in the day, she asserted, and the event should have been handled like Halloween. It's the purported mishandling of such things that de-motivates the deputies from performing their jobs, Sgt. Brown said.
"Those are people's kids, and it's inexcusable that we aren't providing them an umbrella of safety," said Sgt. Brown.
While Sheriff Brown touted this year's response to the violent crowd as a success, Sgt. Brown asked: "What is that, a successful failure? Because no one died and no one was hospitalized? So what would you say about 2013, when someone did die, multiple people were hospitalized, and the property damage was horrendous?" Sgt. Brown also accused the sheriff of dragging his feet in recent years to install more lighting in Isla Vista and work on ways to make the notoriously rowdy college town safer for its inhabitants. "Those are people's kids, and it's inexcusable that we aren't providing them an umbrella of safety," she said.
Before next year's Deltopia, Sheriff Brown said he and his staff will examine "all of our tactics and ideas" to better manage and corral the often inebriated crowds. He said the office will use social media — which drew thousands of out-of-towners to the seaside community — to discourage attendance. "There will be communiqués from deputies and partiers who'll say, 'This was not real cool. This was not real fun. A lot of people went to jail,'" Brown explained. He said his office will also look at potentially closing the streets next year but cautioned there are pros and cons to the move.
The problem is bigger than Deltopia alone, he went on, as it was only one example of a "disturbing trend of an absolute suspension of responsibility in people who, for one reason or another, get in a crowd mentality and condition and they do things they would otherwise never do. … Much of it is fueled by an over-indulgence of alcohol." Of Sgt. Brown's claim that Sheriff's deputies have been unmotivated to do their jobs because of a reported dissatisfaction with leadership, Sheriff Brown bristled. "It was a preposterous statement. That's absolute nonsense. They do a great job each and every day, and I'm very, very proud of them."
Leader Lines
Sgt. Brown says she fears for the future of the department if it stays under Sheriff Brown's watch, that many of the rank and file are close to throwing their arms up and quitting because they're frustrated by a boss who's obsessed with his new jail and who's more interested in rubbing elbows with politicians and celebrities than making sure his people are satisfied and safe in their jobs. "We're doing more with less, but what the men and women want to see is a sheriff making decisions not for politics but for mission," she said. "Then it makes sense for them."
If she were to lead, Sgt. Brown said, she would work more closely with her executive staff and let her experts inform her decisions. "The difference between Bill Brown and I is that he's never trusted his staff and allowed them to do their jobs," she said. Sgt. Brown said she's the right "puzzle piece" to get the department moving in the right direction again. "I'm not running out of narcissism or some self-motivated issue," she explained. "I'm doing this for the department and the county, and I don't think anybody would question that."
Morale, while a little lower these days, is not as bad as Sgt. Brown makes it out to be, Sheriff Brown said. The happiness barometer is a roller coaster that's dependent on a lot of things, and much of the current angst is rooted by a seeming nonstop slashing of the department's budget and ranks, he went on. In addition, the Great Recession generated a lot of animosity against public employees and their pensions, but the wrath was unfairly focused, he said. "Anger should be directed at Wall Street and the corporate and personal greed that torpedoed us and the world economy," the sheriff said, "not the people who put their lives on the line every day to protect and serve."
"I have to make decisions that are unpopular," Sheriff Brown said. "You'll always have a few people who will complain and whine, but it's a minority."
Of the murmurs and shouts of discontent, the sheriff said in any large organization there are often a few people who are disgruntled, who think they can do a better job than the boss. "I have to make decisions that are unpopular," he said. "You'll always have a few people who will complain and whine, but it's a minority." Some of the dissatisfaction may come from a misunderstanding of roles, he theorized. "The reality is, the sheriff today is not like the sheriff of yesteryear," he explained. "I don't sit at my desk and have everything that happens in the organization run past me and make a decision yea or nay."
The role of the sheriff, he said, "is really to go out and get resources for the organization. My job is to advocate for public policy that would help us and oppose proposed legislation that would hurt us." He denied spending an excessive amount of time in Sacramento lobbying for jail money and support, and he said he wished he had more time to spend with his troops, but the reality is the department is spread over 28 works sites throughout 2,300 square miles of county. "The simple fact of the matter is I can't be everywhere at once."
Of his opponent, the Sheriff stayed relatively mum. "I admire Sandra's ambition, tenacity, and I respect her ability to run for the office," he said. "But I'm not going to say anything negative about her. I'm not going to tarnish her badge so I can shine mine." But, he went on, their respective qualifications speak for themselves. "I encourage people to research us and make their choice," he said. "You also might look at how endorsements have lined up."