Film & TV
Review: Tammy
Melissa McCarthy, Susan Sarandon, and Kathy Bates star in a film written by McCarthy and Ben Falcone and directed by Falcone.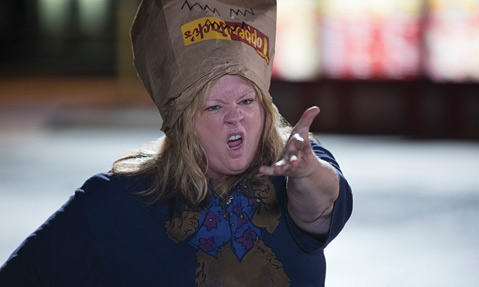 Melissa McCarthy had a 15-year career before Bridesmaids made her bankable as a kind of female Lord of Misrule. She got work, but hopped from sitcoms to movies like The Back-up Plan without much notice. And now that McCarthy is a real box-office draw, everybody expects her to become a cross between John Candy and Gracie Allen. What emerges from this film is the realization that these expectations will likely end badly. At some point, when the screenwriter and director of this movie (who happens to be McCarthy's husband, Ben Falcone) contemplated what this vehicle might inevitably become, they had innumerable possibilities but only two choices — a great comedy or a moneymaking romp. They chose the latter.
This is made most obvious by the two Disney deaths in the film. In the first scene, Tammy (McCarthy) hits a deer, and it lies on the road long enough for us to consider how an apparently callous girl in a comic film might handle the outcome. The deer jumps up and runs away, leaving Tammy a mess but off any moral hook. This easy slide resembles the rest of this lumpy road trip movie; it's aimless and without consequence. Tammy avoids trouble by trying to be a sweet mess.
It also settles for the easy moral with a big helping of preachiness. Tammy and her bad grandma (Susan Sarandon, playing an oxycodone-dropping ex-hippie) light out into the wilderness, or at least Missouri, trying to put distance between themselves and their homegrown failures. Somehow the film ends up in a kind of lesbian paradise, where a number of intelligent women surrounding Kathy Bates have made a beautiful world of their own, while not rejecting the outside world — paradise regained. Make no mistake, though: The audience clapped at the end, and the film will surely make a lot of money. But it wasn't made with commitment — it's Thelma & Louise without the sting, and even with Sarandon in it, it's not funny or smart enough to talk about.