Leonel Acosta: 1932-2014
In Memoriam
| Thu Jul 31, 2014 | 12:00am
My grandfather was born in Huetamo, Michoacán, México, five days before Christmas in 1932. He first came to the United States in 1952 when he was 19 years old. Whenever my family went up to Santa Maria, where Abuelo lived with my grandmother, we would sit at the table eating and talking. He always had stories to share. We sometimes sat there for hours listening to him talk about his life.
One thing I always remember is how hard both my grandparents worked all their lives. Abuelo often told me to get an education so that I wouldn't have to do the kinds of jobs he did. He would say, use your intelligence, use other skills besides your hands and back, don't be a laborer. And he taught my brother and me to respect others, to remember our roots, and that honest labor, whether it is in the fields or a lemon packing plant or a hotel or restaurant, means you always be your best at whatever you do, to take pride in a job well done.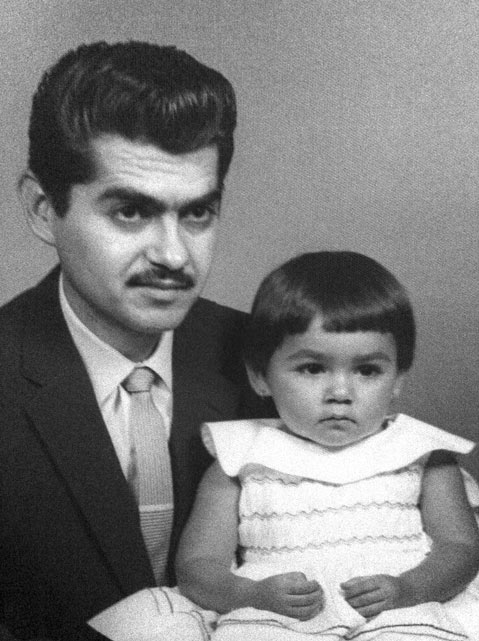 My grandfather had a 9th-grade education. When he finished elementary school, his family sent him to a boarding school, but they didn't have enough money to allow him to take his final exams and get a certificate of completion. That always bothered him; I think that's why he wanted my mom and his grandkids to be sure to get an education. Abuelo was very proud that my mom graduated from UCSB, the first college graduate in the family. She went on to earn her master's degree and became a teacher, having heard from Abuelo the importance of giving back to the community. As a bilingual teacher at Isla Vista Elementary and English-as-a-second-language instructor at SBCC, she helps those, like my grandparents, who come here looking for a better life.
Like so many others, my grandfather came to the U.S. by crossing the border many times, first at Mexicali. People from his hometown had settled in Santa Barbara, so that is what brought him here. Before getting his green card, my abuelo had very interesting adventures. He told us that the first time he crossed the border, he cut a hole in a fence and walked right through to the U.S. He'd jumped onto a train with his half-brother, but when his half-brother fell off as he tried to grab onto the train, Abuelo jumped off, too. In his journeys, he often rode on the tops or bottoms of trains. Headed for Santa Barbara, he and his half-brother instead bought bus tickets to Indio, figuring that if immigration agents took them off that bus, they wouldn't lose all their ticket money.
When they finally arrived in Santa Barbara, they went to a bracero camp, where they found food, shelter, and work. The next morning, they had breakfast and got a sack lunch, but instead of going to work, they went to the beach! He didn't say so, but I'll bet they sat there enjoying their lunch and girl watching. When they returned to the camp, they were told that they couldn't stay. The other men took up a collection and gave my grandfather and his brother some money.
They decided to go up north to look for work in the fields, which brought them to a farmworkers' camp in Lodi. That gave them food, money, and a place to sleep, until immigration agents raided the camp one month later, and my grandfather ended up in Tijuana.
Another border crossing later, they returned to Lodi for their paychecks and belongings, then followed the harvest to Stockton and Sacramento. There, my grandfather was able to secure a union labor card and worked in construction.
Back in Santa Barbara in May 1953, my grandfather found a job at a hotel, which lasted until he was deported again the following September. Immigration sent him to Nogales, then Tijuana, then a plane ride to Guadalajara, and finally to Ciudad Guzmán. At that point, my grandfather decided to go back home to Huetamo. But the search for work had my grandfather crossing the border with his friends repeatedly over the next couple of years. They would cross at night, sometimes getting caught during the day, over and over. They were sometimes so hungry and penniless that they would look in the trash for something to eat.
Then, in 1956, a friend who worked at Santa Barbara's Biltmore Hotel sponsored my grandfather, and with his help, Abuelo was able to get a green card. My grandfather came to the U.S. legally for the first time on June 4, 1956, and under his own name, Leonel Acosta. He went to work at the hotel, starting out as a kitchen helper, then becoming one of the main cooks. He told us about the famous people who came to the Biltmore and how some, like a certain contessa, insisted that my grandfather prepare her dinners. He learned how to make the best turkey stuffing; all our family have learned to make Abuelo's special Thanksgiving stuffing!
After many years working as a cook, he became a bartender for private parties. One of his best bartending memories was working aboard a luxury bus taking guests down to San Diego for the Super Bowl. He had assumed he and the other bartender would wait on the bus during the game, but to their surprise, they were given tickets into the stadium. My granddad was so excited: One of his dreams came true, to watch a Super Bowl game in person!
As a young man, one of my grandfather's favorite restaurants had been La Tolteca. He used to go there all the time, and I think he went to see my grandma, who worked there. They married, and in 1960, my mother, a single child, was born. My grandparents bought a house in Santa Barbara in 1972; retired to Chapala, México; but moved to Santa Maria when my brother and I were little.
My abuelo would play hide-and-seek with us, take us fishing at the pond in the park, let us stay up late, and played Lotería with us. He would take me to my dance classes during the summer and came to watch me dance every Fiesta. My competition solo for Spirit this year was dedicated to Abuelo, and he was able to see it on my mother's iPad in his hospital room before he died on April 14. This year, dancing at Fiesta Pequeña in my teal-colored dress, I will be dancing in honor of my abuelo.