David Arthur Sansome Gell: 1943-2014
In Memoriam
| Thu Aug 14, 2014 | 12:00am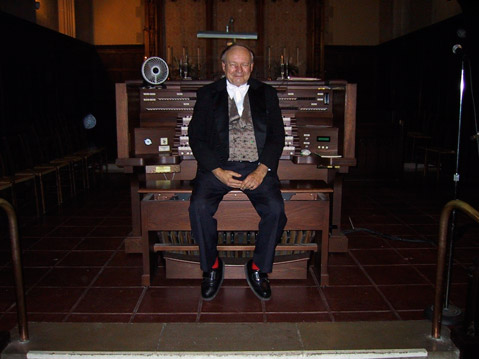 The accolades for David Gell, born in Alberta, Canada, August 21, 1943, to Arthur and Harriet Gell, began with his passing on March 2 and show signs of never stopping.
There's a lilt of singing and a blitheness of spirit in the courts of heaven these days. The angels and the hosts of heaven know why: David is here!
Dave Gell was a happy man — all of the time! He was enthusiastic … he was ebullient. He was multifaceted in his interests — of course music, and primarily organ, but also books, movies, animals, travel, especially trains (and more particularly Canadian trains). He was a gourmet, a merchandiser, a fix-it man, and on and on.
Dave absolutely exulted in figuring out wondrous details of sound. On his Trinity organ, he had settings for German Baroque, French Baroque, French Romanticism, English Cathedral music, and on and on and on. What a master craftsman and artist in this wonderful world of church music and worship.
So sing and rejoice and praise, dear Dave, friend and colleague and brother in Christ. God's Spirit rejoices in you. —William Beasley, organist, retired professor of music, and church musician
David Arthur Sansome Gell's musical journey began at age 8 as a boy chorister in an Edmonton church. After the family immigrated to Alhambra in 1956, he began organ lessons at age 13. David majored in history and music at California State University at Los Angeles, and in 1966 he graduated from Azusa Pacific University with a bachelor of arts degree in music with a major in organ. During this time, David studied organ and theory with Gerard Faber, a graduate of the Amsterdam Conservatory of Music. He furthered his studies with graduate work at the New Orleans Baptist Theological Seminary, University of Hawai'i (Manoa), and composition with Dr. Emma Lou Diemer at the University of California at Santa Barbara. During the Vietnam conflict era, he served on board the USS Klondike and as organist and assistant to the Pacific Fleet Chaplain in Pearl Harbor.
The organist and choirmaster at churches in Monrovia and New Orleans, David served in Santa Barbara at Trinity Evangelical Lutheran Church, First Congregational Church, and Good Shepherd Lutheran Church. His greatest distinction was as minister of music, organist, and composer-in-residence of Trinity Episcopal Church. David's 30 years of service resulted in the creation of Music at Trinity, a community concert series that included Advent organ concerts, the Santa Barbara Fiesta La Música Antigua de España concerts, Young Artists Concerts, and many occasional recitals by area musicians. Steve O'Conner, minister of music at All Saints-by-the-Sea Episcopal Church, remembered that David's "ceaseless enthusiasm to draw the world around him to the organ and to its music was one of his greatest life contributions."
Even when complications arose during recitals, David's aplomb and ability to carry on was notable. Douglas Fossek recalled, "It was during Lucile Beasley's Lenten Organ Recital series that I got a call from Bill [Beasley] the morning of David's recital. There was a problem with the organ, two hours 'til recital time. I devised a system to keep the reservoir [the wind supply to the organ] under control, but I had to remain in the organ chamber during the recital to accomplish this. David, undaunted, played with his customary gusto, as he would under any dire circumstances. [Memories] go on and on, clear down to the red socks or Hawaiian shirt, depending on his chosen level of formality." His performances included concerts in Canada, Louisiana, Hawai'i, and California.
Ever a champion of the organ, David made a number of demonstrations to schoolchildren through the GATE (Gifted and Talented Education) curriculum. He established the local chapter of the Choral Conductor's Guild and also founded the choral group now known as the Santa Barbara Master Chorale. During five concert tours with the Santa Barbara Boys Choir, he served as organist-in-residence at major cathedrals in Britain, and he participated in tours of European organs. "No matter what we had to deal with on tour in Europe, with all kinds of consoles and pipe chambers," said Chris Bowman, director of the Santa Ynez Valley Master Chorale, "David was always joyful, with a smile on his face, and certain we could 'make it work.'"
David composed a profusion of works for organ, including fanfares, voluntaries, a sonata, and chorale preludes, hymn introductions, and intonations for The Hymnal 1982 of the Episcopal Church. His musical compositions also include works for instrumental ensembles, including string quartet and orchestra; vocal soloists; choral anthems; and choral cantatas.
David took a personal interest in his fellow organists, generously sharing his scores, his interpretive ideas, and ingenious methods of registration (determining which combinations of pipes should sound). He had a vast knowledge of organ design and was associated with the company Ahlborn-Galanti Organs, testing various instruments and performing inaugural recitals.
David Gell is survived by his wife of 45 years, Carolyn Gell. Memorial contributions may be made to the Azusa Pacific University School of Music, Organ Scholarship Advancement, PO Box 7000, Azusa, California 91702-7000.
Charles Talmadge is dean of the Santa Barbara Chapter of the American Guild of Organists.
(web rule line)
A memorial organ concert will be held in David Gell's honor on Sunday, August 17, at 5:30 p.m. at Trinity Episcopal Church, 1500 State Street (965-7419). The concert features British organist Tony Baldwin, who will play in memory of his dear friend. Admission is free, but goodwill donations are welcome.