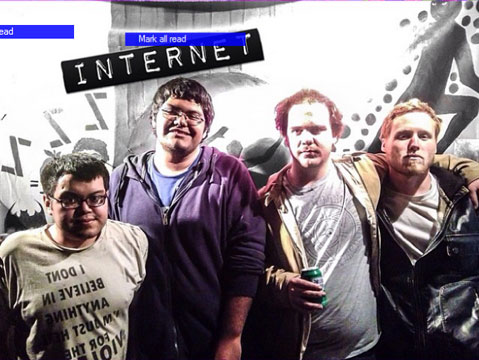 Name: The Internet
The players: Marvin Dominguez (guitar/vocals), Franklin Dominguez (bass/vocals), Selden Cummings (drums), Steven Hendricks (guitar)
Hometown: Santa Barbara, CA
Sounds like: Super-soaked punk
Kindred spirits: of Montreal, Television, The Beta Band
Listen now: "Carriage"
Did you guys toss around other band names before you settled on The Internet? No
What are you going to do about that other Internet? Murder them. Or change our name to The Deep Web and cover their songs. Or wait for a cease-and-desist letter from their lawyers and shame them online since we've been a band since 2010, and theirs formed in 2012.
What was the first record/CD you purchased? AC/DC Live (Selden); Pantera's Cowboys From Hell (Steven); Raekwon's Only Built 4 Cuban Linx…Pt. II and Sex Pistol's Never Mind the Bollocks, Here's the Sex Pistols (Marvin); Yellow Submarine (Frank)
What was the first concert you attended? Foo Fighters at the Bowl (Selden); Robert Plant at the Bowl when I was like 6 years old (Steven); of Montreal in 2007 (Marvin); I saw Imagine Dragons in Bakersfield before they released that cool song (Frank).
Was there a band/artist that made you want to pursue music? Nirvana, definitely. (Selden); Queens of the Stone Age (Steven); It's a three-way tie between Radiohead, Sex Pistols, and Pink Floyd. (Marvin); The Beatles and Devo (Frank)
What's the last song that made you cry? NOFX covering Don McLean's "Vincent" (Selden); Jill Scott performing "The Way" live in Paris did I for me once. The lyrics definitely make it a weird song to cry to, but it was just too beautiful, I guess. (Steven); Roy Buchanan's "Sweet Dreams" came pretty close. I was used to hearing it as the ending theme for The Departed. (Marvin); "Arabesque No. 1" as interpreted by Isao Tomita (Rank)
If we went through your music collection, what's the strangest thing we'd find? I have about 10 or 15 exercise vinyls from the '70s that I inherited from my grandma. (Steven)
What's one song you wish you had written? "Old Man" by Neil Young (Selden); "Turn Down for What" (Steven); "Only Shallow" by My Bloody Valentine (Marvin); "Pink and Blue" by Hannah Diamond (Frank)
What's your proudest Santa Barbara music scene moment? Anytime when great bands get great support. There are a lot of great new bands coming out in Santa Barbara right now (Maru, Smoke Wizard, Monkey House, Eastern Bakery). I hope new ones keep coming.
Visit whatistheinter.net.