John L. Sirois III: 1946-2014
In Memoriam
| Thu Oct 16, 2014 | 12:00am
On any given weekday morning, if you walked into Summerland's Café Luna, say between the hours of 7:30 and 8:30-ish, chances are you'd run into John Sirois.
John, a most gentle, lovable guy, was a regular fixture. His coffee buddies (I was one) counted on him being seated on the banquette, like clockwork, for morning conversation about global events of the day or local goings-ons (or to borrow a section of his daily newspaper).
A fine photographer, respected real estate agent, and friendly face around Summerland for decades, John was one of those guys you felt as if you'd known forever. He was smart and kind and sure and steady. He was easygoing and solid. Fine qualities to be sure, probably due to his East Coast/French-Canadian roots.
Born October 17, 1946, in New Bedford, Massachusetts, John was quick to tell people he met that he "grew up in a herd." He was the oldest son and the third child in a brood of 11.
I sat with his wife, Beda Marc, in their airy cottage, both of us sharing the disbelief that this vital man would swiftly, peacefully, and shockingly depart the planet just two months after a rare cancer prognosis.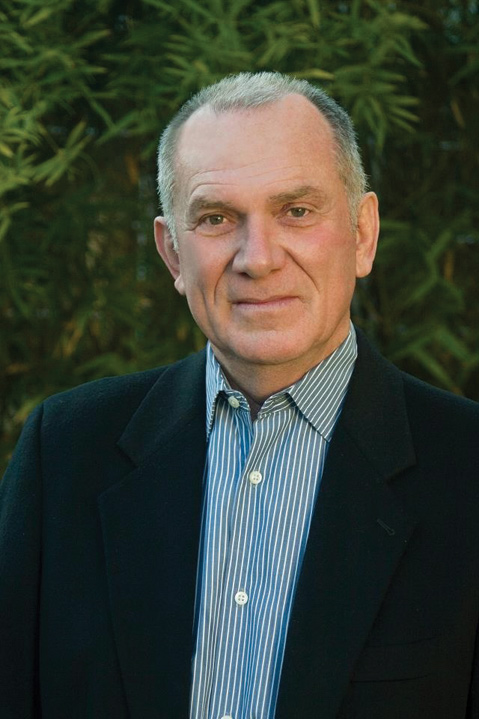 Although John, always the gentleman, worked as a real estate agent for Village Properties, his true love was photography and people. "John loved people," Beda said. "Every time we go out into the street, he would wave to four or five people who were honking and stopping their cars. Sometimes, he would go out front to sweep the sidewalk or pretend to be watering, just so he could chat with whoever happened to be walking by."
Beda and John met 23 years ago, and it was, according to the artist, "Pretty much a slam-dunk deal! A girlfriend of mine, who was renting a room to John in her house in Summerland, invited me to a party. I didn't go — typical! Since I missed the party, she invited me to breakfast. John came down to tell me she was going to be late, and that was it! I went over to dinner later in the week — and he put up all his photos that day and cooked dinner. It was the first and last time he ever cooked dinner — but it worked!"
The two made great sidekicks. Beda dragged him "kicking and screaming" on trips — but he turned out to be "the best travel companion in the world," she said. "We'd take our cameras, get lost in the world, and be so happy. Where didn't we travel to? We went to Belize, Hawai'i (a bunch of times), Vietnam, Cambodia, Laos, Thailand, India, Italy, Canada to trace his family roots (churches where his family were baptized and buried in the 1700s), Cuba, and Peru," she said. The pair also took "tons of trips" in the U.S. with family and friends.
Married nine years ago, the couple honeymooned with 22 of Beda's closest relatives traveling on a bus through Rajasthan, India (Beda is first-generation Californian, but her parents came from India).
"John was proud of his integrity — he would always do the right thing," noted Beda.
His stepdaughter, Bibi Taylor, concurred: "John touched so many people's lives — in all different ways — some small, simple ways to some huge, gigantic, life-changing ways. He had a huge heart. Always kind. Always dependable. Always there when you needed him. An exemplary man, a great stepfather to me, and a devoted, loving grandfather to my son, Jack."
John moved to Summerland in 1974 and immediately considered the wee village home. He soon became not only a local fixture but also an integral part of the community. Civic-minded and respected, John Sirois served as a boardmember on the Summerland Board of Architectural Review and the Summerland Citizens Association. He was also active with Summerland Beautiful. He was a proponent of the Summerland School and even played Old St. Nick. One year, when his grandson Jack, who still believed in Santa Claus at the time, showed up, John had to disguise his voice — his trickery worked.
He was also a regular at the Summerland Post Office, oftentimes opening his mail in the most visible spot in the parking lot so he could engage in conversation with those coming and going to the town's heartbeat.
Gracefully, and thankfully, John went peacefully and without pain. Perhaps he's in a place of airy otherness like the one depicted in his photograph "In the Garden of Light" that was shown at The Angel Show at the Santa Barbara Tennis Club, an exhibition in which he and Beda exhibited their work together earlier this year.
I like to think that John's haunting Summerland since that suits our town's reputation as being a place of limbo between death and afterlife, as well as a village known for rambling spirits. Frankly, there isn't a morning that I walk into Café Luna or an afternoon I pick up my mail that I don't imagine and terribly miss my good friend John — wherever he may be.