Thomas W. Sneddon, Jr.: 1941 – 2014
In Memoriam
| Tue Nov 04, 2014 | 12:00am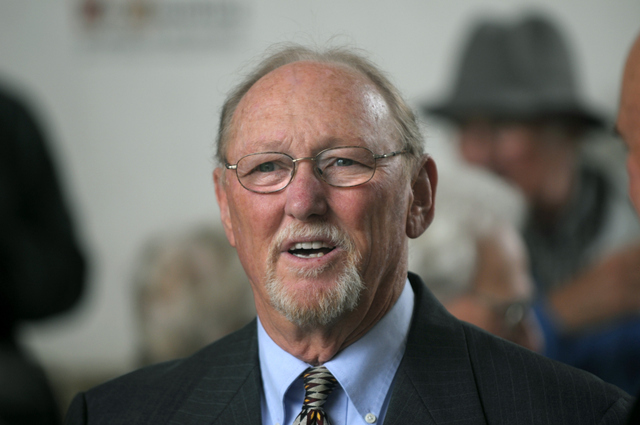 It is an honor to be asked to write about Tom Sneddon, the elected district attorney of Santa Barbara County from 1983 until his retirement in 2006. I knew Tom Sneddon. I worked with him from my first day in 1970 until his retirement-36 years later! Tom Sneddon was a friend of mine and the person who appointed me his assistant district attorney in 1983 — a position I held until I retired in 2008. Tom was reelected during all of those years, which followed him being a deputy district attorney here in Santa Barbara since 1969. A graduate of Notre Dame and then the UCLA Law School, he served in the U.S. Army 1967-1969. He married his wife, Pam, in 1967 and worked in the Los Angeles District Attorney's Office prior to coming to Santa Barbara. Pam and Tom had nine children, and now 14 grandchildren. Tom was a career prosecutor — with one job and one wife. I want to tell you about him.
As noted in every article regarding Tom's death, he was the lead prosecutor in the criminal case against Michael Jackson, a case that ended with a verdict of not guilty. For many who read the articles, one would think that there was nothing more to Tom than this case. Nothing could be further from the truth. Tom was a man of courage, and whether one believes Michael Jackson was guilty of the accusations or not, Tom pursued the case even though he had no appetite for media attention and dreaded the stir it would create — because in his heart, he believed that based on the evidence, the charges were true.
Prior to Tom's election in 1982, he had a strong record of trials and convictions in all kinds of different cases. He won nearly all of his cases with a combination of preparation, knowledge, and quick thinking. One of his first cases was the 1969 prosecution of Unocal following the disastrous Santa Barbara Oil Spill, an event and a case that focused new attention on the effects and risks of offshore drilling, spurring many state and federal environmental laws.
Probably no case demonstrates Tom's tenacity more than the investigation and prosecution of the Hively murder case. The victims were murdered in their beds in 1987 by two hit men who fled to Israel, which will not extradite Israeli nationals who are citizens of Israel at the time of the alleged crime. Tom fought for and was successful in getting the Israeli government to open an investigation — one that eventually led to the arrest and conviction of the two killers. Tom was instrumental in the investigation and prosecution of the case from beginning to end — making numerous trips to Israel before and during the trial. The First Gulf War interrupted the trial, with Tom and some of the witnesses having to depart Israel — and the Scud attacks — by flying to Cyprus. Following the convictions, a third individual — the one who put the two killers up to the crime with an offer of money — was arrested and, following a yearlong extradition fight, returned from Halifax, Canada, to Santa Barbara; in 1993, he pleaded guilty to two counts of murder and is presently serving a life sentence in a California prison. The case took seven years to investigate and bring to a successful prosecution.
Tom was known as a tough prosecutor — and an ethical one. He tried hundreds of jury trials to verdict, from simple drunk driving to death-penalty murders. Not one was ever reversed, and not once was there an allegation of hiding the truth, secreting evidence, or other misconduct. If a relative of yours were murdered, you would want Tom Sneddon on the case — as he would pursue it with diligence. And if a conviction were obtained, you would not be revisiting it years later because the case was reversed for some improper reason caused by the prosecutor.
Once elected, Tom continued to try jury trials as well as run the office. He allowed wide discretion to his deputy district attorneys and felt no one knew the case better than the assigned prosecutor, and he acted accordingly. Deputy DA's could easily navigate in the wake of Tom's clear, direct guidance regarding prosecution, ethics, and behavior. Many have said they always knew where things stood with Tom. I worked with five district attorneys — none of them understood the multifaceted parts of the office better than Tom: Personnel, Budget, Politics, and Criminal Prosecution, and, of great importance, Child Support — which for many of Tom's years was a major part of the Office of the District Attorney. Tom understood the importance of the pursuit of so-called "dead-beat dads" and the dire financial situation of many of our mothers with kids.
During his tenure, there were tremendous advances in the way criminal cases were investigated and prosecuted. Tom was heavily involved in victim witness issues, drug and alcohol programs, the DARE (Drug Abuse Resistance Education) program, domestic violence, Sexual Assault Response Teams, CASA (Court Appointed Special Assistants), Rape Crisis Center, gang violence, career offenders, and the truancy program to name a few. Tom was a great trial lawyer, and he knew his way around a courtroom. When policy issues came up, he was aware of the ins and outs of the problems because he was in the courts, not separated by two, three, or even four levels of supervisors as in some larger California counties. Tom took over and was the trial prosecutor of a death penalty case arising out of Lompoc when the assigned prosecutor was removed for unethical conduct — and a jury returned the death penalty.
The courts and the DA had their skirmishes over the years but nothing that led to outright war. There was mutual respect, and when issues came up, Tom worked to solve them, not to push the blame or claim it was not his problem. He had common sense, spoke his mind, was tough and compassionate, and was not a slave to political correctness. I do not think there is a current or former deputy DA, or DA employee, who would comment in a negative way about Tom. He loved his family first, then his job, friends, softball, golf, and Notre Dame.
Tom taught at the area law school, the National District Attorneys Association, and the California District Attorneys Association. He was a past president of both associations. He was a great role model. He coached Youth Football League (YFL) as a volunteer for several years. He could have coached kids from any area of the South County, but he opted for kids from the most disadvantaged areas. None of his own kids were on these teams — it was community service at its best. Many people, years later, told me Tom had coached them in YFL — all spoke well of the experience. As a coach, he brought the same passion, enthusiasm, and commitment that he did to his career as a DA. He set a great example, showing how to celebrate victory with humility and defeat with grace and heads held high.
Prior to the Sneddon years, in 1970, there was one woman deputy DA (DDA). Tom, more than anyone else, was responsible for the hiring, mentoring, and promoting of women DDAs. The two elected DAs who followed him, Christie Stanley and now Joyce Dudley, are products of the merit-based office he nurtured and led.
T.S. Eliot's Becket was tempted to take the easy way out in order to avoid being remembered for an insignificant life. With Tom, he always tried to do the right thing for the right reason — and for this will be remembered as a great and caring district attorney.
Yes — I knew Tom Sneddon. Tom Sneddon was a friend of mine. He will be missed.