News
Victims' Parents Sue Sheriff, Landlord Over Isla Vista Murders
Claim Welfare Check Could Have Prevented Killings, Apartment Managers Knew of Rodger's Violent Behavior
The parents of three UCSB students killed by Elliot Rodger in his deadly rampage last year are suing the Santa Barbara Sheriff's Office, the county, and the Isla Vista apartment complex where Rodger lived. In a wrongful death lawsuit filed yesterday in federal court, the parents of David Wang, James Hong, and George Chen say the defendants ignored multiple warning signs that Rodger was dangerously unstable.
They claim the Sheriff's Office missed a key opportunity to prevent Rodger's planned murder spree when deputies were called to his apartment to perform a welfare check but left without looking through Rodger's room, which contained a cache of weapons and ammunition. They also state managers for Capri Apartments failed to perform a background check on Rodger or look into reports of his bizarre and violent behavior before assigning Wang and Hong to live with him.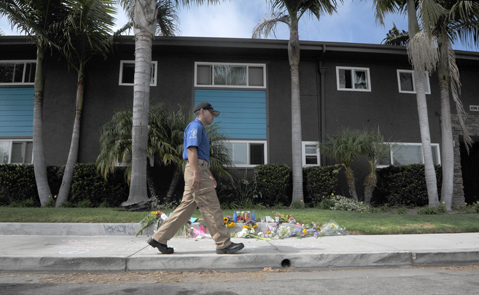 On May 23, 2014, Rodger ambushed and killed Wang and Hong and their friend Chen inside the apartment. The three were stabbed dozens of times with large hunting knives. Rodger then set out on his attack through the streets of Isla Vista, shooting and killing three more UCSB students — Christopher Michaels-Martinez, Veronika Weiss, and Katie Cooper — and wounding 14 more victims before committing suicide.
"With the devastating number of school shootings that have occurred in the recent past, the proper procedures should have been in place and followed," said Los Angeles attorney Patrick McNicholas. "The decedents were placed in a position of increasing danger due to the Sheriff's conduct at the welfare check."
The lawsuit points to a passage in Rodger's manifesto that describes how Sheriff's officials, alerted by a mental health worker to disturbing videos and messages he posted online, failed to search his room. "[I]f they had demanded to search my room… That would have ended everything," Rodger wrote. "For a few horrible seconds I thought it was all over. When they left, the biggest wave of relief swept over me."
Attorney Todd Becker said Capri Apartments negligently "withheld their knowledge of Rodger's sadistic behavior and in doing so allowed the community to fall prey to his vindictive attack." The lawsuit describes how over the course of the three years Rodger lived in the Capri Apartments, he resided with multiple sets of roommates and invariably created "hostile and violent environments," including subjecting his roommates to "racist comments and jealous outbursts." More details are included in the filing, which is attached to the bottom of this story.
In response to the lawsuit, the Sheriff's Office issued a statement Monday. It reads, "The Sheriff's Office cannot comment on a matter of pending litigation, and anything we might say in response would be insufficient when measured against the grief suffered by the families of those killed so tragically on May 23, 2014. Nevertheless, we continue to keep them in our thoughts and prayers, and to extend our deepest sympathies to them." Representatives for Capri Apartments did not immediately return requests for comment.
A press conference is planned for Tuesday morning in Los Angeles where attorneys and the parents of Wang, Hong, and Chen will read statements and answer questions. Check back for updates.