Bob Whitney: 1941-2015
In Memoriam
| Thu Sep 24, 2015 | 12:00am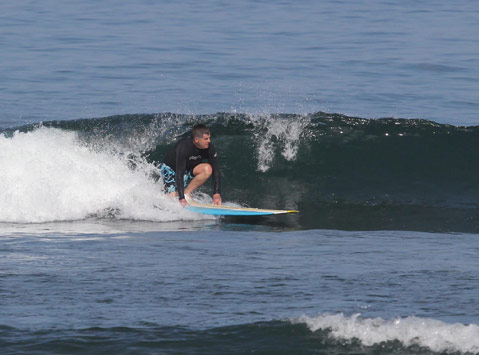 In the battle to save Hammonds Meadow, Bob Whitney was a warrior. He'd grown up in Costa Mesa, honing his bodysurfing skills at Newport Beach's Wedge with his brothers, Peter and Chris. A UCSB grad who received a master's in economics from USC in 1964, Bob lived with his family in the early '70s in an old cottage on the Hammonds estate, Bonnymede, which was gradually turning into a field of condominiums. When yet another development was proposed, Bob felt keenly the future loss of the open meadow and the public-access threat to the formative Montecito surf spot off Hammonds.
He became a key member of the Friends of Hammonds, which formed in 1971. After returning from a four-year teaching job in New Zealand, he worked to forge ties between surfers, lawyers, and Native Americans that had not before existed in his persistent efforts to find a way to preserve a small piece of paradise. Although the condos were built, after more than a decade, the coalition won the ability to retain three acres of the meadow intact. Today, public-access trails and the natural beach still exist for future generations to enjoy.
Bob's work for the environment became a lifelong passion. He cared deeply for the earth and its forests and oceans and felt it was our responsibility to take care of them and seek justice for all living beings. When Western LNG Associates sought to build a shipping terminal near Point Conception in 1977 from which to pipe liquefied natural gas to Long Beach, Bob went up against the state, SoCalGas, and PG&E to make sure it didn't get built.
"Bob jumped right in the middle of it," recalled Marc McGinnes, the Environmental Defense Center's (EDC) chief counsel in the Western LNG case. "He blew the horn on the plant, which was going in right next to Hollister Ranch."
The issue grew beyond a development on pristine coastal land. "Bob stepped forward unselfishly to help mobilize and defend Native rights … and educate non-Indians on what is now called 'environmental injustice,'" explained Marcus Lopez, whose father, Victor Lopez, was one of the Chumash elders who called for what became a nine-month occupation at Point Conception. The windswept point holds the Western Gate, the place from which the soul departs, and protecting the site was a spiritual issue for the Chumash. "He made the connection with the ocean and native rights of self-determination," Lopez said. "At a time when 'Red Power' was at its height, he saw the need to defend the land, taking the Chumash lead for a spiritual path." Bob rallied those who lived nearby — from Vandenberg Air Force Base to Santa Ynez to the Santa Barbara Indian Center — to support the fight to keep Point Conception untarnished and pure. And they won.
The EDC — of which Bob was a founding director and its first director of interns — has gone on to be a powerhouse of legal action and advocacy for environmental protection in Santa Barbara County. And Little Cojo Bay, above the Hollister Ranch, just below Point Conception, still remains in its natural state today, a rarity in Southern California.
Linda Krop, chief counsel at the EDC and a former intern, reflected, "Bob's legacy in Santa Barbara endures — in the open spaces he helped preserve and in the coast that he helped protect from a massive LNG proposal near Point Conception. We owe a lot to Bob and will always treasure his contribution to this community."
Whether in Willits, California, or Havre, Montana, or Sitka, Alaska, where Bob's teaching career took him, he continued his environmental activism. He finally became an environmental planner in Northern California, where he helped implement state sustainable forest practices in Sonoma and Mendocino counties, and was the driving force behind the Golden State Land Conservancy based in Willits. He was also a founding member of the Gualala River Watershed Council and served on a wide variety of citizen groups promoting sound environmental practices.
Bob approached these endeavors with soft-spoken humor, intelligence, patience, and persistence. Unfailingly generous with his time and spirit, he brought great patience and insight to the community-based land trust movement — and a healthy dose of pragmatism. His deep passion for the ocean is expressed in an excerpt from a poem he wrote in 1993: "Our abrupt hour is not forever/ An almost unnoticed mark of time / Yet maintaining balance with her / Absorbs me and mine. / It might not be too late to learn / Of a renewal for the sea / It might not be too late to yearn / For Planet Ocean's Sanctuary."
Bob had three children with Sally Bromfield, whom he met at UCSB's Campus Point when he asked to borrow her surfboard. After their divorce, he remarried, to Joan Person Whitney, and they raised two sons and remained lovingly married to the end of his life. Bob always made visiting his children and grandchildren a top priority in his life. Together they had many great family adventures: surfing in Mexico, snowboarding at Tahoe, YMCA Family Camp TQ in the Sierras, travels to San Diego and Santa Barbara to visit his children and grandchildren, and hosting family at his "Camp Brooktrails."
Robert "Bob" Bruce Whitney — son, husband, father, grandfather, uncle, brother, good friend, and friend of the Earth — passed away at the age of 73 on July 15, after a brave, brief battle with liver cancer. He is survived by his wife, Joan; his sons, Blair, Adam, Jason, and Jeremy; daughter, Alison; and five grandchildren. A celebration of Bob's life will be held on Saturday, September 26, at 3 p.m. at Hammonds Beach with a paddle-out, and a following gathering at the home of Alison and Steve Jordan.