Living
Desk Yogi Gives Offices Om Work
Former 'Lynda.com' Exec Launches Online Yoga Program for Sedentary Employees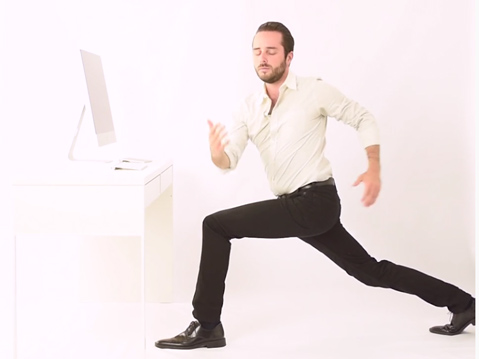 Desk Yogi, a new online yoga program, may soon have bosses offering office workers extra credit for doing their Om work.
"Employees want and crave fitness," says Jacqui Burge, founder of desk-yogi.com, a collection of expert wellness videos aimed to rejuvenate office workers with at-desk movement and stress reduction. A fitness coach and yoga instructor, Burge recently left her senior position at Lynda.com to leverage 20 years of experience in the corporate, wellness, and sustainability world by launching Desk Yogi.
The modern workweek often requires employees to spend an unnatural amount of time at their desks, which has proved to contribute to 34 chronic diseases and conditions, including obesity, diabetes, cancer, depression, and back pain. Desk Yogi's program of strength training, yoga, and meditation aims to get sedentary employees moving and breathing. It also uses calendar integration and a desktop reminder app to periodically ask employees how they are feeling and whether they are available to work out their tensions. Burge says the user-friendly program is an affordable solution to healthier and more productive office workers in 15 minutes or less, whenever they need it and without asking them to leave their desks.
Might we soon see our physically and emotionally slumped coworkers levitating cross-legged above their cubicles thanks to these videos? Let's hope so.
See desk-yogi.com.