News
Food Trucks Fight New City Laws
Proposed Rules Would Put Them All Out of Business, They Say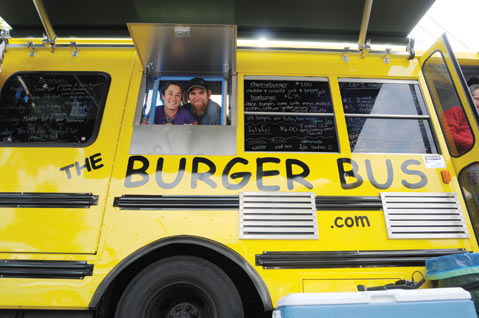 It was just a few minutes into the Thursday meeting when the knives came out. Food truck operators, fuming over a new set of rules for their mobile businesses, told city officials in no uncertain terms that the proposal as-is would cause each and every one of them to go under. "It has us shaking in our boots," said Tim Goebel, owner of Neighbor Tim's BBQ.
"I'm here wondering, 'Am I about to go broke because of your laws?'" demanded Nimita Dhirajlal of Nimita's Cuisine. "Should I close up shop?"
Earlier this year, City Hall began the process of regulating Santa Barbara's 10 or so food trucks. Technically, a law already exists that bans mobile facilities outright, but a 1993 court ruling out of Anaheim made such laws unenforceable; out of concern for traffic congestion and public safety, city planners and attorneys are now attempting to create a legal framework for the growing market.
As explained by Assistant City Attorney John Doimas, the proposed rules for public property would prohibit sales earlier than 9 a.m. or later than 7 p.m., prevent vendors from parking in any one location for more than an hour, forbid trucks closer than 500 feet of one another, and block them from operating downtown or along the Milpas Street corridor. Music would be banned, and trash cans must be provided. For private property, food trucks would be prohibited in residential zones and limited to three hours per visit.
Doimas explained he wanted to tweak the ordinances with feedback from business owners before the City Council considers them. "It's really important that we have everyone's viewpoint," he told the two dozen attendees. Doimas said the rules were drafted intentionally strict at first so officials could find a middle ground with vendors. Lenient laws might have "left something on the table," he explained.
The owners protested the allowed hours were far too restrictive; many of them operate well into the evening, especially during the summer. Plus, late-night eats often sober up bar-goers, they said. The 60-minute parking limit was ludicrous, they stated. It takes time to set up and break down their operations, and the short window would confuse and frustrate customers. The downtown and Milpas corridors are where most of their business takes place, they went on, and the 500-foot buffer would be difficult in tight quarters like the Funk Zone.
"They're completely out of touch," said Burger Bus owner Michael Gardner after the meeting. "That's my positive attitude. My negative attitude is they want us gone." Gardner and others have speculated that downtown business owners who complain about unfair competition is what's driving the city to crack down on mobile vendors, not purported concerns over traffic and public safety.
At a September ordinance meeting, city officials claimed they had a file of documented food-truck incidents so voluminous they didn't have a practical way to share it. But at the workshop, Doimas said he was unaware of such reports and that the city's goal was to be proactive to prevent overcrowding problems before they occurred. Gardner doesn't buy it. "It's not like there are turf wars," he said. "It's not like Los Angeles."
Regardless, Dhirajlal — who got into the business to share her passion for eating healthy, seasonal food while supporting the local economy ​— ​said the process has been a real downer. "Having the city not support us, or restaurant owners being threatened by very small businesses ​— ​it's really uninspiring." She said it's confusing that the ordinance process is taking place when she and others have never experienced any real problems. "I don't see us as a threat," she said. Another operator is already calling it quits.
Some truck owners have also taken issue that Councilmember Randy Rowse ​— ​who owns the Paradise Café ​— ​chairs the three-member ordinance committee. They say it's a clear conflict of interest and that he should recuse himself during the next hearing.
Rowse disagrees. "I would have to step aside during any discussion of a project with a food-service facility were that the case," he said. "My personal concern for any type of enterprise is the use of the public right of way for private concerns, which is not a black-and-white issue." Nevertheless, Rowse said, he would check with the city legal department for conflicts.
Georgia Smokehouse owner Brian Parks, though just as concerned as his fellow truck operators, remains hopeful a compromise can be reached with the city in the coming months. "My experience with them has been open dialogue," he said. "The big test will be what they come back with."