Steve Malone: 1949-2015
In Memoriam
| Thu Dec 31, 2015 | 12:00am
Steve Malone was a modest, unassuming man with a boyish grin and a look of wonder never far from his eyes. He spent the last 43 years doggedly photographing breaking news for the Santa Barbara News-Press and pretty much everything else that happened in our town.
As a boy in Alameda, California, Steve was always pursuing adventures: camping, exploring, and collecting petrified rocks and a myriad of other souvenirs. But when Steve got his first camera, that would change; his photographs became his collection. He studied photography during his five years with the Naval Reserve and later earned a degree from Brooks Institute thanks to help from his grandfather's investments.
While attending the Mt. Hermon Christian Conference Center in the summer of 1968, Steve met the love of his life, Janet Gerdes, then a Westmont student. He followed her back to Santa Barbara, and the day she graduated, they were married at the campus chapel. They settled in Carpinteria, where they raised two daughters, Heather and Melissa.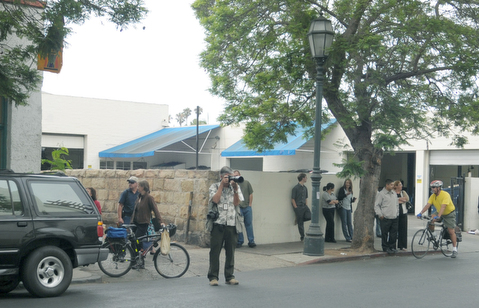 In the early '70s, Steve took any freelance jobs the News-Press offered. For every photo he got published, Brooks would pay him $5 if its name was included in Malone's photo credit. The paper paid for his film. Steve quickly proved his mettle, capturing great images. Using a police scanner, he demonstrated an ability to be on the spot in record time for breaking news. In 1978, the News-Press offered him a full-time job. Steve memorized all the pertinent scanner frequencies, and it wasn't uncommon for him to beat first responders to the scene. Before cell phones were around, reporters, editors, and photographers communicated via two-way radio. Wherever Steve was, his response to all radio calls was always the same: "I'm a minute away."
In his search for perfect light, Steve could be found on his days off out in nature getting shots to bolster his stock images or, better yet, get picked up for use as a feature photo in the paper.
Steve was known to be hard on his gear and his vehicles. Cameras and Camrys suffered at his hands. Dents, drops, and dunks were the price he frequently paid in pursuit of the right shot. The Nikon repair facility knew him well, and he was on a first-name basis with its technicians.
Famous for his high-profile coverage of heads of state, Steve was a respected regular at the Reagan Ranch in the '80s. There for the historic visits of Mikhail Gorbachev, Steve captured him wearing the cowboy hat Reagan had given him backward. During a visit from Queen Elizabeth in 1983, Steve positioned himself in a creek to get a shot of Her Royal Highness crossing the span on Refugio Road.
Steve always wanted his work to stand out. Even with little time, he was thoughtful about positioning himself to get the best shot.
When Cottage Hospital tested its new helicopter pad a few years ago, Steve, very uncharacteristically, arrived late, after the chopper had already landed on the pad. It turned out he had scoped a vantage point several blocks away to get an angle showing both the aircraft and the general neighborhood. And he still made it back in time for the hospital's sanctioned media tour where all the other reporters and photographers were assembled.
Steve was friendly, professional, and considerate with photographers from other news outlets. When I was still learning the tricks of the trade — and for a rival publication — Steve would regularly share great stories about old assignments. But he was also competitive. He took care not to divulge assignments he was either coming from or going to. When chatter among photographers encroached on what might become a scoop, Steve held his cards a little closer to the photographer's vest he was famous for wearing.
He was quick to compliment others people's photos and way too slow to praise his own work. Sports writer John Zant recalled, "Steve would come back from an assignment with 10 great photos and then pick each one apart with what he thought was wrong with them."
Former longtime News-Press photo editor Len Wood tells of being a student at San Marcos High School when a young Steve Malone strode in with his vest full of gear and his chest draped with cameras. Len was more than impressed and soon emerged as a brilliant photographer in his own right, working many years at the News-Press with Steve.
Unlike many in the newspaper world, Steve avoided profanity. "Oh, sugar!" was about as rough as it got. But he was no shrinking violet, either. Frustrated by the sight lines of Department 9 in the county courthouse — where only the judge's face was visible to the photographers who were ordered to stand in the back — Steve kicked a trash can. When everyone in the courtroom — except the judge — turned around to see what caused the noise, Steve got his shot. When the judge understood Steve's predicament, and that of any photographer working Department 9, he mandated better access for media.
One time Steve recalled being threatened by friends of a defendant in a criminal court case. They didn't want their friend photographed. Without missing a beat, Steve took their picture. If anything happened to him, he figured he'd have a photo ID of his assailants. Fortunately, nothing ever happened.
During Steve's last year on the job, there were hints he was in pain. He didn't complain, nor did he discuss it. Instead he'd joke, "I'd get down there to take a photo from that angle, but I wouldn't be able to get back up." Only later would we learn he had leukemia of the bone marrow. On December 31, 2014, Steve Malone — robbed of his mobility by the pain inflicted by cancer — quietly left the job he loved and walked out of the News-Press building for the last time.
And on Labor Day, September 7, Steve Malone, one of the hardest-working men I've met, finally succumbed to cancer.
For all his decades on the job, Steve never became jaded, and his work never grew stale. To the very end, he treated every assignment as if his reputation — if not his job — depended on nothing but the very best.