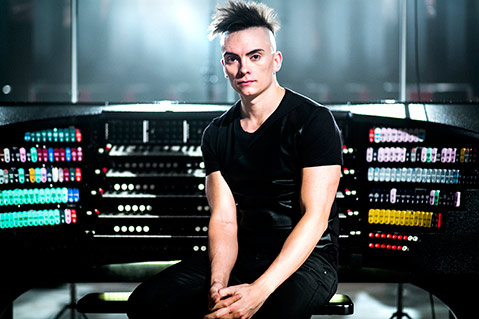 A Juilliard School alumni, 2012 Leonard Bernstein Award winner, and the first solo organist to be Grammy nominated, Cameron Carpenter is an articulate, Mohawk-sporting classical music god. His self-designed International Touring Organ is his modus operandi and features, among other things, extended pedal range and, more importantly, state-of the-art digital sampling technology that re-creates the sounds of traditional pipe and classic electric organs. A sophisticated arranger and composer, Carpenter has a musical repertoire that runs the genre gamut from classical to pop to film scores. By breaking classical music and philosophical barriers, he is a music icon in the making. We dissected his prolific intellect in a rapid-fire Q&A session.
What's it like living in Berlin? Why did you decide to move there? Berlin is a city-state with a large, widely mixed group of people. I came in 2010 during a Leipzig tour and met a lot of people with common interests. I was originally in New York, but I moved to Berlin because I felt it was an artistic hub with more like-minded people that could benefit my career.
What's the classical music audience like in Berlin versus the States? What's the demographic of your audience? There's a wide group of people, and [they] are not in one particular demographic. I think there is a general agreement that classical music is on the tail end and evolving. The people that come to my concerts are interested in my music and performance.
When did you start getting into fashion, and who are your fashion influences? Well, honest fashion is important; it's a self-expression for a clear visual statement. It parallels with music, because you have taste and you listen to what you like. I like fashion designers like Valentino, but generally I am attracted to individual pieces of clothing that inspire me.

Can you describe your transcription process? Do you have a strategy or technique that you use in arranging for organ? No strategy — just a lot of work. It comes from a level of obsession that comes along with a particular piece. I simply have to play it on the organ, and the process comes by accident, basically.
What are your future plans and goals for the organ? I'm currently on a 40-concert tour, and I'm very lucky and fortunate. Classical music is in its last days, but it's fun for me. I take it seriously and try to share it with the young people. One of the programs I will be announcing soon is a teaching program for young children. It's being developed in partnership with musical institutes in San Francisco. —
4·1·1
UCSB Arts & Lectures presents Cameron Carpenter on Tuesday, February 9, at 7 p.m. at the Granada Theatre (1214 State St.). For tickets and more information, call (805) 893-3535 or see artsandlectures.ucsb.edu.