News
Shatterday Takes Place in Paso Robles
Medical Marijuana Tasting Event Benefits Vets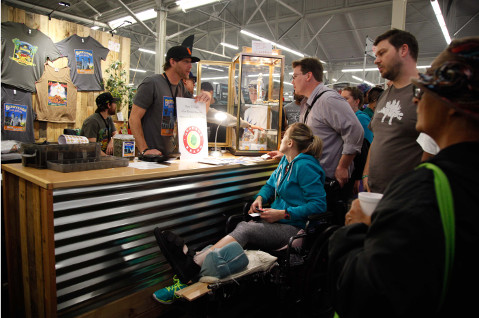 The Central Coast chapter of Weed for Warriors is sponsoring tasting events to be held in Paso Robles each Saturday in March. Pressure is mounting across the country to give veterans access to medical marijuana for a whole host of symptoms. Participating will be a group of 25 growers from as far away as Humboldt. Graham's Brand — a well-known, nonprofit collective — might be the best known cultivator to attend. I sat down recently with owner Graham Shaw for a lively, wide-ranging conversation on the industry.
Shaw has 20 years of experience growing, with indoor hydroponics being his specialty. He says that traditional agriculture is already looking closely at getting into cannabis cultivation. He wouldn't be surprised to see a couple of wineries devote a portion of their property to this endeavor. They already have much of the technical experience, and most importantly they have access to water.
This view was backed up recently at the Montecito Planning Commission meeting on medical marijuana where representatives from CCA (Central Coast Agriculture), a medical marijuana grower, represented that most of the cultivation being done in Santa Barbara County was happening on existing agricultural properties.
Graham's Brand seems well poised for the kind of changes and possible growth that are sure to come. Having grown up in the Silicon Valley, Shaw is comfortable with business concepts that intimidate some of his fellow growers in Humboldt. His own involvement with cannabis traces back to his teens when he was diagnosed with ADHD. Not only did cannabis help him, but he has seen scores of medical success through the years by cannabis users.
To attend the Shatterday event you will need a Doctor Recommendation [Prop. 215] and ID. Send these via email to Shatterdazebhomersmarket@gmail.com. Shatterdaze can also be reached via Instagram at the_shatterday_bhomers_market. The event is free to veterans who RSVP and $35/$50 for general admission.
Kiosks for Secure Transactions
The issue of banking will continue to haunt the legal marijuana business for years to come. This affects growers, dispensaries, and especially local government. "The government feels that it is only receiving tax receipts on 25-35 percent of actual sales," according to Kind Financial CEO David Dinenberg. His company has been a leader in developing financial solutions and software for the legal cannabis industry.
To help solve this and other cash-related problems, Kind Financial now offers kiosks to legal dispensaries where they can make cash deposits on site. These kiosks take cash, check for counterfeits, and produce detailed receipts. Once the cash threshold has been reached, an armored pickup will take the cash to the customer's desired depository. The kiosks are very heavy and secure, making theft difficult. Dispensary owners get some relief from the pressure of handling so much cash, and it's a step in the right direction to solving this public safety issue.
Kind Financial has orders for the kiosks in California, Oregon, Washington, Colorado, and Alaska. Dinenberg's firm also provides Agrisoft, which is a seed-to-sale software package to ensure compliance and transparency.
Digital Solution?
Another possibly longer-lasting solution to the banking issues are digital transactions between growers and dispensaries similar to PayPal. At the forefront of this is a company called Tradiv.com, an online B2B (business-to-business) wholesaler in the cannabis industry. Recently they entered into a partnership with Hypur, a company that offers banking solutions to emerging markets. As a result they will be able to offer a platform to industry participants that will allow digital clearing of transactions that follow the detailed compliance issues that banks must follow. So far credit unions and smaller independent banks in Colorado are the first to use it, but founder Aeron Sullivan thinks that super regional banks will be next.
Sullivan comes to the industry after rising to the rank of captain in the Marines. He met a cultivator at a party in San Diego in 2014, who went into great detail on the banking problems in the industry. A lightbulb went off in Sullivan's head, and soon after he retired from the Marines, he started formulating plans for Tradiv.com. The cannabis business incubator CanopyBoulder accepted his company in 2015 and helped the business get started.
While state governments are eager to get tax revenue from cannabis, they have not offered guidance on the cash issue. Companies like Tradiv.com seem to be the way of the future as the industry matures. The FDIC, the government's banking watchdog, will no doubt monitor these different company ideas before choosing a path for banking in the cannabis industry.