News
Hydrogen Fueling Station First on Central Coast
La Cumbre's Conserv Fuel Now Serves Zero-Emission Vehicles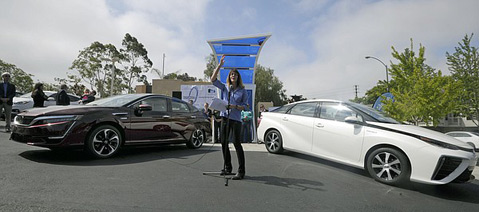 Eco-conscious commuters in Santa Barbara now have a convenient place to power their electric cars in about four minutes. True Zero, an Irvine-based energy network that markets charging stations for zero-emission vehicles, held a ribbon cutting ceremony Friday morning to unveil a new hydrogen fueling station at Conserv Fuel, La Cumbre's bio-diesel gas station.
Tim Brown, co-founder and Chief Operating Officer of the startup FirstElement Fuel, says it's something nobody else is really doing. "Big oil companies aren't interested yet," Brown said. That has left it up to companies like his to build the infrastructure for electric cars.
The new station, located at 150 South La Cumbre Road, is the first one in California outside of the Los Angeles and San Francisco areas and will make traveling up and down the coast for fuel-cell vehicle owners much more practical. Another four fueling stations are in the works, with the closest being planned in Thousand Oaks.
La Cumbre station's opening should bridge the divide between northern and southern California fuel-cell vehicle owners. With a 300-mile range for most models, many weren't able to make the entire trip up and down the coast. Aeron Genet, control officer for the Santa Barbara County Air Pollution Control District, said people can now "actually consider a fuel-cell vehicle."
The ribbon cutting brought out many of the city's movers and shakers, with City Fire Chief Pat McElroy and congressional candidate and First District supervisor Salud Carbajal both saying a few words at the ceremony. "It's a great public and private partnership," Carbajal told the crowd. "It reinforces that we can grow from a fossil-fuel and carbon economy to a renewable energy economy."
Fuel-cell vehicles run on hydrogen gas instead of gasoline. Oxygen enters the vehicle's system and reacts with hydrogen, creating electricity to power the car. Releasing only water and heat, this process is much cleaner than typical combustion engines. These "zero-emission" vehicles are becoming more popular with big car manufacturers, but a lack of fueling stations has hurt consumer interest.
Sigrid Wright, Chief Executive Officer of the Community Environmental Council, also spoke at the event. She reminded the crowd of the Refugio Oil Spill anniversary, calling it a "visceral reason many of us want to move away from fossil fuels."