Arts & Entertainment
Hale Milgrim Presents the Concert for N.Y.C.
Screening to Coincide with Anniversary of 9/11 Attacks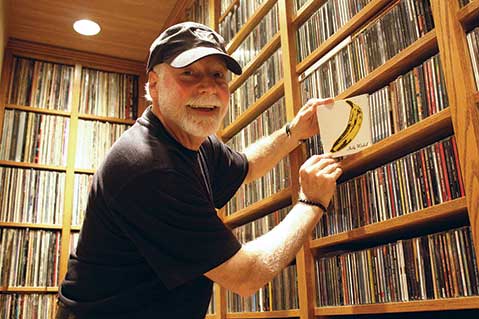 There are plenty of music mavens in Santa Barbara, but there's only one Hale Milgrim. The former president of Capitol Records (and onetime record store employee in Isla Vista) never stops thinking about, or touting to others, the great popular music that he knows and loves so well. On Sunday, September 11, Milgrim will return to the stage at the Lobero Theatre, where he is a familiar figure both from his sponsorship of the long-running Sings Like Hell concerts and for his more recent forays into multimedia expression known as Quips and Clips, with the first in a three-part series devoted to filmed footage of important tribute shows.
Fittingly, given the date, the first of these events will feature highlights from the Concert for New York City. This marathon event took place a little more than a month after the September 11, 2001, attacks on the World Trade Center, and was organized by Sir Paul McCartney, a longtime friend and business associate of Milgrim's. For five hours on October 20, 2001, the greatest stars in music, film, and television came together in support of the families and friends of first responders who either risked or lost their lives in the rescue attempts made on September 11.
As a longtime New York City resident (19 years) and an eyewitness to the destruction of the Twin Towers (from Seventh Avenue at Bleecker Street), I can attest that there has never been another event in my life quite so devastating to my sense of security or, in its aftermath, so reassuring to my sense of community. The way New Yorkers bonded to restore the city to equilibrium, to comfort those who lost loved ones, and to honor the brave men and women who went straight to where the trouble was is something that I will never forget. The way my Greenwich Village neighbors came together at that time did a lot to restore our collective faith in humanity. This concert, along with some special, previously unseen footage from the Milgrim archives, captures that inspiring moment brilliantly and is must-see viewing for anyone who loves music or Manhattan.
The impetus for this screening came when Milgrim's wife, Anne Milgrim, remarked on the passing of David Bowie last spring that he had made an exceptional contribution to the concert, perhaps the most memorable out of all the star-studded performances. When the date September 11 proved to be open at the Lobero, Milgrim flew into action, combing his extensive library of video and sequencing the clips to tell a story about what that night meant. Musicians to be featured include Mick Jagger and Keith Richards, Eric Clapton, Elton John, Billy Joel, James Taylor, McCartney, and many more. A portion of the proceeds from the event will go to the Robin Hood Foundation, which sponsored the original event. "I wanted to do something to commemorate the September 11 attacks that was totally legitimate" said Milgrim, and there's no doubt that seeing these incredible performances with his wise and witty introductions will achieve that goal.
Following this night, which is a presentation of Lobero Live and begins at 6:28 p.m. (no, that's not a typo), there will be two more such evenings, the Concert for George (Harrison) on November 29, and the Bob Dylan: 30th Anniversary Concert Celebration on January 13, 2017. For tickets and information, visit lobero.com or call (805) 963-0761.