News
Santa Barbara Red, White, Blue, and Mad at Trump
Protestors All Week Have Peacefully Revolted Against the President-Elect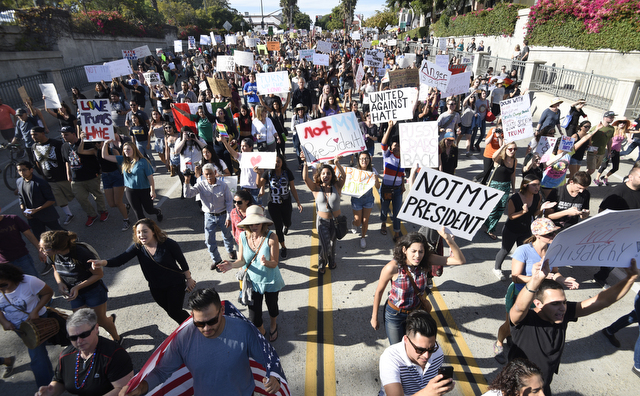 Words fail to describe the fear, fury, and frustration that has gripped Democrats since the election, though slogans festooned the signs carried at demonstrations held in Santa Barbara this past week.
UCSB students were the first to bolt off the couch when the election was called, gathering outside the dorms ​— ​while a few men shouted at women from the windows that they would rape them, wrote the Daily Nexus ​— ​and swarming out to Isla Vista through Pardall Tunnel. The crowd gathered 1,000 peaceful participants by the time they reassembled at Storke Plaza around 1:30 a.m.
Social media buzzed all night about high school walkouts: 500 Dos Pueblos students rallied on campus ​— ​with about 50 walking all the way to UCSB to join ongoing protests ​— ​and 300 at San Marcos High. At Santa Barbara High, students grabbed "Love" signs from last spring's production of Hair as about 700 students streamed off campus at noon and funneled onto the green lawns at the Courthouse Sunken Gardens, where a group of visiting elementary students spontaneously began chanting, "Hil-la-ry! Hil-la-ry!"
Organizers kicked off the rally with the announcement, "We do not support Santa Barbara News-Press," blocking coverage by the first paper in the country to endorse Trump. Enthusiastic chants of "Fuck Donald Trump" broke out, though speakers stayed focused on the afflictions Trump's administration would cause LGBTQ and immigrant communities. Vice President–elect Mike Pence, now filling administrative positions as the head of Trump's transition team, supported gay-to-straight "conversion" therapy in Congress and, as governor of Indiana, signed a bill last year that allowed "religious belief" to legitimize discrimination.
Out on State Street on Friday, Santa Barbara in Black reassembled its regular Friday noon vigil in front of the Museum of Art to silently protest Trump's policies. The group is actively setting up a website to bring people, protesters, and resources together, said organizer Barbara Parmet.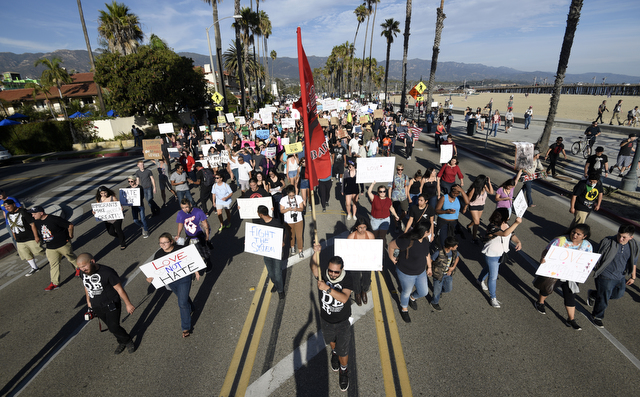 And it was deafening in the Highway 101 underpass Saturday afternoon as more than 2,000 marchers in the United Against Hate movement chanted, cheered, and whistled their way down State Street from De la Guerra Plaza. Mixed in with "Love Trumps Hate" signs was the salty "Pussy Grabs Back." Speakers called to the throng for the need to stand together in the face of a president-elect whose words "bring out all the bad" in the country, as one participant summarized, and sanction hostility toward minority communities.
A vice-chair of the area Republican Party, Greg Gandrud, said he was aware some people were disappointed by the election result but that President-elect Trump "is asking all Americans to come together as one nation. We have a lot of problems to solve, and we really have to work together." He added that he's found Santa Barbara's liberal partisans fairly intolerant ​— ​though he saw nothing to fear from a march. For instance, he's asked his husband not to put a Trump sticker on his Jeep out of fear of vandalism after his Bush and Romney stickers were keyed.
Bobbi McGinnis, a board member of the California Federation of Republican Women in Santa Barbara, thought Democrats could take heart in their wins of the 24th Congressional District, State Assembly, and 3rd District county supervisor seats. She believed all Americans, including the protesters, would benefit from a stronger economy under Trump, with "more people in the work force with good-paying jobs and a move away from socialism toward capitalism." Trump's visit with Obama "went better than expected," she wrote in an email, and the transition was going well.
For Democrats, their worst fears are being borne out by Trump's transition team — tasked with hiring 4,000 people to run the government — led by Pence and including Steve Bannon. After Bannon took over the Breitbart news website, it became criticized as a hate site. California Secretary of State Alex Padilla issued scathing words about immigration adviser Kris Kobach, author of Arizona's failed "papers, please" law for anyone who looked "foreign." Trump's "energy independence" advisers are lobbyists for oil and gas companies ​— ​Halliburton and Koch Industries among them, according to Politico ​— ​and the naming of climate skeptic Myron Ebell to transition the Environmental Protection Agency has prompted a petition to the White House to stop him.